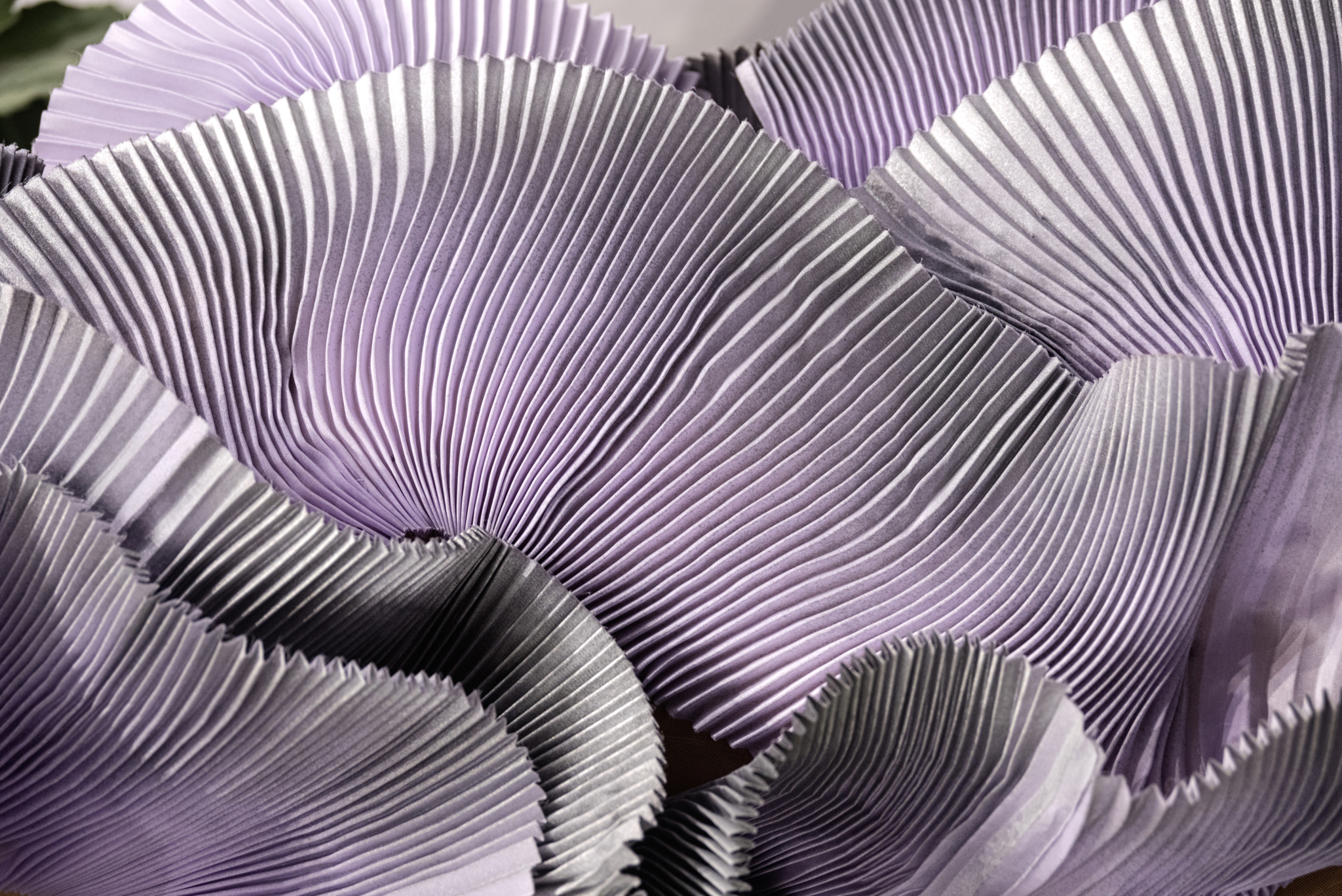 Detail of a pleated dress for Armine Ohanyan.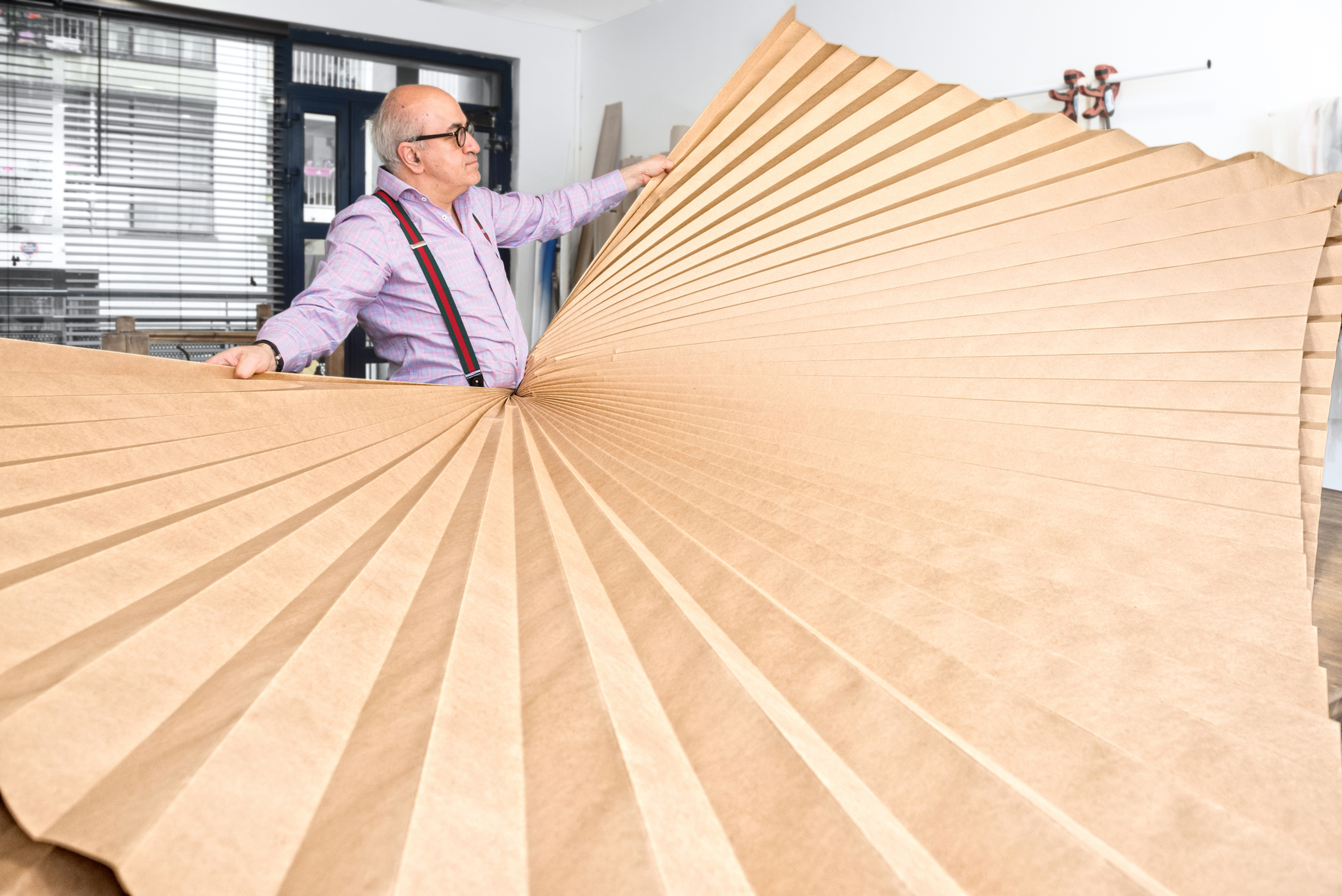 Karen Grigorian with sunburst pleating pattern wide open.
The Master
Karen Grigorian is the spiritual successor to pleating-master Gérard Lognon, who was his boss and mentor for 14 years. Karen now runs his own studio, Maison du Pli, where he can pursue his craft and utilize his full talent. Hints of his 25 years of practice are visible in every corner of the studio, a spacious venue clearly arranged to optimize every step of the labor-intensive table pleating process. A collection of 300 exclusive patterns are rolled up and stacked in the basement next to a custom-built steam cabinet. Whether it is silk, organza, wool, cotton, velvet, leather or woven bronze threads, the studio welcomes the challenge of working with a variety of fabrics. The proud keeper of rare artisan skills, Karen works with prestigious haute couture houses such as Givenchy, Fendi, Hermès, Céline, Valentino, Margiela and newcomer Armine Ohanyan Paris.
"I'm totally passionate about my craft because I enjoy working with my hands. It gives me great satisfaction, especially when I create a new pattern or mold. This passion is my driving force," Karen explains. "It takes dedication, and maybe a little faith, to pursue this craft when there are less than 10 pleat workshops left in France. In its heydays, the famous Lognon Atelier had 70 employees, but only 4 to 5 employees in the 2010s. Maison du Pli is the only independent pleat workshop remaining in Paris.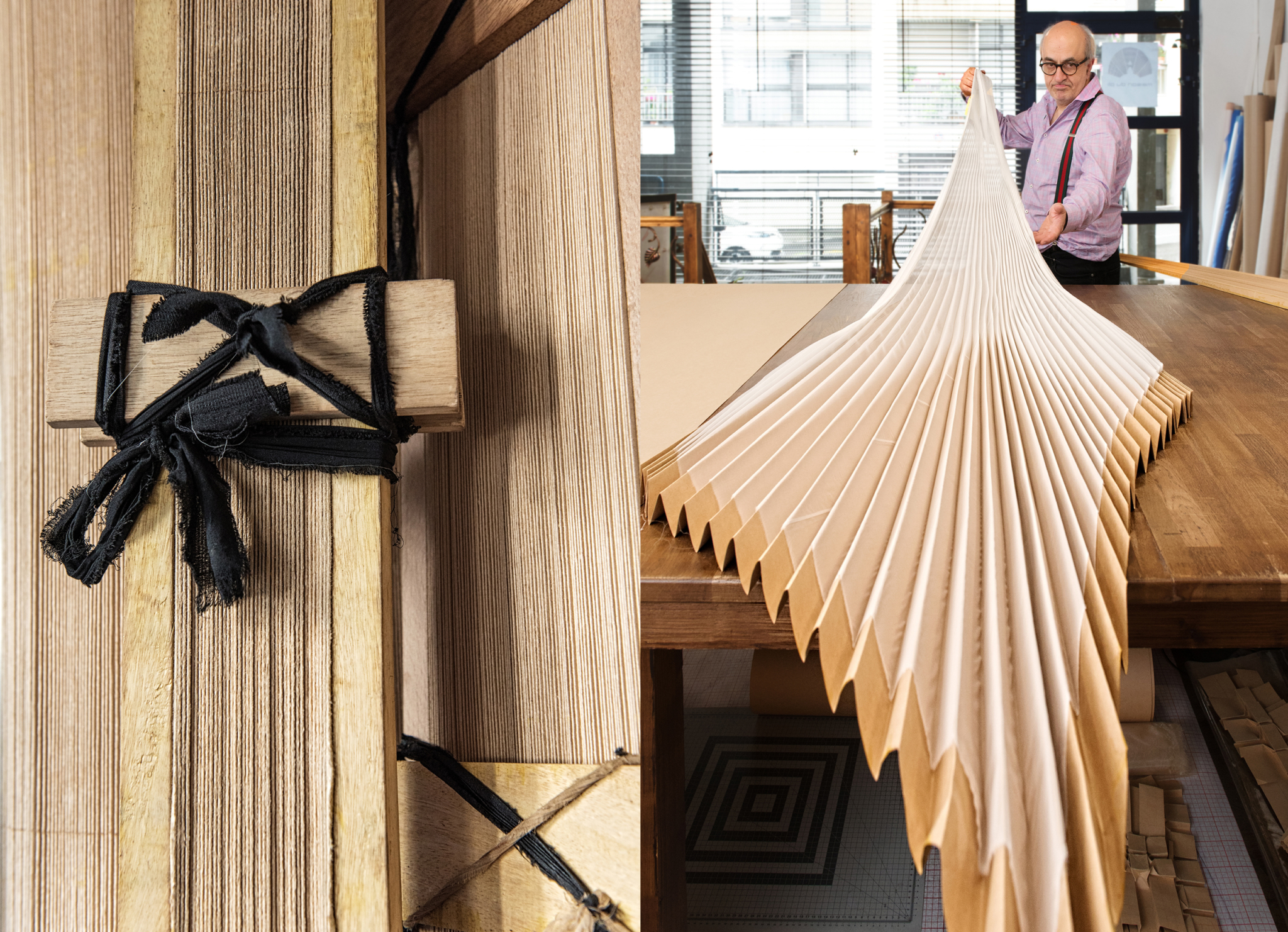 (Left) Pleating mold. (Right) Silk chiffon in sunburst pleat right before being removed.
To enjoy the full story, become a Member.
Already a Member? Log in.
BE A MEMBER
For $50/year,
+ Enjoy full-length members-only stories
+ Unlock all rare stories from the "Moowon Collection"
+ Support our cause in bringing meaningful purpose-driven stories
+ Contribute to those in need (part of your membership fee goes to charities)
Crafting a three-meter-long sunburst pleating pattern.
Originally from Yerevan in Armenia, Karen attended the French Language School Ecole 119, where his mother was a French teacher. In the early summer of 1990, with just a degree in Food Science and no fashion background, he moved to Paris to join his younger brother who had recently settled in the French capital. As luck would have it, he found work at Plissés Garbis, a pleating studio in the Sentier District renowned for its machine pleating and basic Sunburst pleats. Karen was hired for the summer and then asked to return in September. Unbeknownst to him, he had found the path to his true calling.
Under the watchful eye of Garbis Ghazarian, his first mentor, Karen learned the basics of machine pleating and began to craft simple sunburst pleating patterns. When the studio shut down in 2000, as Mr. Ghazarian was over 100-years-old, Karen joined the renowned Atelier Lognon located in the heart of Paris, minutes away from the Place Vendome.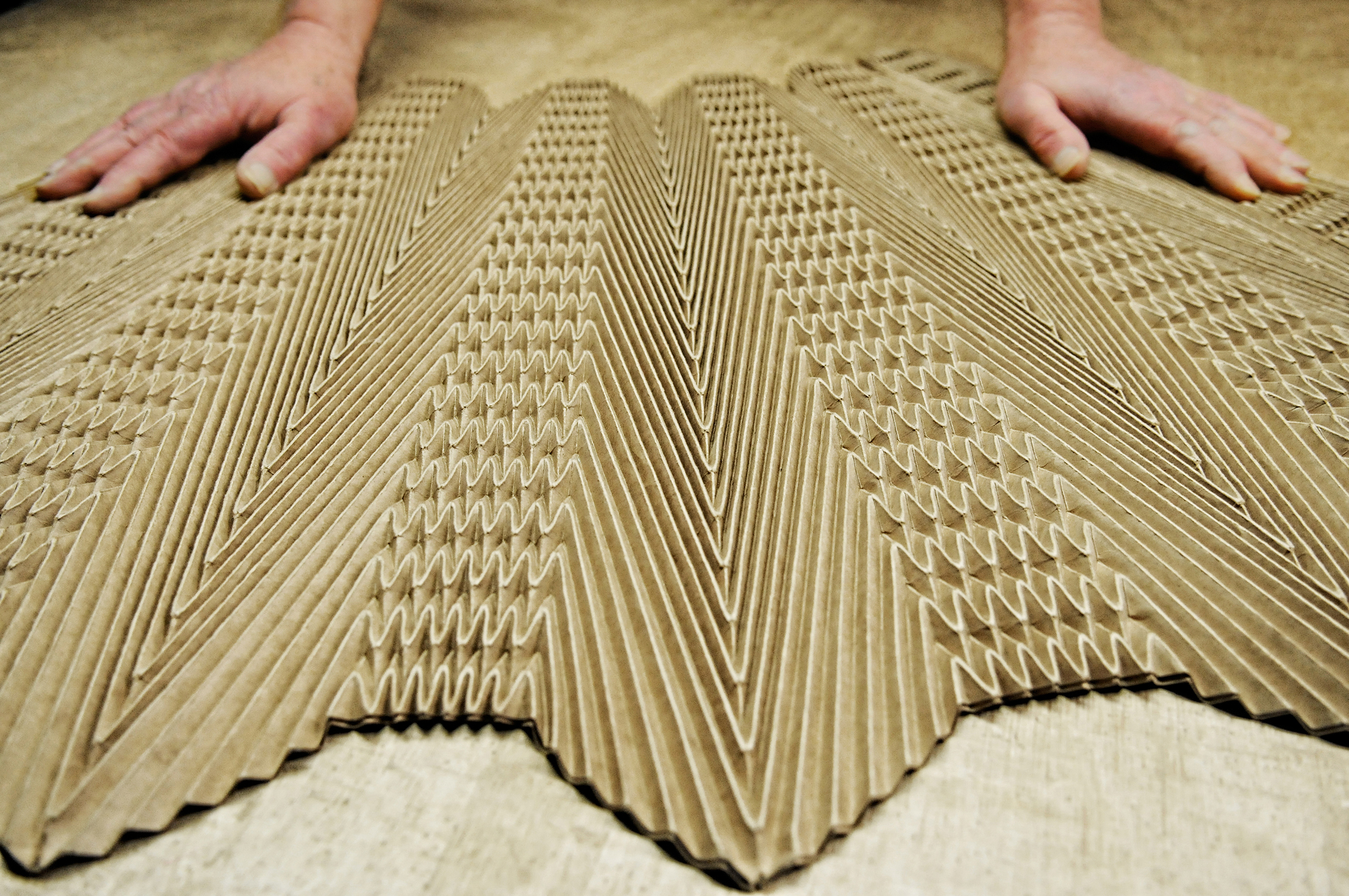 The Mentor, The Molds, The Restoration
Revered by the fashion industry for its outstanding fancy pleats, the preeminent pleating studio, Atelier Lognon, was originally established under Napoleon III by Gérard Lognon's great-grandmother, Emilie. She was then located at Cité du Retiro, near the 24 Faubourg Saint-Honoré where the Hermès family would eventually set up shop in 1880. Mr. Lognon, who succeeded his father in 1979, had a unique collection of 3,000 molds, some shaped with such intricate patterns they looked like works of art.
Many custom pleating frames dating back to the Second Empire were too fragile to endure steaming and had been stored away in the basement. Since there were no step-by-step instructions to reproduce these fancy designs, the old frames had long been deemed far too complex to be ever done again. That is, until Karen came along and was up to giving it a try.
While doing some extensive research and crafting countless pleating tests, the hard-working, humble artisan finally understood the creative side of his craft. Karen also had a sense of his own artistic potential for the very first time. With Mr. Lognon's support, he painstakingly deciphered the forgotten designs and crafted brand new paper forms that gradually replaced the old ones, thus ensuring the Lognon family's legacy of fancy patterns.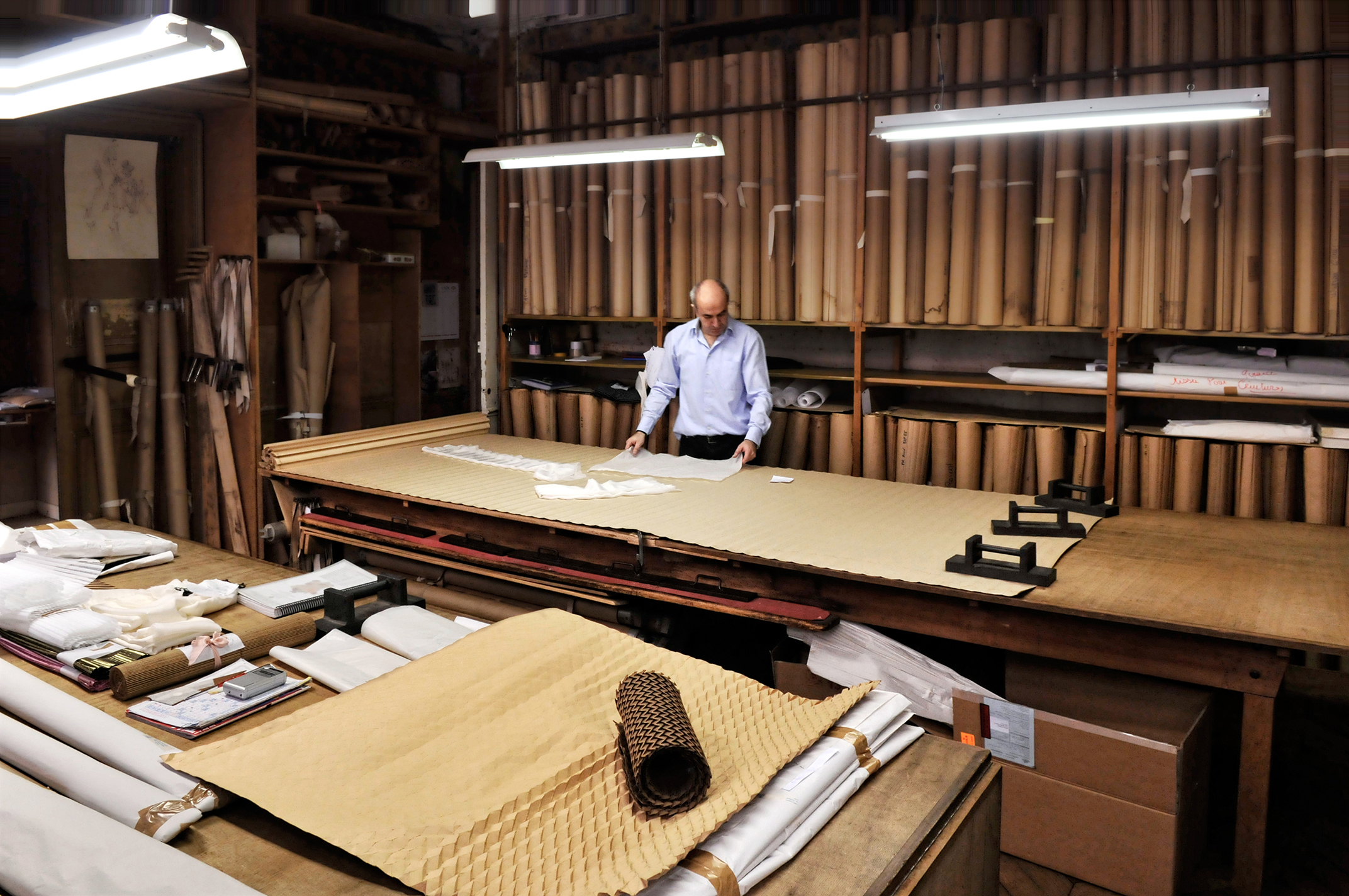 Pleating studio of Gérard Lognon, Karen Grigorian's mentor.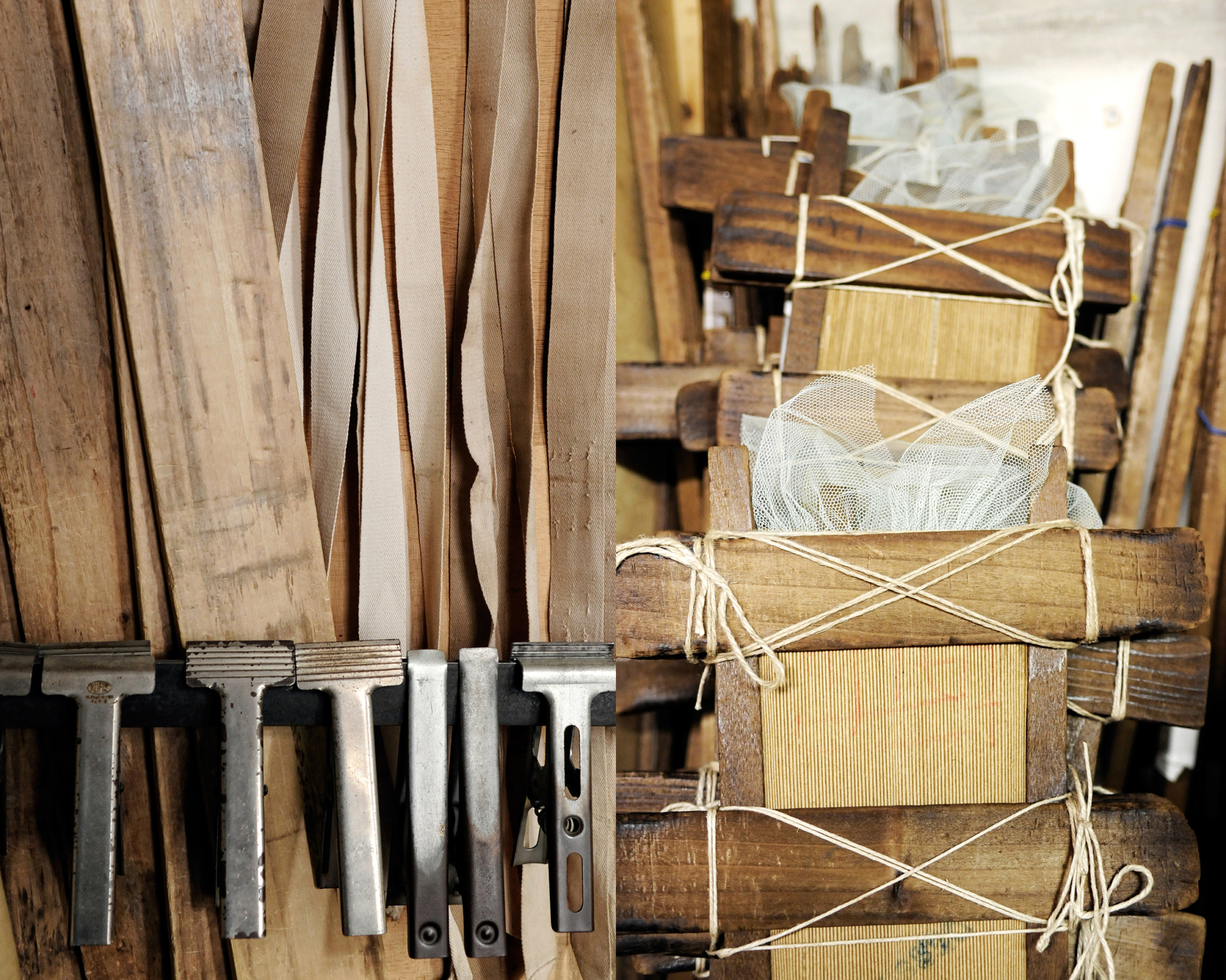 Everyday tools such as boards, straps and pliers found in the pleating studio of Gérard Lognon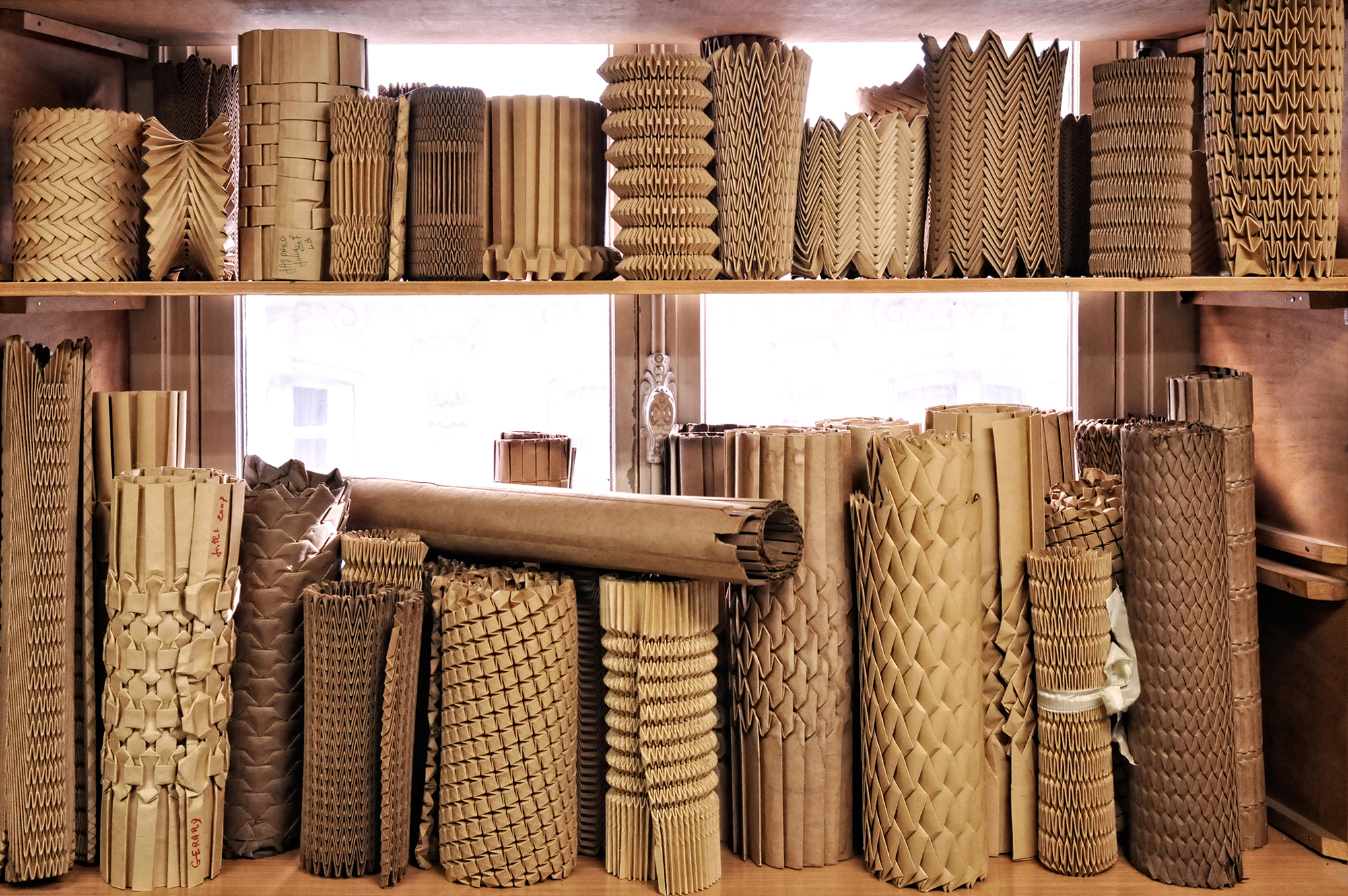 Series of cardboard molds holding fine fabrics. They are tightly knotted in position before being placed into the steaming cabinet.
In the spring of 2014, Mr. Lognon retired from the pleating industry and sold his company to the Chanel Group. Shortly after the studio was moved to its new location in Pantin, a Paris suburb, Karen struggled to adjust to his new management. What he missed the most was the creative freedom he had slowly but surely achieved at Lognon's studio. After months of hesitation, but eventually trusting his 24 years of experience, the self-taught man who had mastered his craft by sheer will power and hard work, established his own company in December 2014.
First hosted by fellow craftsmen including plumassier Bruno Legeron, Maison du Pli moved to its current location in 2016 near the Buttes Chaumont Park, in a large venue found with the help of the Paris Mayor's office. Feeling at home after two nomadic years, the pleating master put all his expertise in repairing and setting up his workshop, considering every practical detail to have the most convenient workplace. The 3.6-meter-long wooden pleating table was custom-made, followed by a custom-built steam cabinet which is able to receive 3.5-meter-high forms and serves as the studio's most unique asset.
During the month-long marathon preceding the Paris fashion week, the workshop nearly operates on a 24/7 schedule. In these hectic times, Karen can count on the unwavering support of his three children, wife and sister Armine, all well trained in table pleating. They come to the studio early or late in the day to help with long silk or lace panels that need four-handed pleating. His only son Roudolph, a graduate of the Paris Business School, a former French Junior Chess Champion and currently a chess teacher, frequently helps his father. Karen hopes his son will join the family business permanently.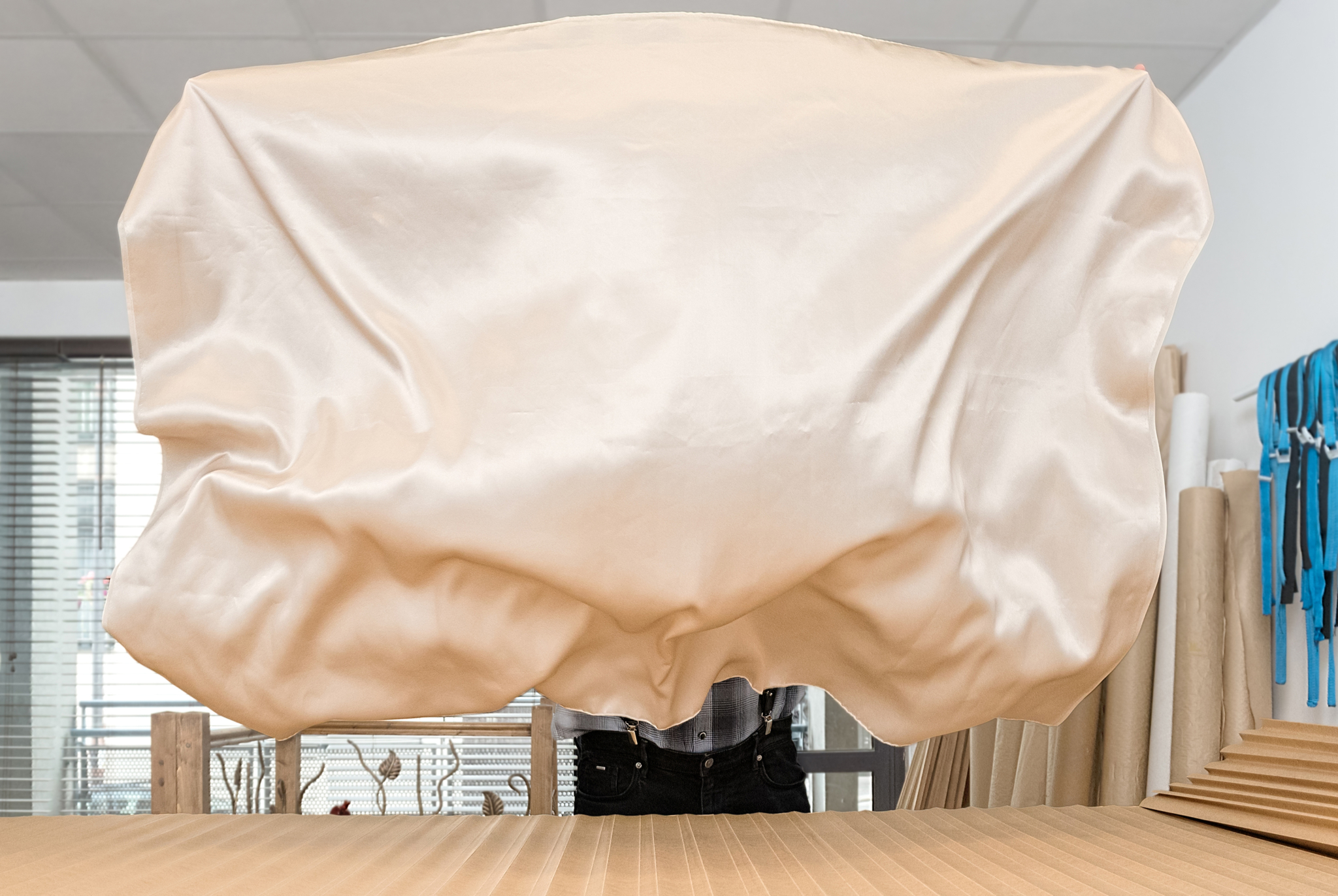 There are two sorts of pleats: flat or standing. "It is the basis from which we make the stylish Sunburst, Watteau or Fortuny pleats," Karen says. In the large pleating glossary, pleats are referred to as simple, fancy, round, hollow, straight, flared, flat, etc. Sunbursts typically come with standing pleats, but some can be flat too. He continues, "Sunburst pleats are often requested because flared pleats (the base of the pleat is wider than the top) cannot be machine-pleated. Machines can only create simple parallel pleats."

When designing a new pattern, the pleating master translates an idea into folds, playing with height, width and depth variations. The tiniest change can create dramatically different results. At Lognon's studio, the iconic Fortuny pleats were achieved by completing two successive pleating processes, each pleating using a different mold.
"First we used a frame with flat folds of 4mm width. The whole pleating process was repeated with a mold with accordion folds of 6mm width. For Maison du Pli, I perfected this technique by adding a third pleating process, using a third mold, "Scales" or "Kheops" to create stylish pleats I named "Pisa." This original pattern was used by Maison Margiela for their SS/19 collection shown in January 2019," Karen explains.
(Left) A sample of pleated leather for Bjorg Design Studio. (Right) Pleating pattern "Kheops" used for the Fortuny pleats.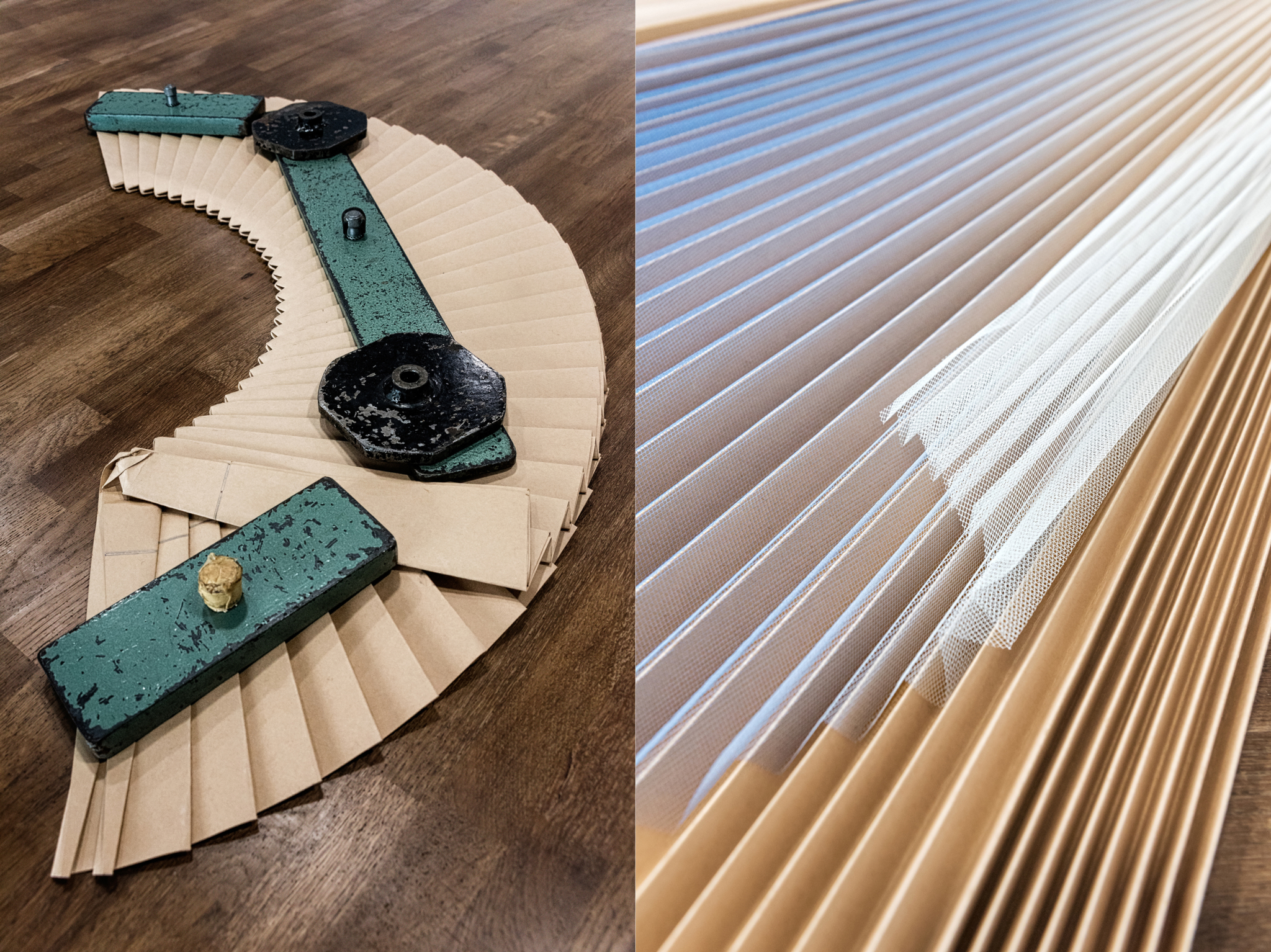 (Left) A new mold for collar of a stage costume being crafted for the Opera-Comique. (Right) Pleated silk for Armine Ohanyan's wedding gown for her haute couture collection.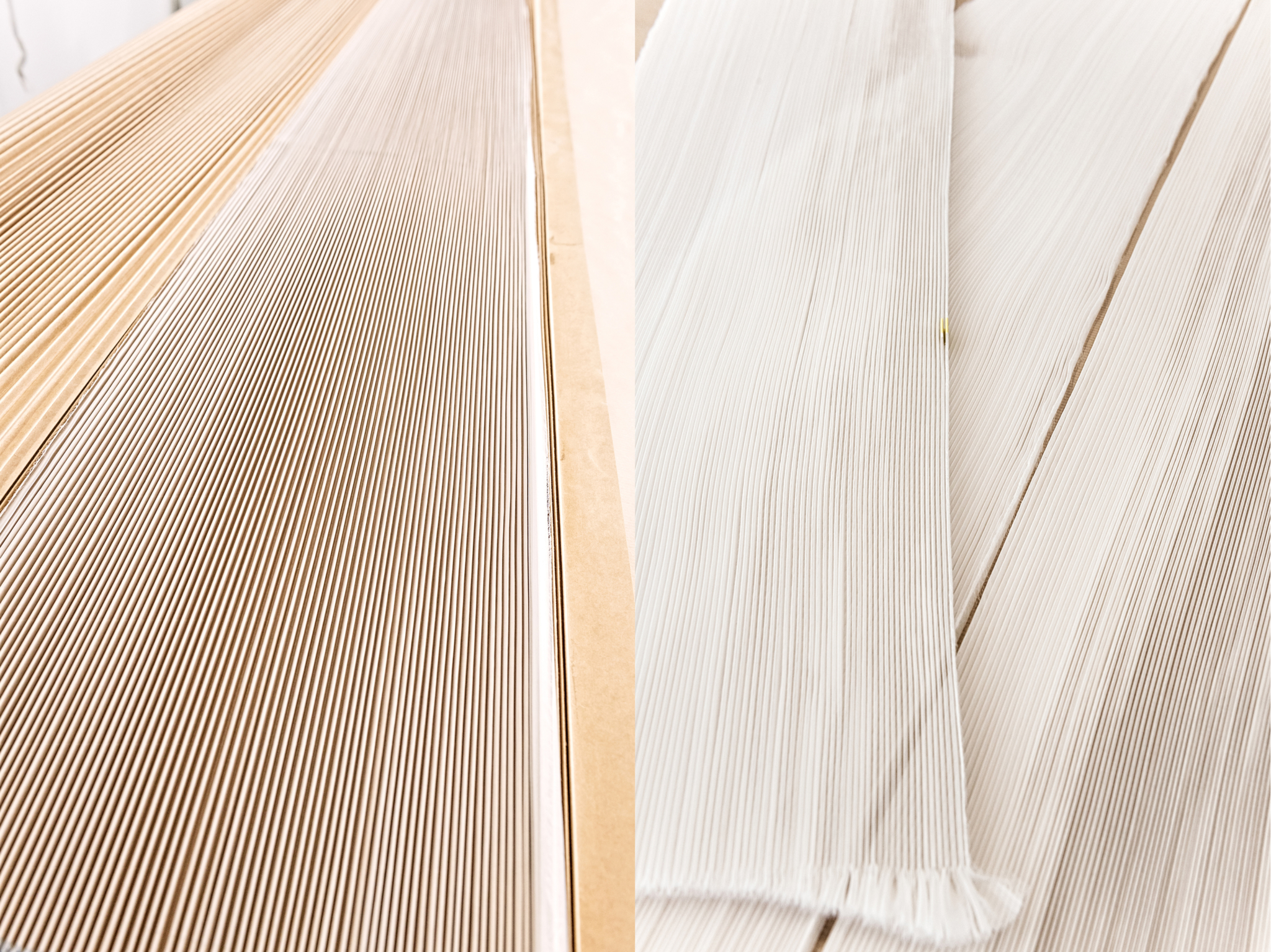 (Left) "Accordion" pleating mold revealing the finished silk chiffon. (Right) "Accordion"-pleated silk chiffon.
Creating and Crafting a Pleating Pattern
"I enjoy working with my hands, especially when I'm drafting new patterns. In my mind, drawing is the most important creative step. My tools are very simple – a pencil, compass, ruler, bone folder, awl and boxwood piece to fold the lines," he adds.
"The creation of a new pattern starts with long hours of research. I enjoy drawing rough ideas, making small samples and exploring possible variations. It also triggers my inspiration," Karen notes "The creative process is the hardest because most of the time I don't know if the pleats will be used for a collar, sleeve, skirt or whole dress. I make 2 or 3 samples so the client can actually see how ideas translate into folds. The most important lesson I've learned from Mr. Lognon is to think about creativity first, budget and costs second."
When a client wants a specific design, Karen does not evaluate the time he will be spending crafting samples. If an idea sounds appealing, his first goal is to make the frame and solve the technical difficulties. "I think about cost effectiveness once I'm sure I can make the form. The mold is generally achieved through an exchange of ideas with the client, so it takes time. I know from past experiences that ultimately, there will be a balance between creation and costs," Karen says.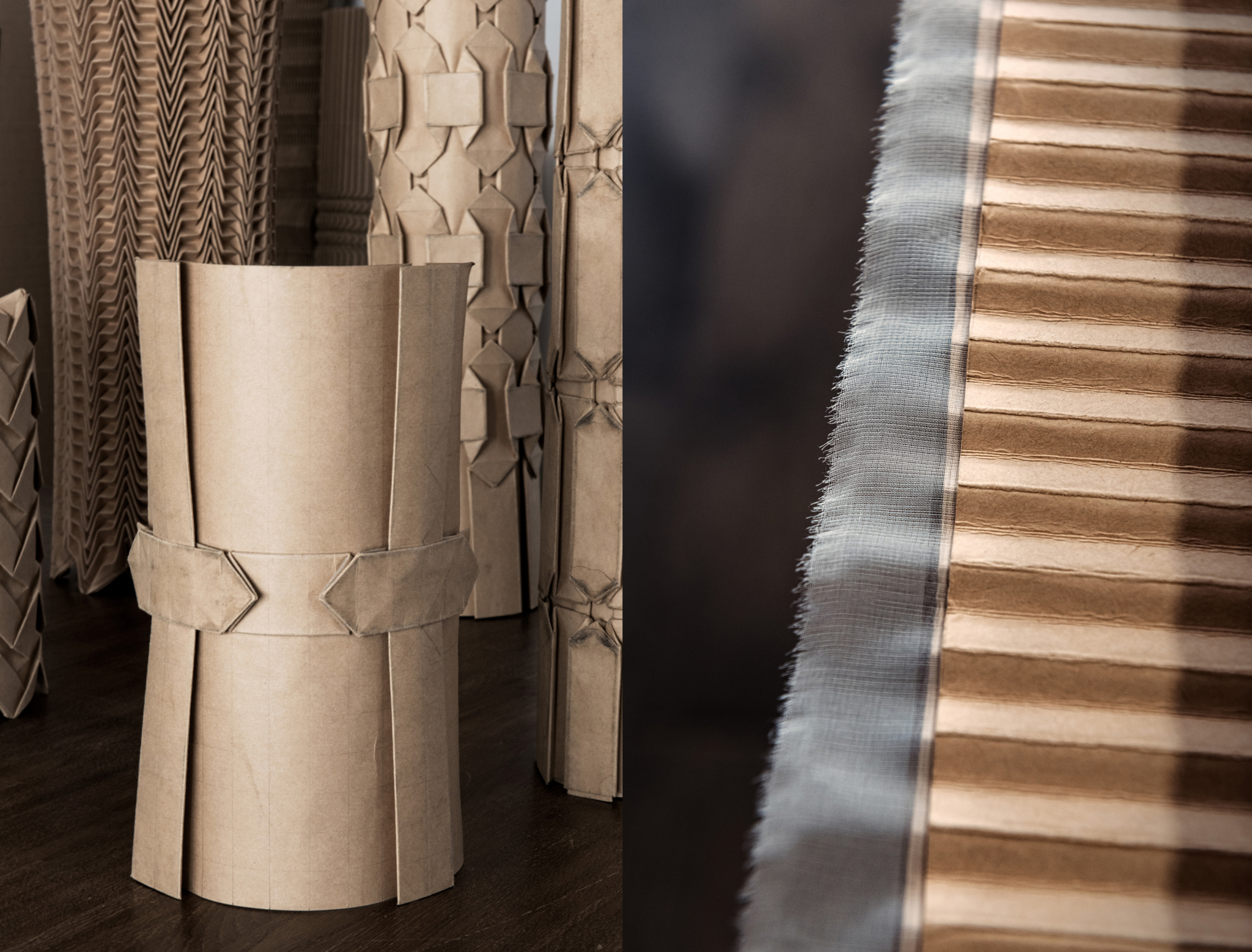 (Left) Handmade "Modèle H" mold for Hermès. (Right) According pleating pattern with silk fabric.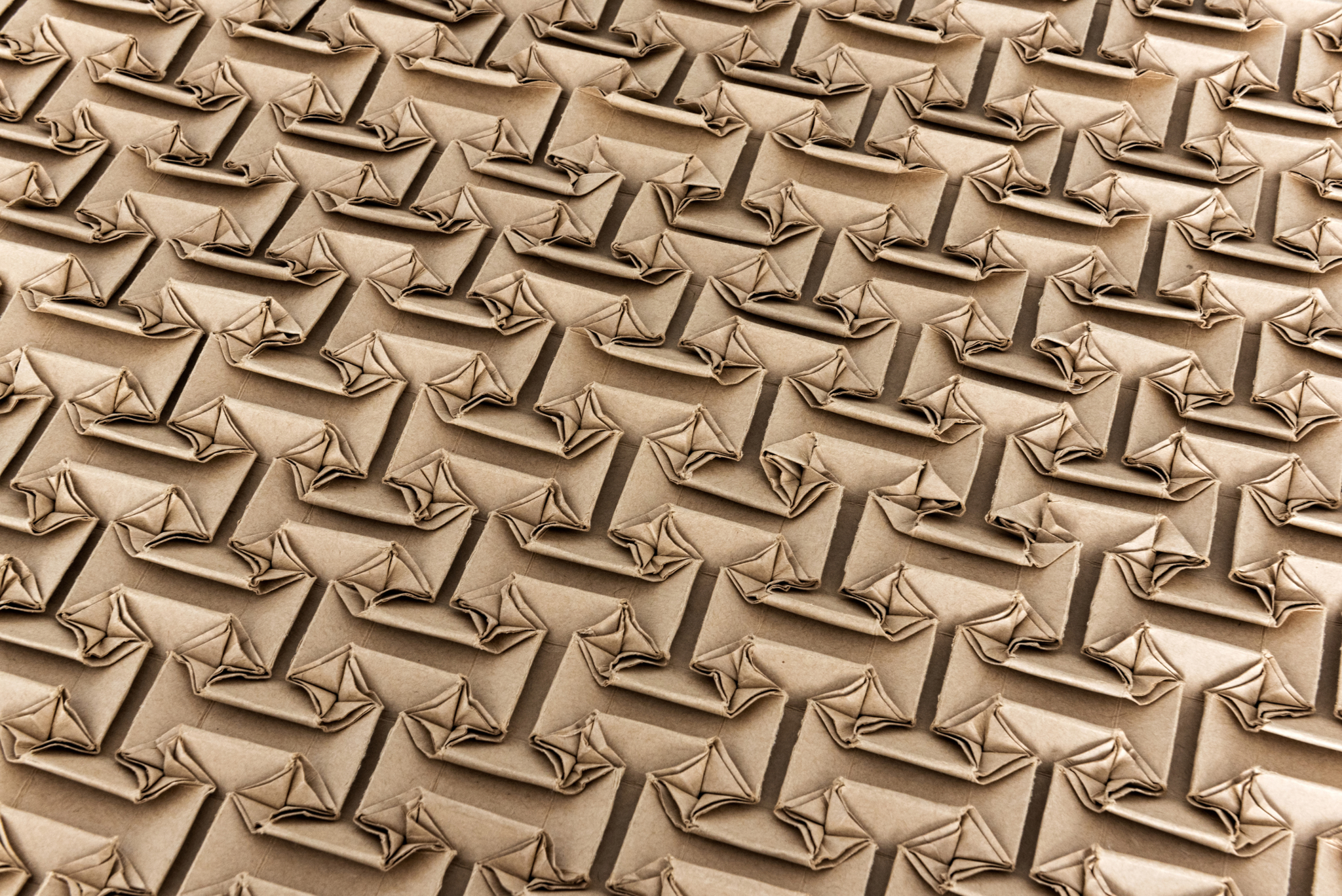 A mold designed and handmade by Maison du Pli.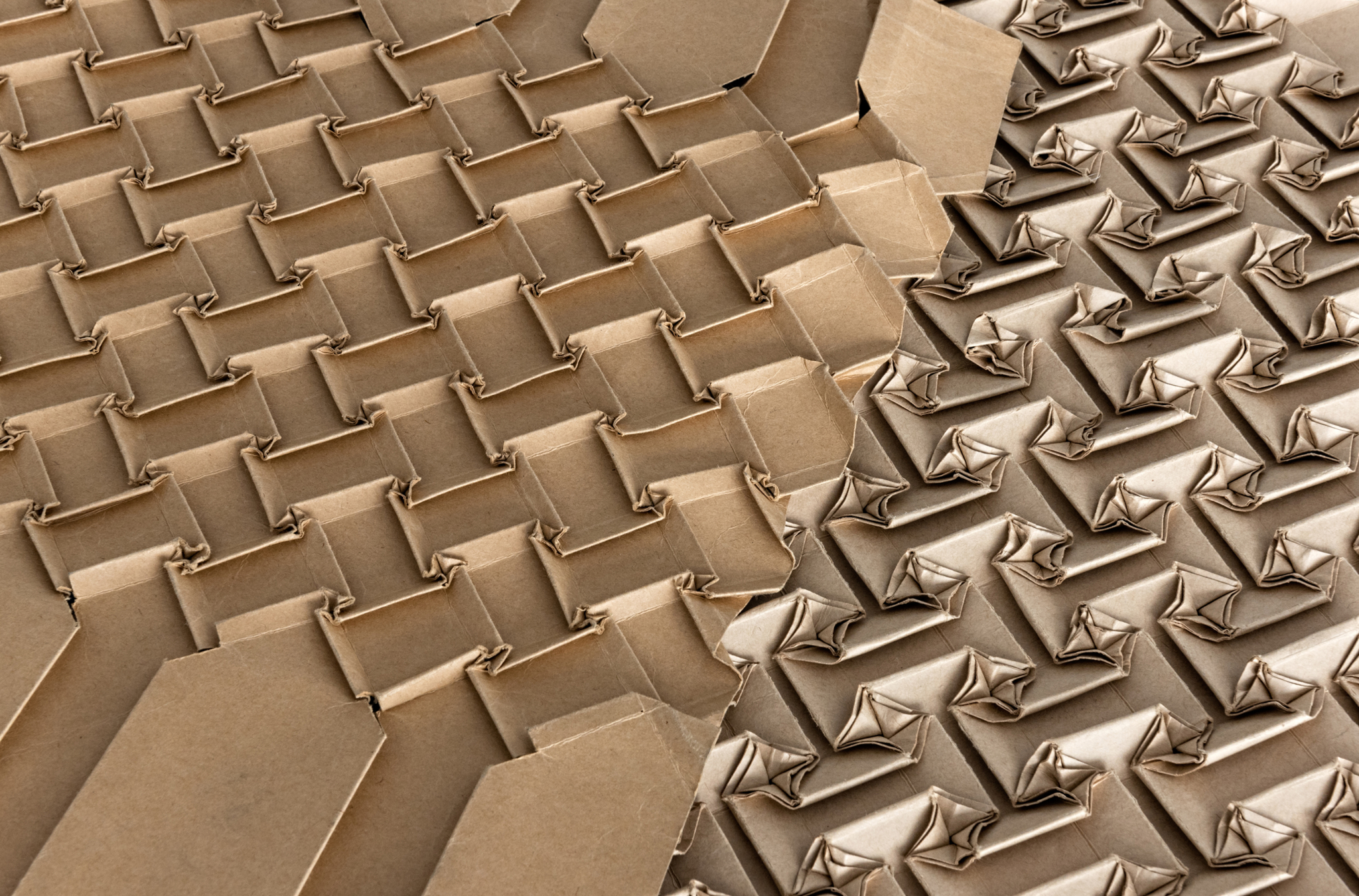 A mold designed and handmade by Maison du Pli.
A cardboard mold is made of two pieces of card folded together, like a sandwich. The card is coated with a resin to protect it from moisture when it goes into the steam cabinet. When making a new form, the thickness of the card is chosen according to the fabric that will be pleated. Heavier fabrics such as wool, leather, canvas or woven bronze threads require thicker paper and folds must be deep enough to be pleated by hand. Molds with narrow folds, hence in a larger number, are more difficult to make. The depth and width of the raised and under folds (1 to 5 cm) also play a key role. A fold too deep can generate unwanted fabric thickness at the waistline. The pleating master must constantly find creative solutions to solve technical issues in order to achieve the desired look of the garment. Some fancy pleating molds may require a week or even a month of work when a simple mold can be done in one day.
Karen defines the process, "For a fancy pattern, I draw the design on the cardboards using a pencil, an awl and a ruler, then I scribe all the lines with a bone-folder. For simple pleating patterns, such as accordions or sunrays, I scribe the lines directly on the cardboard with a bone-folder. I must draw the lines of the lengthwise grain(*) on the two sheets of every mold. For a semi-circle sunburst form, I typically draw three lengthwise grain lines: one line from top to bottom at the center of the mold and one line on each side, along the edge of the mold."
Finally, using a smooth boxwood modeling tool, Karen folds the lines according to the layout and gives the mold its final shape. Heavy iron weights are placed on top to stabilize the pattern until it is steam ironed and inserted into the steam cabinet for one hour. Depending on the frame width, the number of pleats will vary from five up to 100. The molds generally last about 5 years, but with heavier fabrics such as leather or thick wool, the mold has to be redone after a month of use and about 15 to 20 steaming processes.



(*) Lengthwise grain refers to the threads in a fabric which run the length of the fabric, parallel to the selvage of the fabric.
Crosswise grain is the threads that run perpendicular to the selvage of the fabric or the cut edge of the fabric as it comes off the bolt.
Bias grain is the thread line that is at a forty-five-degree angle to the lengthwise and crosswise grain of the fabric as it is on the bolt. The bias has stretch in woven fabric and will hang differently than a garment that has been cut on the straight or crosswise grain.
Karen's son, Roudolph Grigorian, laying out black silk onto a sunburst pleating mold.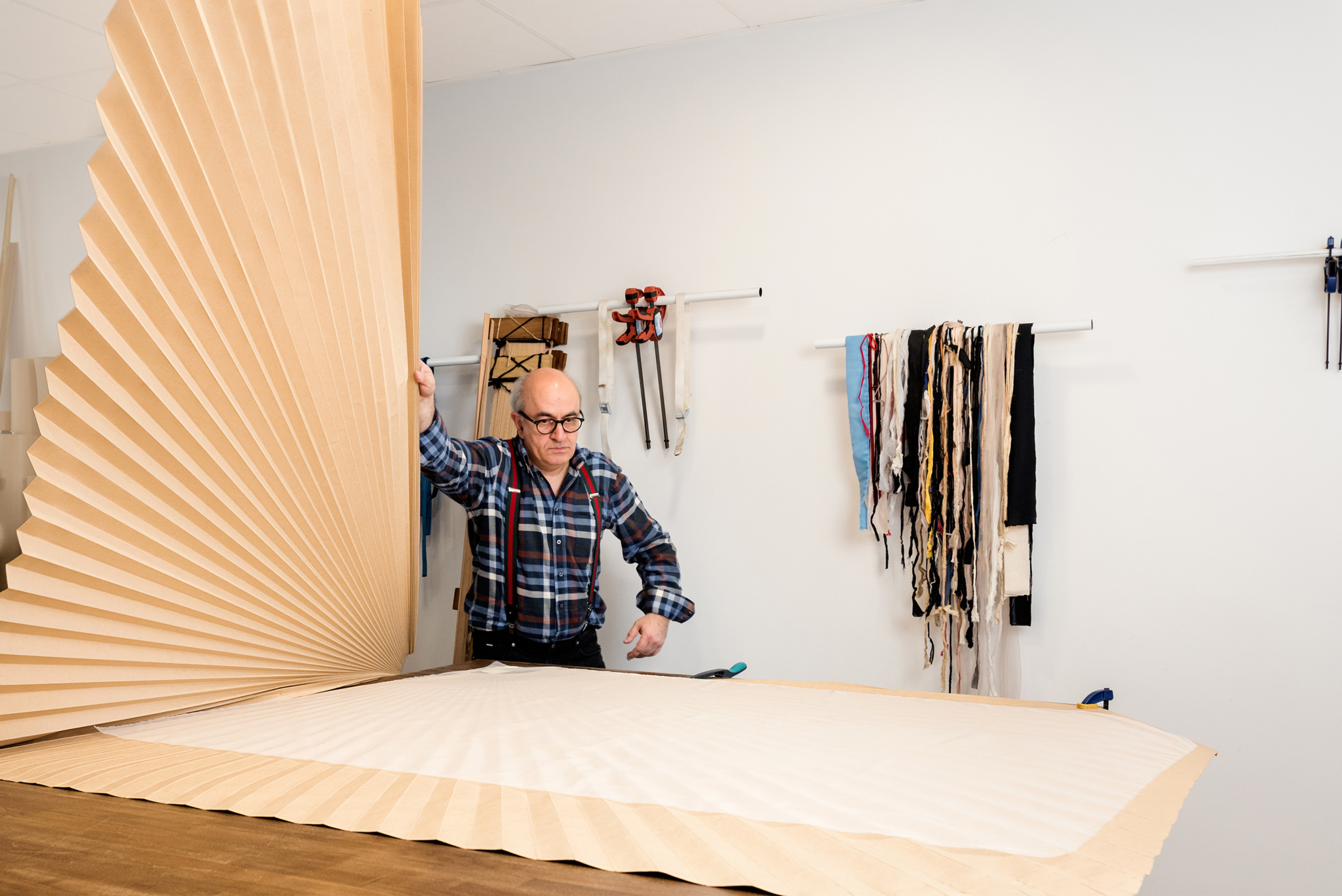 Closing the sunburst mold before pleating.
Closing the sunburst mold for pleating (Maison Armine Ohanvan's green silk).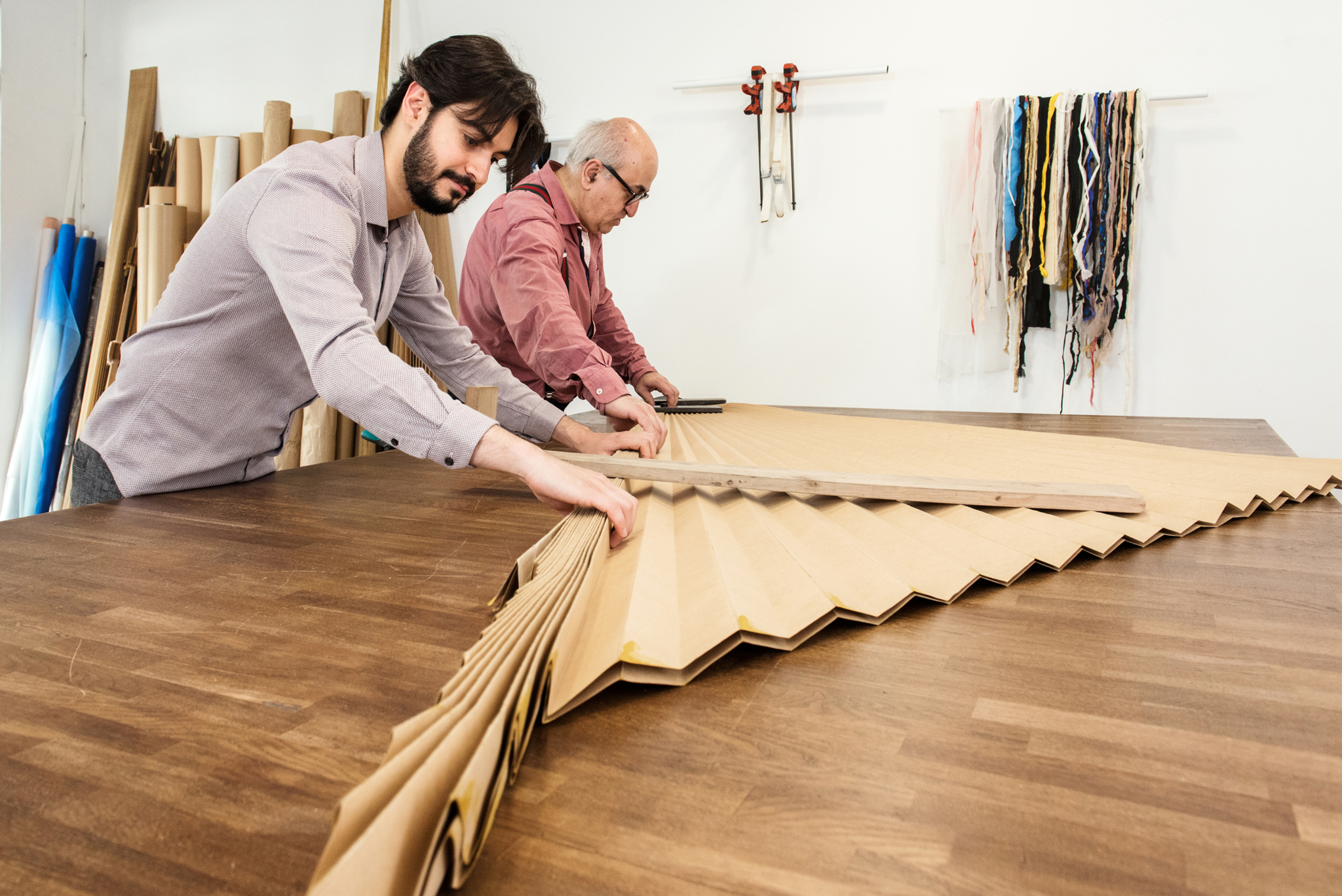 Father and son pleating a sunburst mold.
There are two main professional methods of pleating fabric: table pleating and machine pleating. Maison du Pli is entirely dedicated to the table pleating method.

The techniques and tools of table pleating have hardly changed since the 1900s. Pleating starts with stretching and clipping the mold to the bench. The mold is opened, the fabric is placed face up between the two plies of the mold. If necessary, the fabric is gently steamed to smooth out wrinkles. When positioning the fabric on the mold, the pleater makes sure the lengthwise grain of the fabric is aligned with the grainline he previously marked on the paper.
The mold is closed for pleating and unclipped from the bench. The artisan makes sure the edges of the two sheets match perfectly, then squeezes the folds gently by hand as heavy pressure would leave marks on the fabric. Throughout the operation, sticks with heavy weights on are placed on the mold to keep the fabric from moving. Once the mold is completely rolled, it is either wrapped up in kraft paper for steaming or simply squeezed between two pieces of wood and tied on both ends. The mold is then put into the steam cabinet. This whole operation is completed in 20 to 30 minutes.
(Left) Accordion pleating pattern is folded and rolled up before steaming. (Right) Custom-built steam cabinet.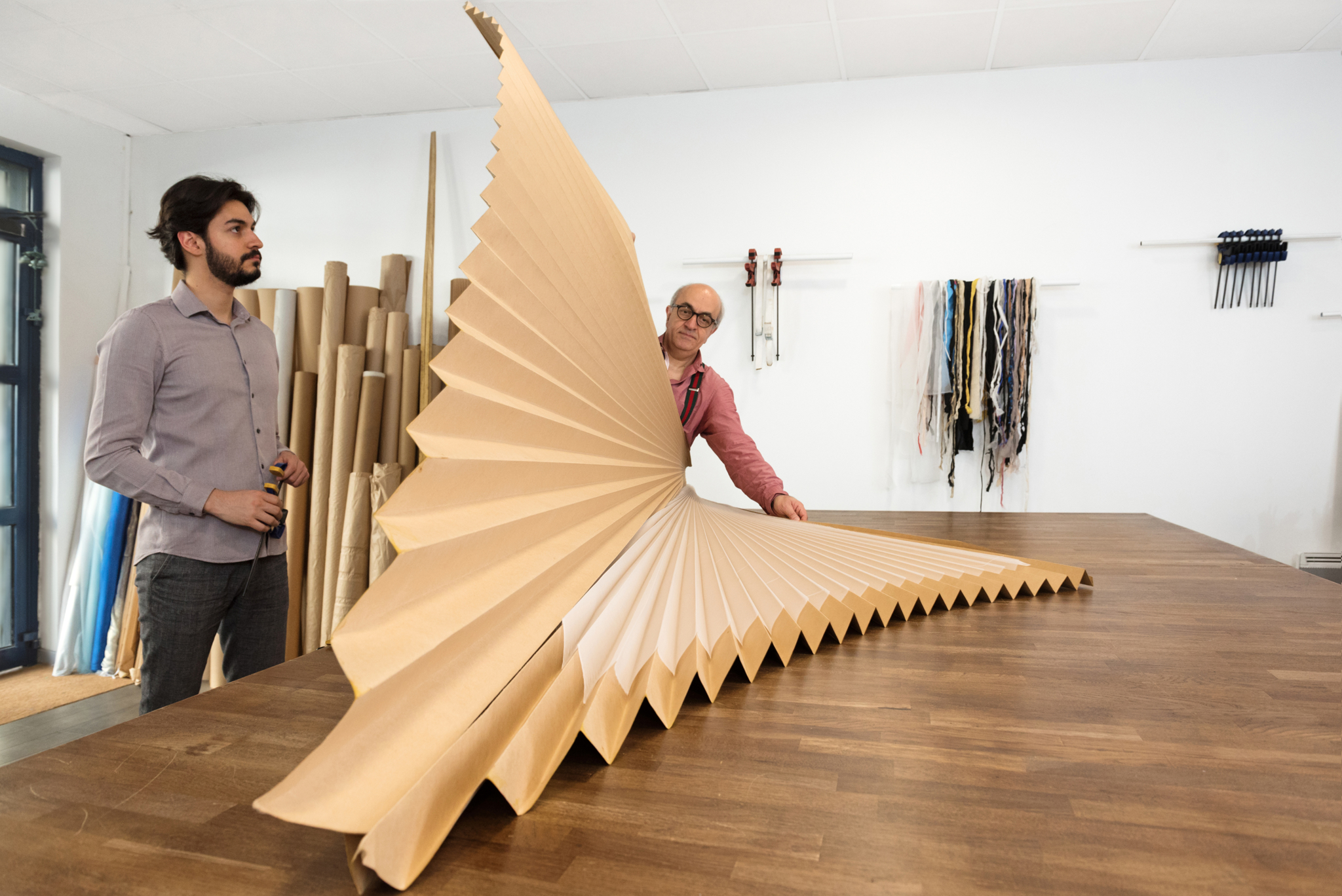 Opening a sunburst mold.
Armine Ohanyan examining the pleated silk of the wedding gown for her Fall/Winter collection.
Steaming provides the moist and heat that will change the shape of the fabric. Silks are maintained in the steam cabinet for one hour as the temperature rises slowly to 100°C while other fabrics are treated at 80°C. Then the molds are removed from the steam cabinet and left to cool down for 4 to 5 hours. Polyester fibers provide permanent pleating and are washable but natural fibers such as silk, wool, crepe or satin cannot be washed as the water will open the pleats.  
The very tall steam cabinet was custom-built by piling up three second-hand steam cabinets purchased from the Maille company in Nancy as they were closing down. The old operating system was upgraded to fix some recurring problems of steaming. According to Karen, "a major issue with standard steam cabinets was the production of too much steam which then turned into water. White or pale pink fabrics often turned to yellow. To prevent this from happening, you need to control the temperature and the quantity of steam."
This mission is impossible with standard gas-fired steam cabinets. The built-in system produced too much steam because the water tank was located inside the cabinet. When the temperature reached, 80°C or 100°C, steam escaped through two small holes located at the top of the cabinet and the gas automatically turned off. The temperature dropped, until the gas turned back on automatically. The temperature raised again creating more steam.
"I replaced this system with an external electric steam generator that works in a closed loop. I plugged the two holes and had two safety valves installed. With these alterations, I never put water inside the cabinet. The steam generator provides the right quantity of steam and as I can control the temperature inside the cabinet, the steam never turns into water," Karen clarifies. "With this system, I can pleat sequin fabrics without the risk of melting sequins, which is another major problem with steaming. And, last but not least, with a steam cabinet this tall I can do sunburst pleats on 3.50-meter long panels!"
When the mold has cooled down, it is stretched out and unfurled over the bench, revealing the pleated fabric. It takes two people to handle the larger paper forms. Some molds, such as the accordion pleats with thin and narrow folds, run the length of the pleating table. Once the fabric is removed, the mold's two layers are carefully folded back together, and the pleating pattern is either stored away or re-used immediately for the next project.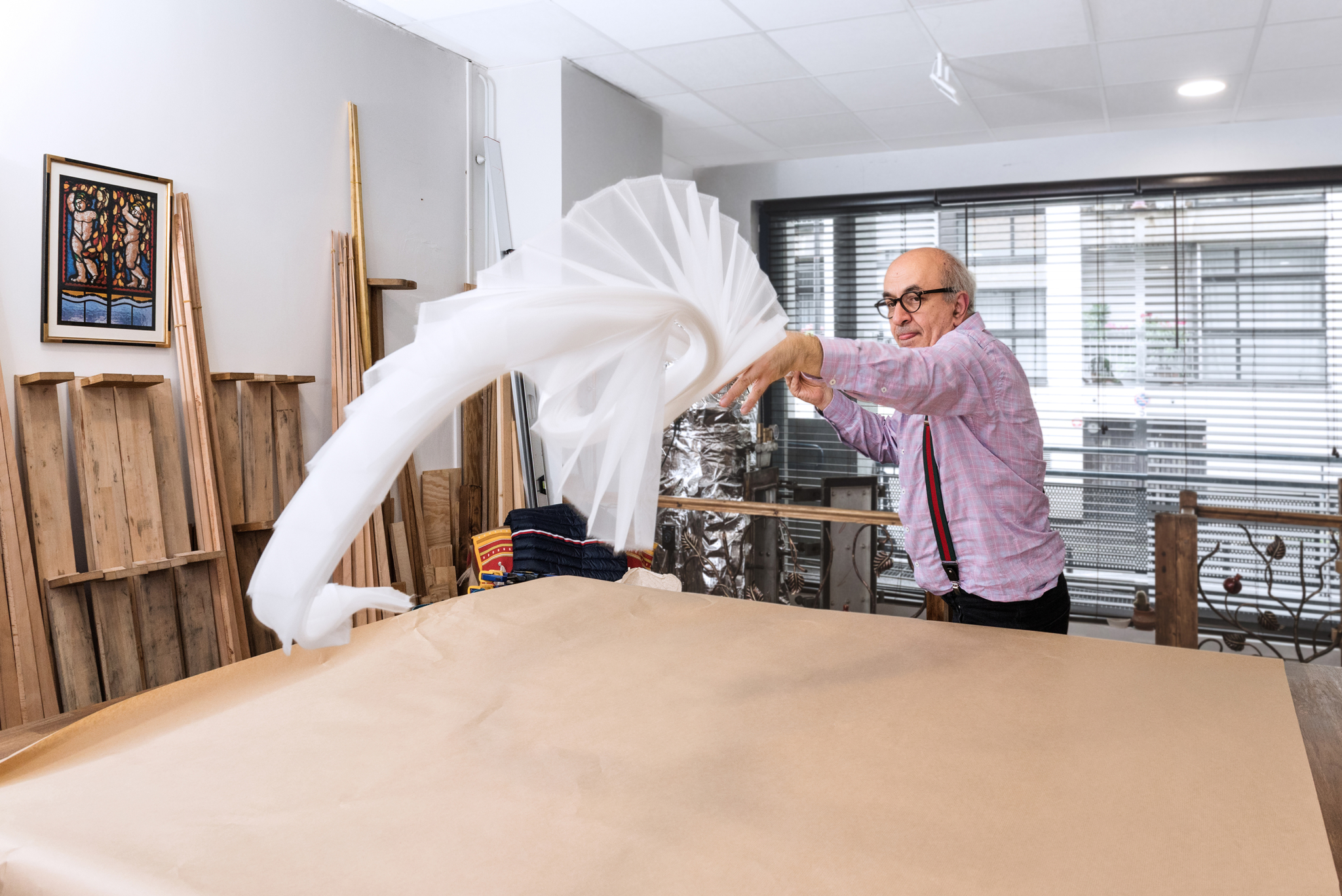 Throwing pleated silk into a flat position to be packaged and delivered. Hand contact must be minimized in order to avoid staining.
Transmission
Sadly, the art of pleating is not found in school programs. This art form and professional niche requires a long training period to gain the skill necessary to gently handle the molds, and learn all the tips and secrets of the trade. "It's a physical job. We are standing up all day and young trainees say it's too hard."
He does not have an apprentice yet, but Karen is nonetheless passing on his skills to a few students in Denmark. Twice a year, he travels to Emilie Lunden Textile School on the island of Møn, Denmark. "My students are theater and opera costume designers or fashion teachers. They all come from big Scandinavian cities or from the Feroe Islands. Teaching is very new to me, and it's quite rewarding. Students ask questions that trigger new, creative ideas. I show them how to make pleating molds, especially sunray patterns. They don't have steam cabinets, but they can use an iron device like Madeleine Vionnet and maybe Mariano Fortuny did.
After all these years, we still don't fully understand the secret pleating process Fortuny developed. Pleats are still a bit mysterious— and that's a good thing.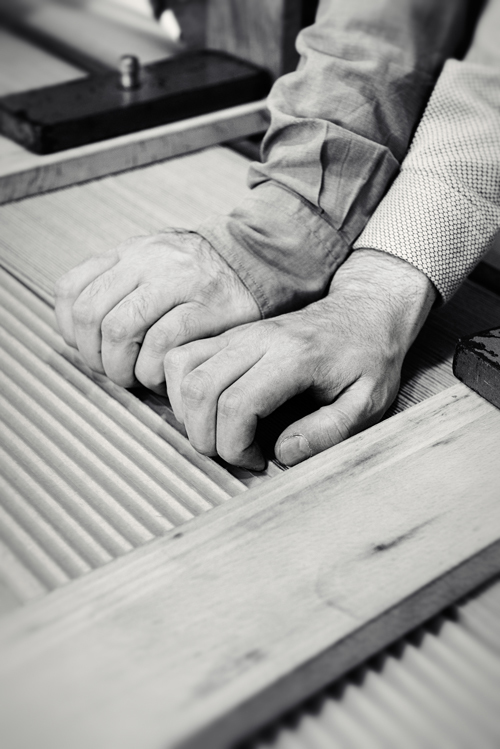 Hands of Karen and Roudolph Grigorian. Father and son at work.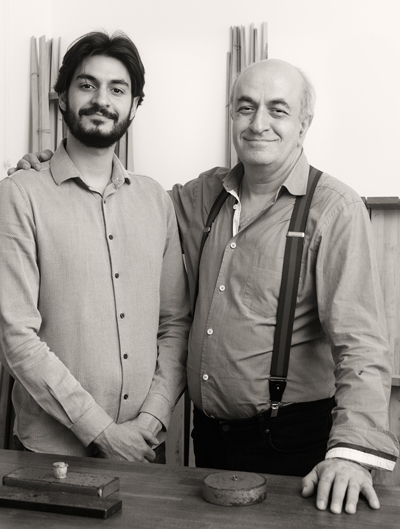 Maison du Pli was established in Paris' Belleville neighborhood by pleating-master Karen Grigorian. Born in Armenia in a chess family with a passion for Russian and French literature, Karen entered the textile and fashion industry when he moved to Paris in 1990. Benefiting from the skills and experience of its founder, Maison du Pli is entirely dedicated to table pleating. Karen creates all the paper molds he uses to pleat fabrics, leather and other various materials. He makes orders for fashion couture houses, theatres and design studios.
Anne Laure Camilleri is a freelance photographer based in Paris. She studied Film Making at the Conservatoire Libre du Cinéma Français and worked as a post-production supervisor before shifting to photography. Combining her passion for arts, journalism and cultural preservation into her features, she explores the spiritual values that permeate traditional craftsmanship and maintain cultural resilience. Her features have appeared in various media outlets including Selvedge, Embroidery, Inspirations, Handwoven and Pèlerin.
EDITING: COPYRIGHT © MOOWON MAGAZINE /MONA KIM PROJECTS LLC. ALL RIGHTS RESERVED.
PHOTOS & TEXT: COPYRIGHT © ANNE LAURE CAMILLERI. ALL RIGHTS RESERVED.
TO ACQUIRE USAGE RIGHTS, PLEASE CONTACT US at HELLO@MOOWON.COM