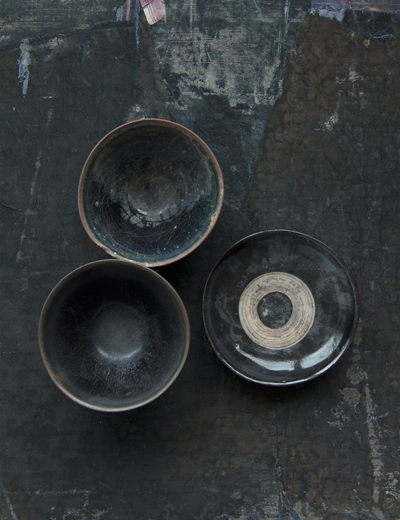 "The Chinese culture and art
are composed of the imperial art created by the noble intellectuals on one hand––the art which symbolizes the wealth and the elegance––and the popular art on the other hand. The main creators of this art are peasants who live in the countrysides. Their creations are objects of everyday life. These objects have never been appreciated at the Imperial Palace. They are fabricated on the spot and disappear on the spot. They are rarely kept and hardly known by the others except by the natives themselves. "
– Xin Yang
Ancient director of Museum of the Forbidden City
and a close friend of François Dautresme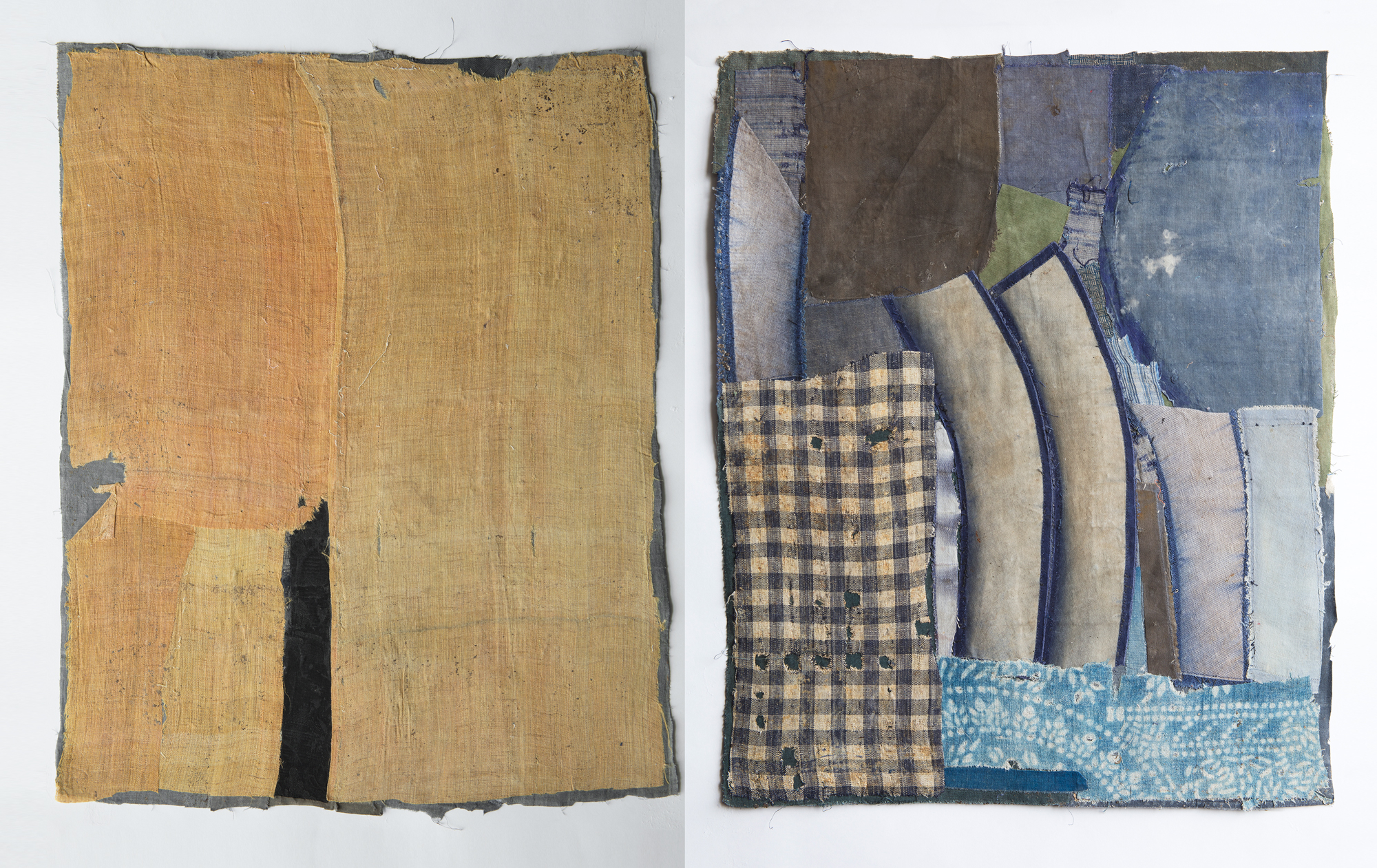 Button holes with eyes open.

A tinted shadow where there once was a pocket.

Faded orange cotton from hard work under the sun.

A fragment of summer plaid pattern.

A fragment of flowers from her blouse.

Inner lining from the elder's jacket.

Collars in a Cubist painting.
To enjoy the full story, become a Member.
Already a Member? Log in.
BE A MEMBER
For $50/year,
+ Enjoy full-length members-only stories
+ Unlock all rare stories from the "Moowon Collection"
+ Support our cause in bringing meaningful purpose-driven stories
+ Contribute to those in need (part of your membership fee goes to charities)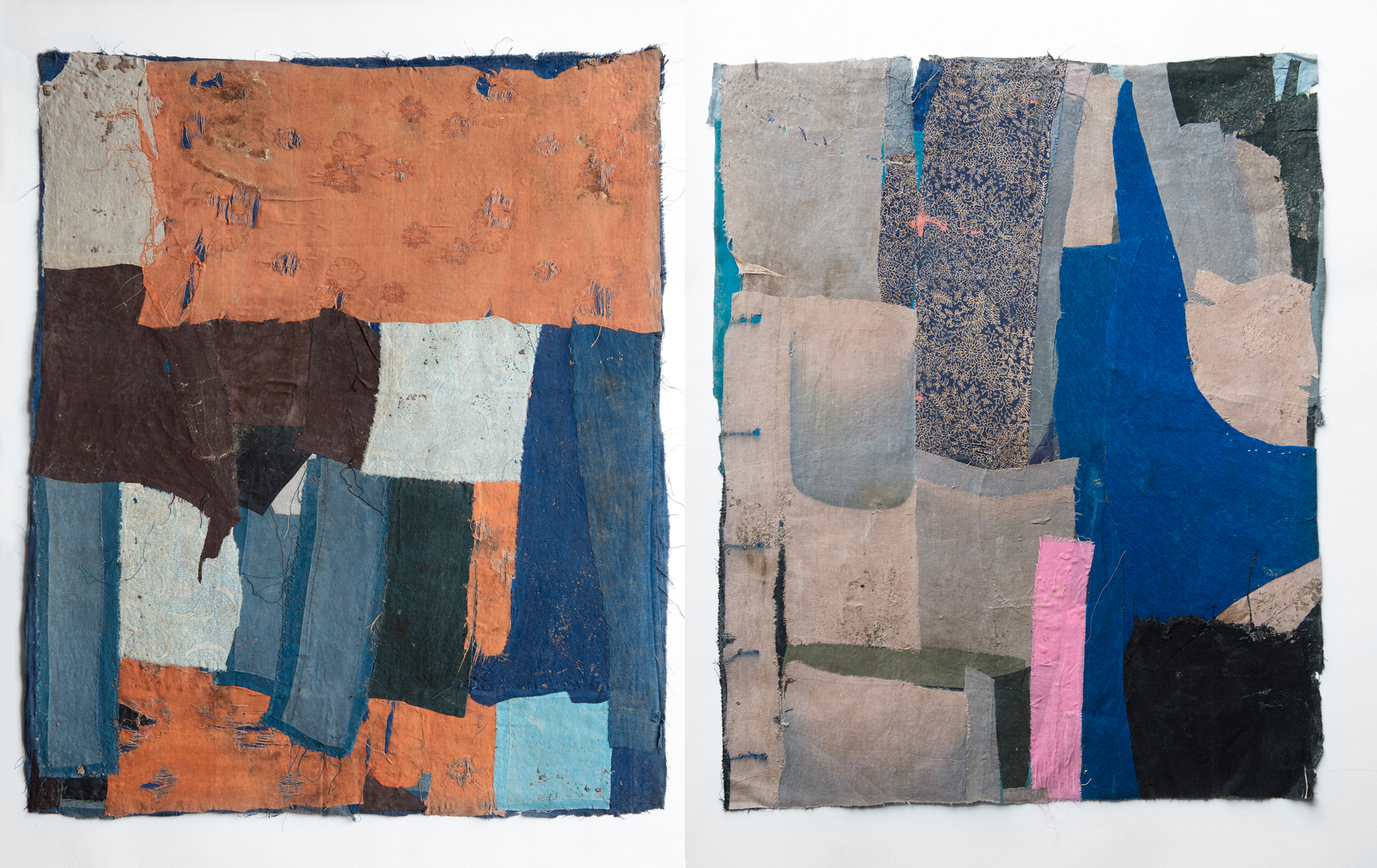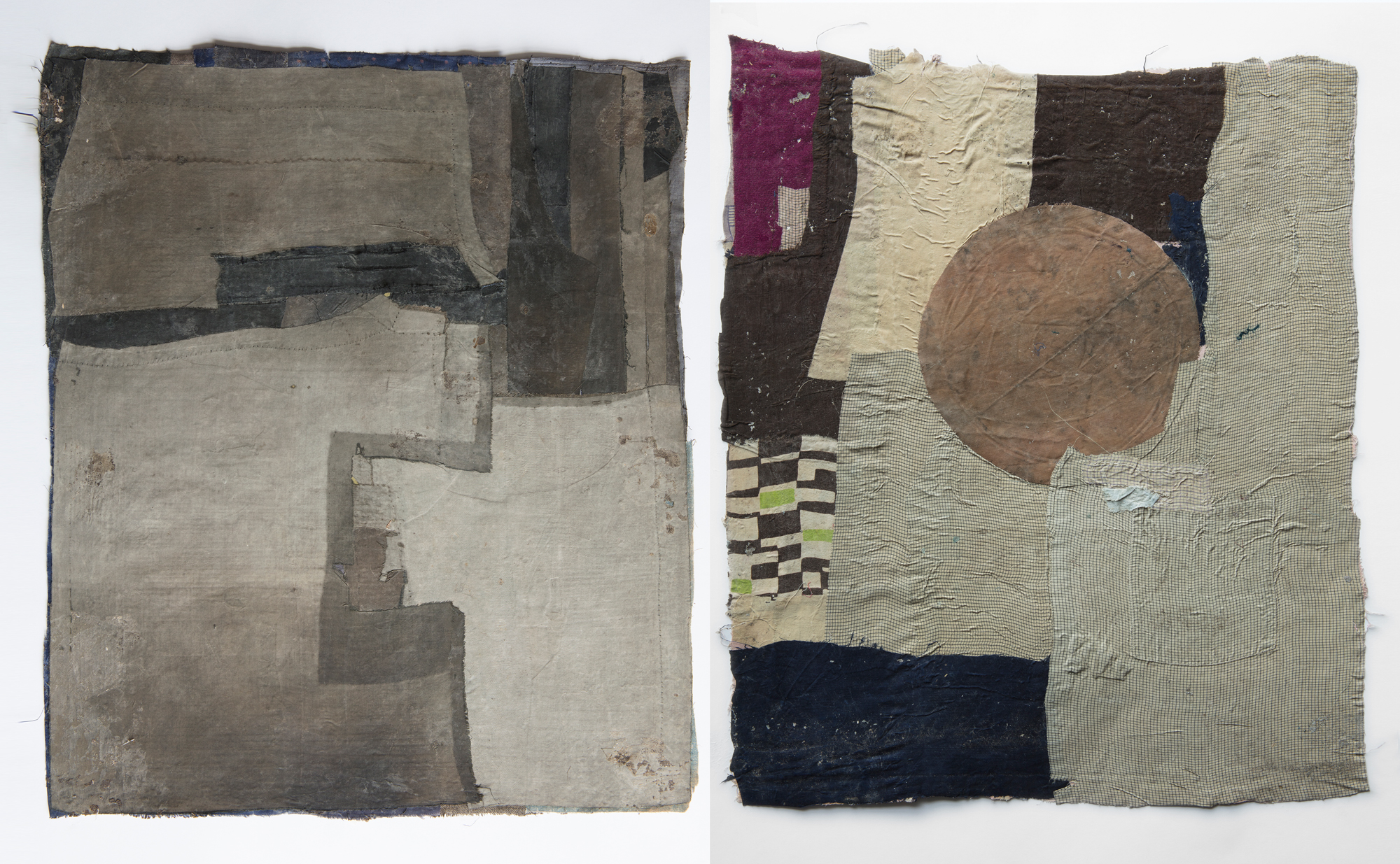 Poetry of torn posters.

An aerial map in nuances of grey.

An archway in profound earth red.

A cave inside a mountain.

Dark craggy mountains of pitch-dark storm.

A wheel moon and green stars.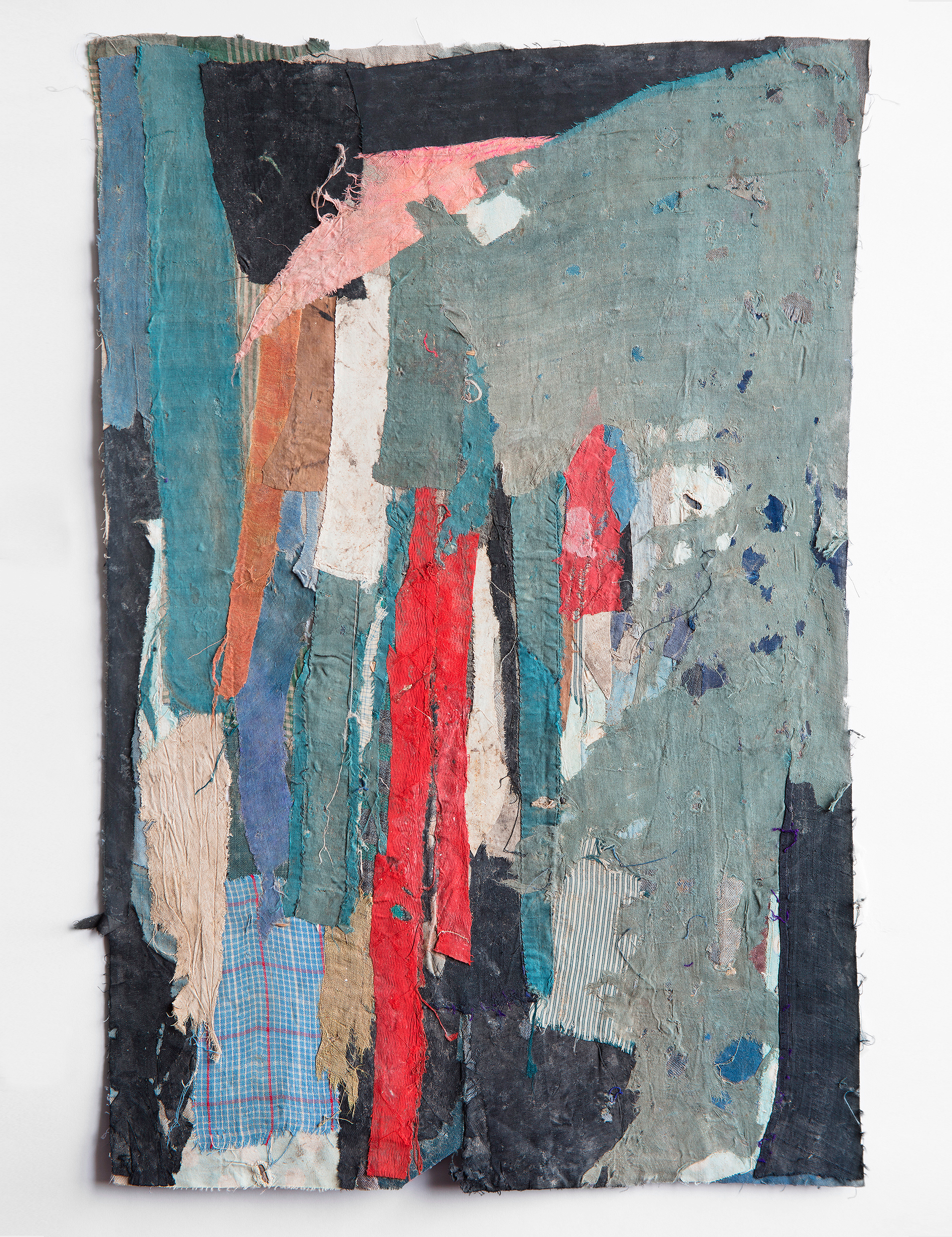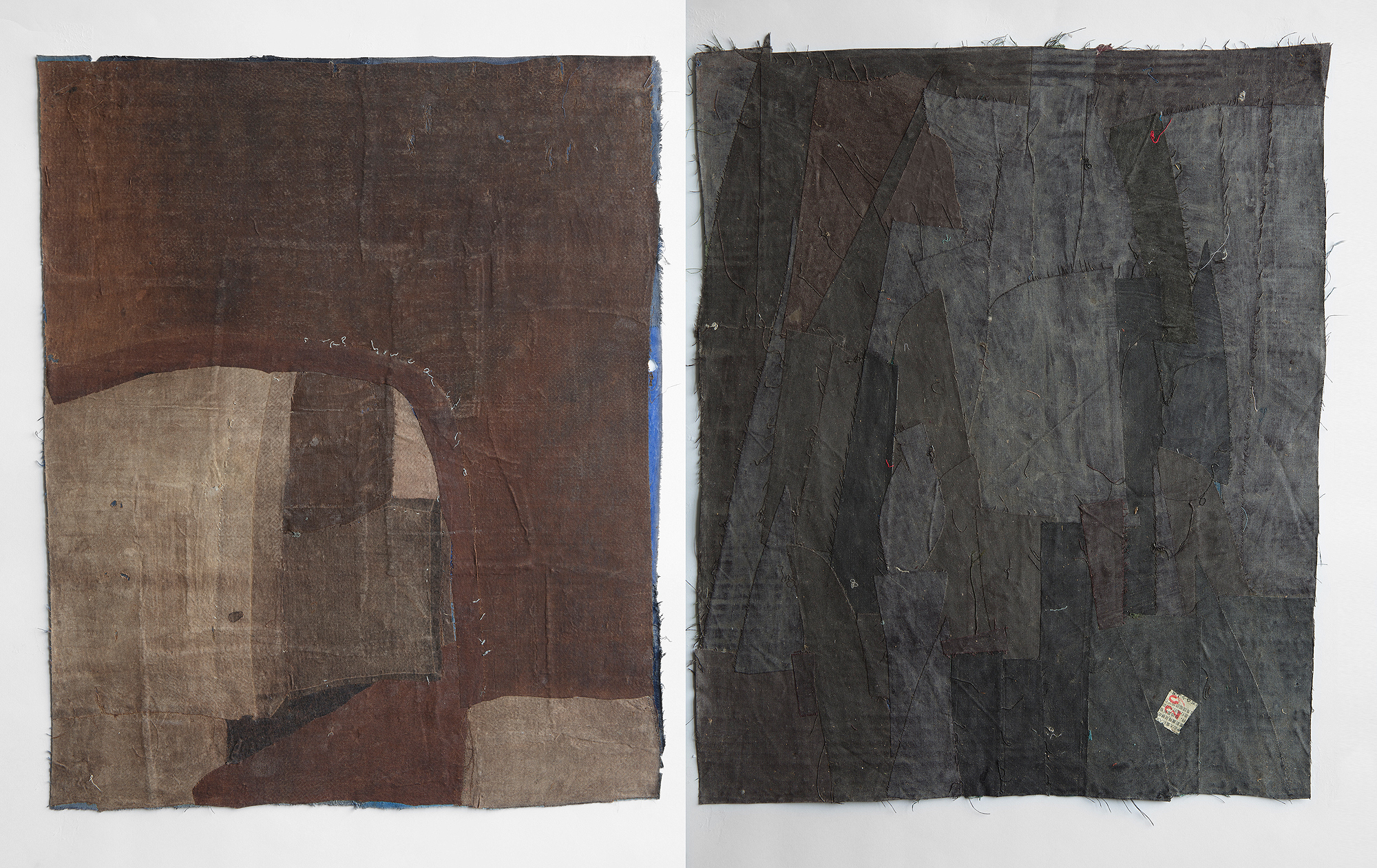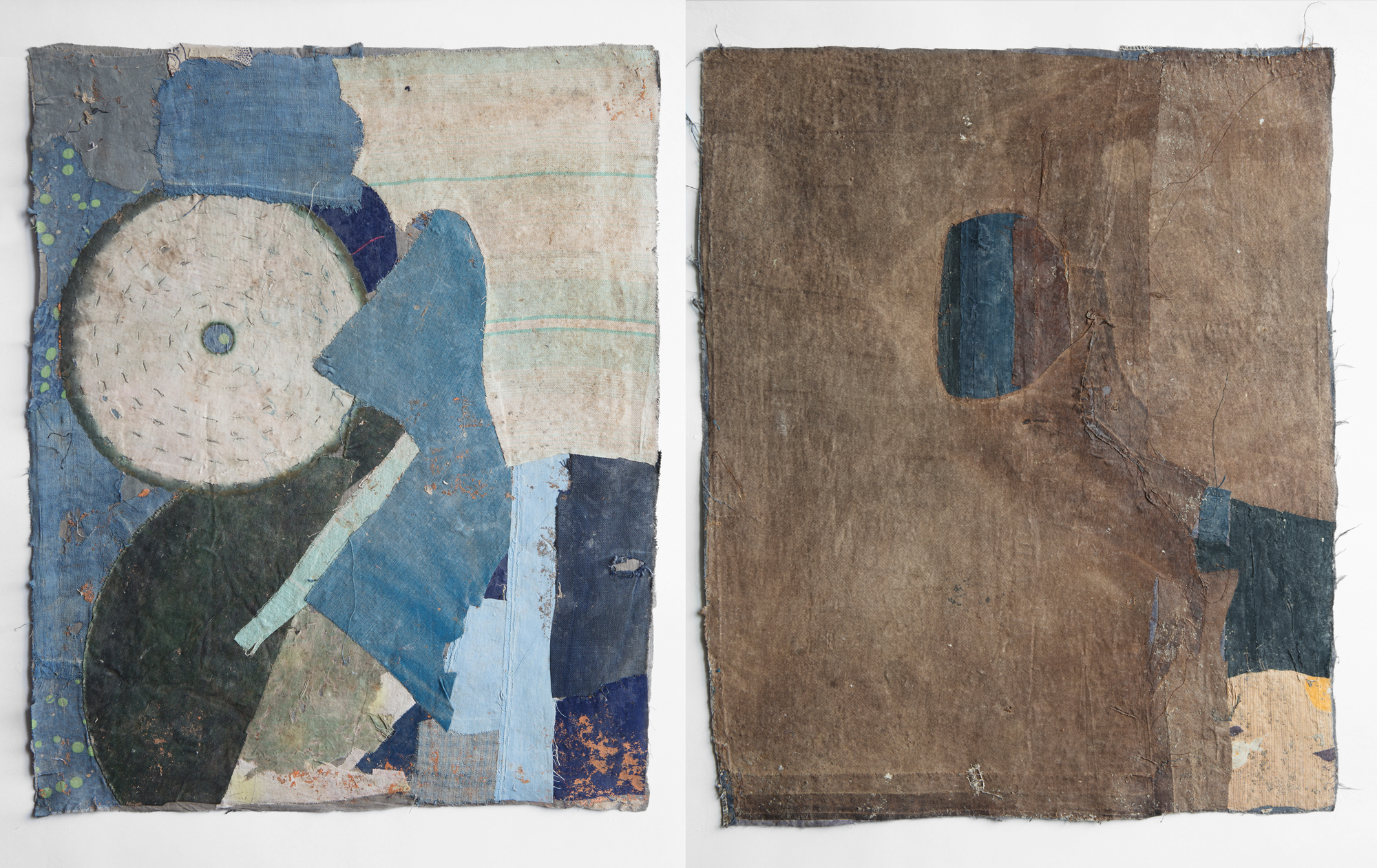 Their creators knew it was art—an ephemeral art that would soon be cut and destroyed for functional purposes. Ge Ba, these "paintings" in textiles, means "layer" in Chinese. It is a collage of glued-together cloths that were cut and mainly used for making shoe soles or, at times, used as lining for clothing. Although no one has ever considered it as such, they are unframed masterpieces that have been born out of poverty and originate from unassuming places.
François Dautresme, a pioneer and an impassioned collector of everyday Chinese objects, saw the beauty and art in these recycled objects. It so happened that during one of his recurrent voyages to China, he entered a small shop that sold everything made with secondhand fabric. In a dark corner of the shop, he noticed stacks of something so uncommon, something he had never seen before. Completely magnetized, he traveled to small villages and cities from the 60s to the 80s in quest of these magnificent collages. He started to collect them fearing that they would disappear one day.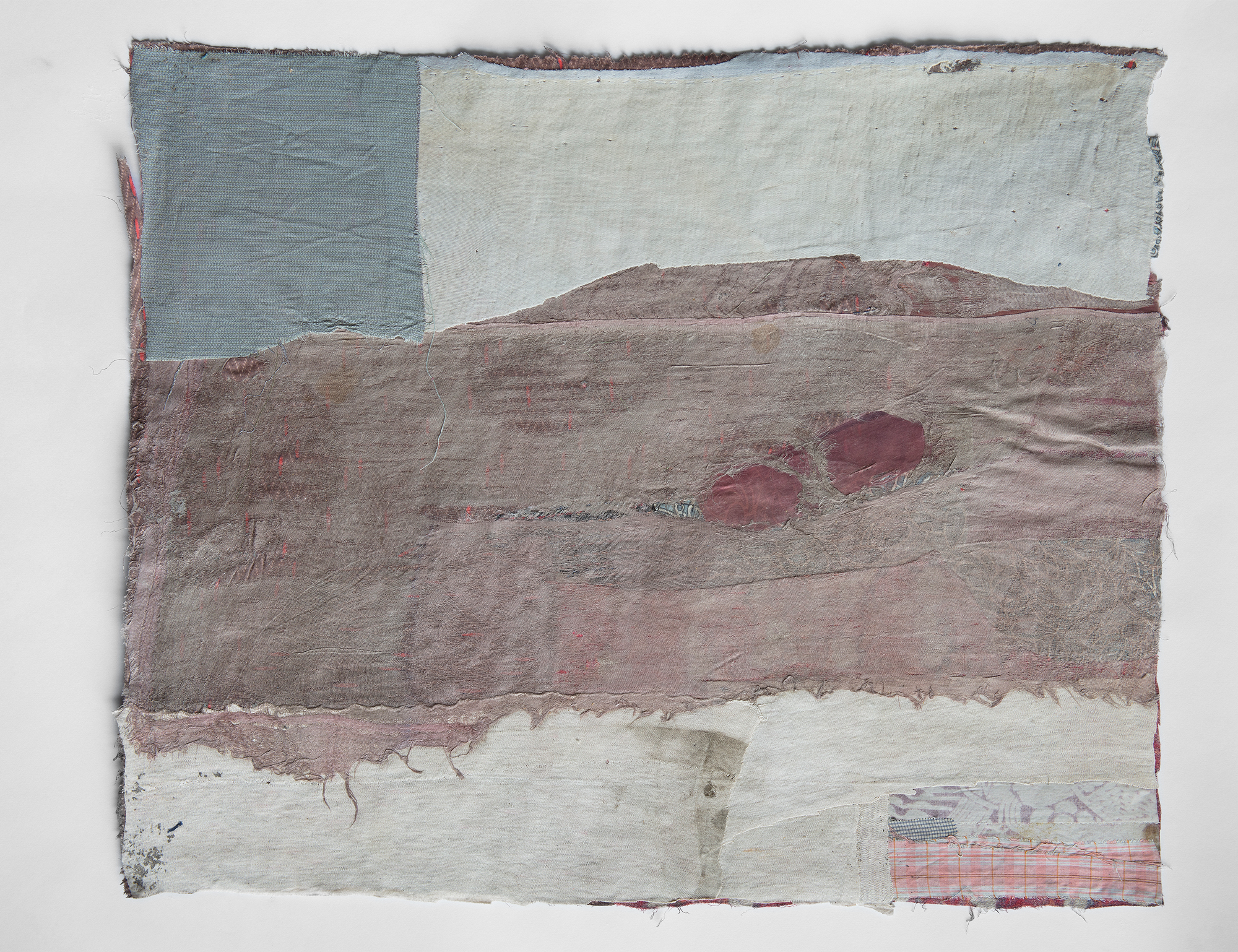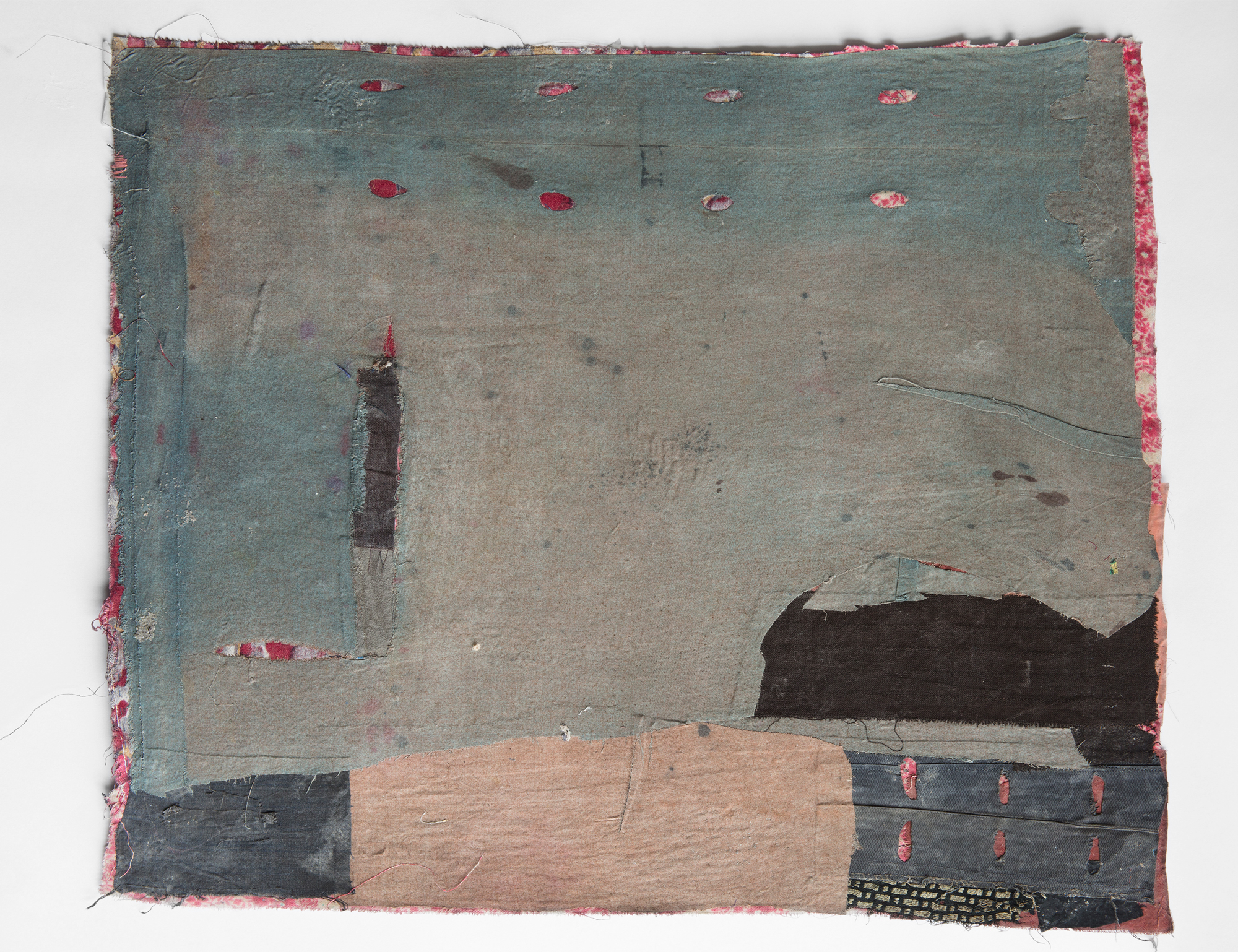 The pieces of fabric utilized for these collages were either those that were found in people's own homes or recuperated from others who threw them away. Back then, old ladies made them at home, at times in each other's company. Aware of the potential for exquisiteness in their creations, they treated the making ritual as if were a beauty pageant. Sometimes they even included fragments of precious embroidery sewn on silk. Some of these women were unaware that they were born artists. Amongst the interesting pieces collected by François, are those that originate from the Cultural Revolution during the Mao period, where one can even see red armbands. Today, people continue to make Ge Ba, but it is longer the same, especially in the beauty and quality of its fabrics.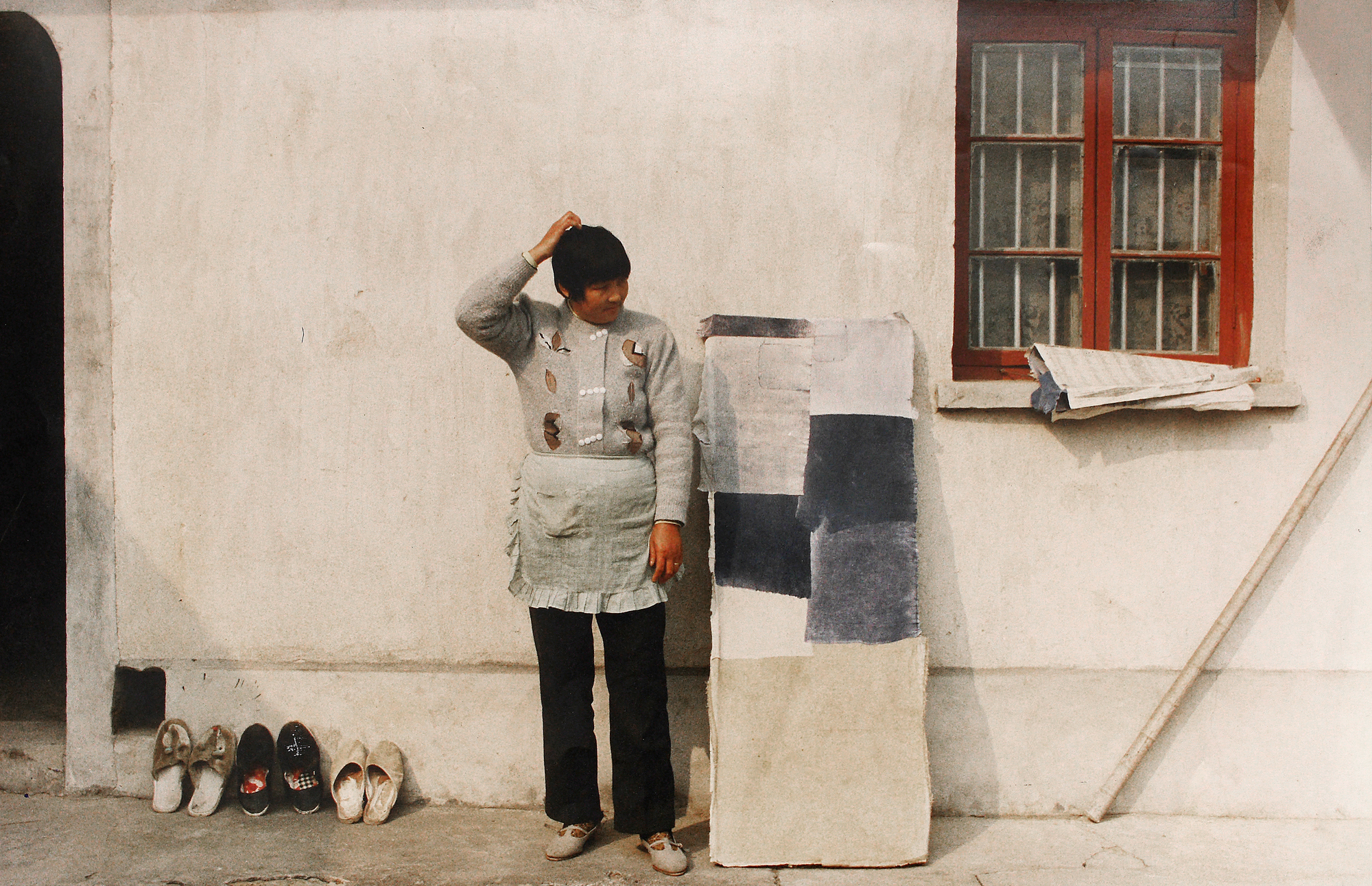 Photo: François Dautresme
During a conference held in San Paolo, Brazil in 2002, Xin Yang, a retired director of the Museum of the Forbidden City and a close friend of François, recalled his childhood growing up in a peasant family: "When I was a kid, my mother was making collages. She always kept aside the cloths she found. When the time came to make it, she first sorted all the cloth on a paper to the right and left to see if the colors were in harmony, then she began to glue them when she was satisfied with the colors. And that's how a work of art was born. When the weather was nice, the women of the village gathered at the entrance of a house to work together while chatting. And the collage became a real competition between the women. The one who made the most beautiful collage was like a champion who would have won a grand prize for sport."(1)
The women of the countryside, who created these pieces that others considered banal and rustic, were not in pursuit of creating masterpieces. Their hearts and desires simply sought beauty.
(1) Excerpted from a text written by Xin Yang in 2002 for the conference held at
Fundação Armando Alvares Penteado (FAAP) in San Paolo, on the the occasion of the exhibition "China: The Art of Everyday Life".
The exhibited objects belonged to the personal collection of François Dautresme. Mr. Dautresme passed away on the eve of the conference,
which marked this exhibition as his last.

A special thank you to Françoise Dautresme
for her generosity in sharing this incredible legacy of her cousin François and the CFOC empire they had built together, as well as to Nelson Sepulveda for introducing us to the extraordinary art of Ge Ba.
François Dautresme(left) with his cousin Françoise Dautresme (right)

François Dautresme (1925-2002) was the Founder of CFOC (Compagnie Française de l'Orient et de la Chine, French Company of the Orient & China) in 1965. Seduced by tales recounted by his uncle Jacques Dautresme, a captain of overseas courier crossings, China soon became François' central passion. During his 35 years of countless travels and explorations in this land, he collected a staggering number of objects and extensively photodocumented its culture, particularly in its rural areas. The synergy between beauty and utility was at the heart of his fascination.
Nelson Sepulveda is a creator of artisan-made homeware, furniture, and objects. He travels the world to collaborate with local artisan communities for collections he develops for the brands Ay Illuminate and Cinq Etoiles. During his early days in Paris, Nelson designed makeup ranges for luxury brands. He later joined Edelkoort Studio, where he provided creative direction for View and Bloom magazines. He has been a contributing art director, set designer, stylist, and editor for various editorials including Mairie Claire, Selvedge, Le Monde d'Hermes, and Architectural Digest. He has also collaborated on special projects for the brand Dosa. Nelson is represented in Paris by Gallois Montbrun & Fabiani Agency.
Mona Kim is the Founder and Curator of Moowon magazine. As the Creative Director of award-winning multidisciplinary design studio, Mona Kim Projects, she has been conceiving public space experiences and large-scale experiential projects for global brands and cultural institutions. Her museum and exhibition design for the Canadian Museum of Human Rights, World Expo, Museum of Tomorrow (Museu do Amanhã), and UNESCO-sponsored projects, gave her the opportunity to document and be exposed to some of the most distinctive examples of social realities and cultural expressions. On these projects, she had co-curated world issues such as endangered languages, cultural diversity and sustainability. The Moowon project is an extension of this background. Her work has been featured in The New York Times, WWD(Women's Wear Daily), The Creative Review, and in publications by Gestalten and The Art Institute of Chicago.

EDITING: COPYRIGHT © MOOWON MAGAZINE / MONA KIM PROJECTS LLC. ALL RIGHTS RESERVED.
GE BA PHOTOS: COPYRIGHT © MARK EDEN SCHOOLEY. ALL RIGHTS RESERVED.
CHINA DOCUMENTARY PHOTO: © FRANÇOIS DAUTRESME / ARCHIVE COURTESY OF FRANÇOISE DAUTRESME. ALL RIGHTS RESERVED.
TEXT: COPYRIGHT © MONA KIM / MOOWON MAGAZINE. ALL RIGHTS RESERVED.
TO ACQUIRE USAGE RIGHTS, PLEASE CONTACT US at HELLO@MOOWON.COM