Throughout time, the old silk routes of Asia and Central Asia have provided for many, the means to transport goods and ideas for thousands of miles. From places as far as China in the East to Turkey and the shores of Gaza in the West, exotic items meandered along well-worn paths often transversing harsh deserts, high snowy mountain ranges, and steep lengthy valleys.
The idea of traders usually dressed in some type of flowing desert robes are often reminiscent of the days of old or films such as Genghis Khan. These old traders and many of the old silk routes themselves are still alive and functioning today. Contrary to the belief of what some of the population in the world's modern nations may think, here, many of the old ways of life carried on for thousands of years remain much the same as before.
There are undoubtedly good and bad qualities associated with each place on the planet. And often, our preconceived notion of life elsewhere is very different than it actually is. With this in mind, and with the desire to find a sizeable amount of black tourmaline crystals, I entered Pakistan. During my stay there I found this and so much more.
Badshahi Masjid (Mosque), Lahore, Punjab Region

To the Cities of the Southern Route
Pakistan and the Karakoram Highway make up an important part of these old silk route networks, sometimes called the Southern Route. Historically referred to as the western border of Ancient India, the Sindh, or the old Indus Valley region, Pakistan is sandwiched in between India, China, Tajikistan, Afghanistan, and Iran. Its position has remained the same for millennia. Endless chains of transport buses and trucks ply the Karakoram Highway today, replacing the camel and bullock carts of the past. It connects Iran and Afghanistan on the western borders to India and Kashmir on the eastern borders, and China and Tajikistan on the northern borders.
These photos show scenes of life in modern-day Pakistan. Despite it being a place that might not be initially deemed by some as "modern" or safe due to militant uprisings and disagreements between the different religious groups, people's generosity and warmheartedness are the qualities that I remember the most. They are happy to have the chance to speak with someone from outside their country and would often invite you to have tea or share dinner with them even shortly after a first meeting. Often I would sit in a small restaurant and order simple chai*. While waiting, it was not uncommon for the person sitting opposite to invite me to share their dish of food with bread. That is an incredible openness if you ask me.

(LEFT) Badshahi Masjid. (RIGHT) Tomb of Jahangir
Shah Alam Bazaar, Lahore, Punjab Region
The three large cities of Lahore, Karachi, and Islamabad make up the main urban centers of the country, while the Northern Areas and Balochistan occupy much of the rural and mountainous spaces. Among these photos are images of the giant Badshahi Mosque–one of the world's largest mosques–and the Shah Alam Bazaar which is one of the largest markets in all of Asia and Central Asia. The Badshahi Mosque left a very strong first impression on me because of the sheer sense of space I encountered upon entering its main courtyard which is said to accomodate up to 100,000 people for prayer, and the sight of its giant domes and the beautifully crafted arches of the main prayer building. The bazaar, with its endless, noisy, and bustling streets, was a stark contrast to the quiet and peaceful emptiness I felt inside the giant mosque.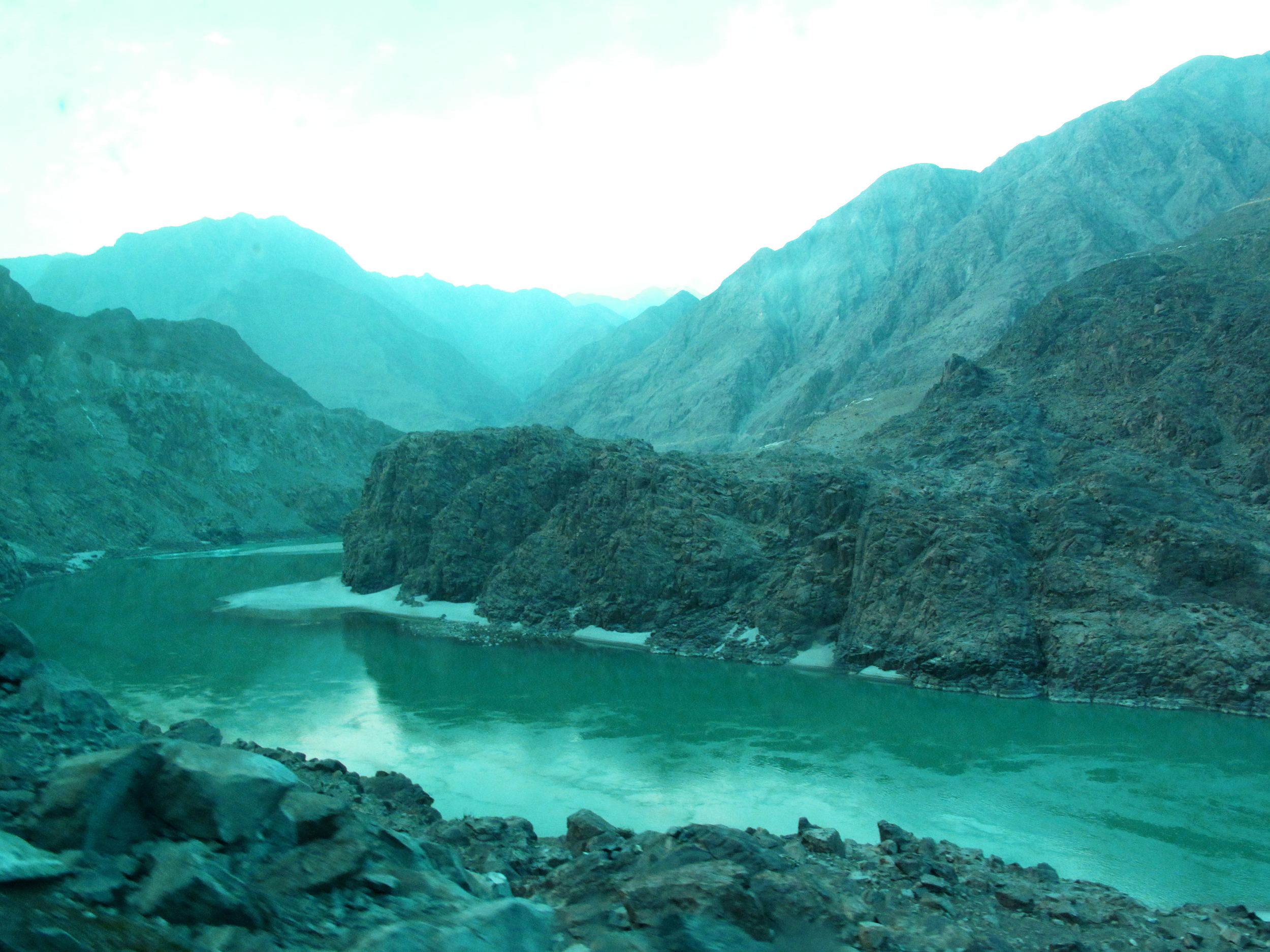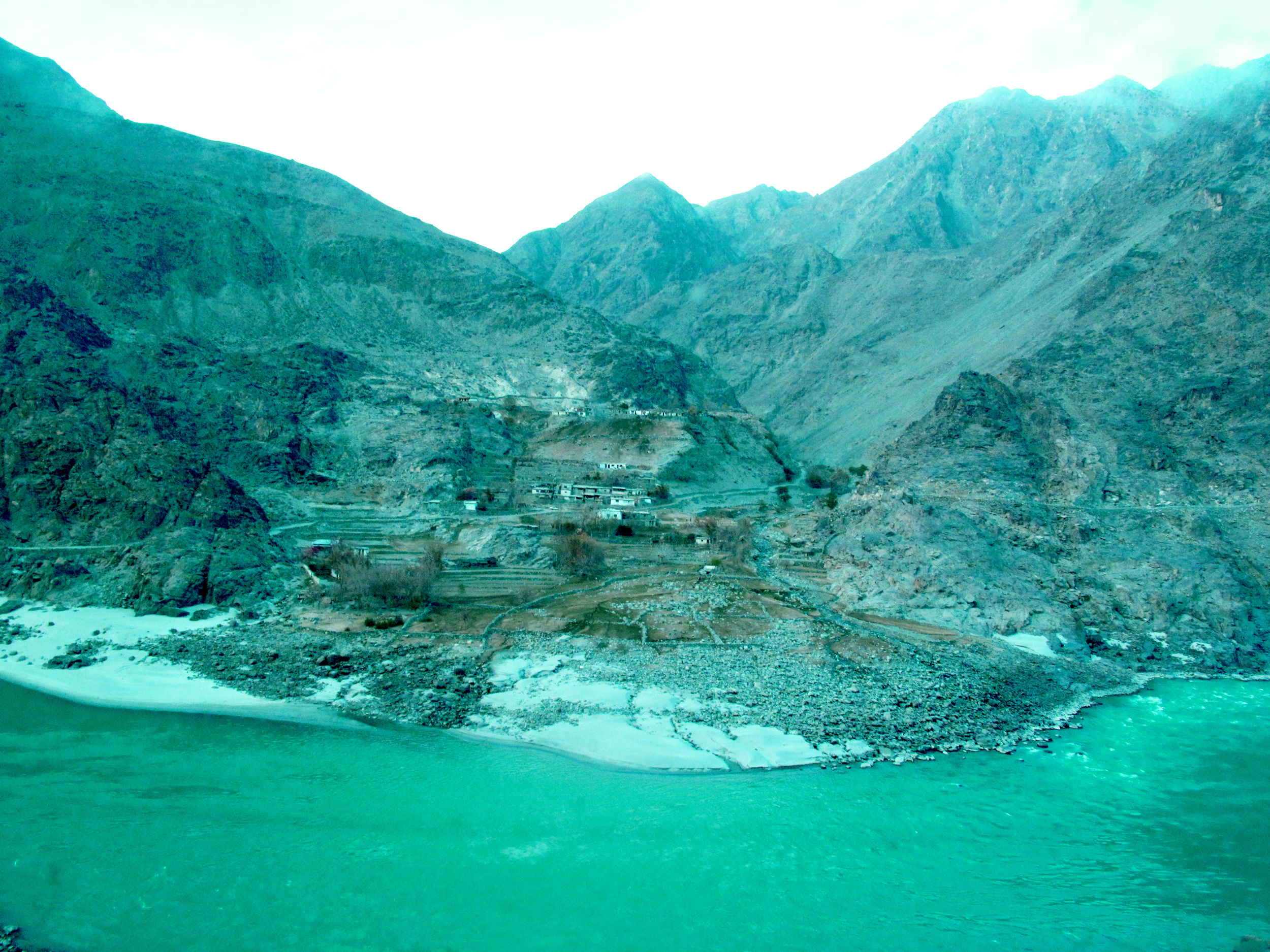 Karakoram Highway & Mountains
Up the Gem-Filled Mountains of the Northern Areas
In my search for black tourmaline, I left Lahore in Punjab where I had been based, and traveled to Northern Areas. The old silk road up through the ancient valleys by way of the Karakoram Highway (KKH) from Islamabad was my route, and Pakistani state buses were my means of transport.
The series of mountain photos were taken from my bus seat as we were ascending the Karakoram Range. The single most striking aspect of that portion of my trip was the turquoise blue-green color of the river below that ran perpetually along the roadside.
The mountains in Pakistan have always been known for their rich mineral and gem content which are mainly aquamarine, ruby, emerald, crystal quartz, citrine, garnet and tourmaline. After having searched through
different stone markets of the northern mountains of Pakistan and having spoken with numerous stone dealers, I was able to find what I was looking for: black tourmaline crystals.
Black Tourmaline Crystals
Beauty in Transmission
Visiting parts of Pakistan is like stepping back in time and having the privilege of getting a glimpse of this ancient trading network with your own eyes. The trade in exotic goods, the transmission of ideas and religions, and the movement of people still continue in these old dusty towns as it has for the past 2,000 to 3,000 years. The date may have changed but the smells, colors, languages, faces, and goods being transported are nearly the same.
Without doubt, it would be hard to go far in Pakistan without encountering the sight of lamb keema** being prepared, freshly-made piles of naan and chapati***, oily fried eggs in the morning accompanied by hot chai, and shops stocked high with almonds, pistachios, and dried fruits such as dates. These foods and fruits in particular stay in my mind when I think of Pakistan, as well as the thick brownish-grey wool blankets that men commonly use to wrap themselves in order to fight off the cold winter air.
The mixture of physical features encountered throughout Pakistan is also something that marks one's memory. Mainly due to its position in between different civilizations that surround it, it is common to see dark-skinned and dark-eyed men from the Punjab and Sindh regions walking side by side with a fair-skinned and light-color-eyed Caucasian from the northern Central Asian countries who–as the local saying goes–are the descendents of Alexander the Great's army that remained in Pakistan.
It is most certainly a place whose people, cuisine, architecture, and natural beauty has left a strong imprint on me.



(*) tea
(**) a stew-like dish of minced lamb, green peas, and potato
(***) leavened, oven-baked flatbread
Wayne Bregulla is a Stockholm-based photographer and painter. He has affinity to black and white photography, abstract painting and metal work. Wayne is also the owner and creator of Ramakrishna Designs, a small design company selling ethnic jewelry, rare gems and rocks from around the world. He majored in cultural studies and comparative religion at New York University and took courses in painting and illustration at The School of Visual Arts. "In short, my work is about what I find to be beautiful in this world. Myths, dreams, visions, long quiet experiences, the element of water and the color black are all of strong interest to me and how I relate to my work."
PHOTOGRAPHY: COPYRIGHT © 2016 WAYNE BREGULLA. ALL RIGHTS RESERVED.