Once upon a time, Brits who stepped out of line were "relocated" to Australia. Today, a free-spirited Australian expatriates herself to Bhuj, off the beaten track. She ships top-of-the-line Australian sewing machines (what's available just won't do), hunts for nimble sewers who are willing to step up to her exigency for precise, high-caliber stitches, identifies two men who hitch onto Madame's bandwagon (God bless them), and what you have is a "cross-cultural exchange program". Not exactly.
Behind this "overly-simplified" reading is the synergy between a pixie-cut Australian Patty Smith adorned with tribal bijoux, and two talented young men of Bhuj, Dipu and Sandeep. Their mutual admiration, understanding and disdain for repetition transcends culture.
Lisa Hall, the gentle lady behind "Madame Hall", mixes and remixes pop@tribal@punk@gypsycouture@bohemia into her designs. Even an Audrey-Hepburn-cut dress fuses with nomadic embroidered fabric. Tribal prints, handblock prints, splattered paint, embroidery—they all come together in a colorful yet shrewdly-conceived assemblage. Her signature pieces such as the dramatic full-length maxi skirts take cue from her theater background. The kaleidoscopic collection at times is interrupted by solid-color pieces. Yet, the thread that connects her work is the subtlety and savoir-faire of a highly skilled patternmaker. She can look at you and sculpt a perfectly fitted piece without a measuring tape.
And she just happens to be one of two foreigners to settle permanently in Bhuj today.

To enjoy the full story, become a Member.
Already a Member? Log in.
BE A MEMBER
For $50/year,
+ Enjoy full-length members-only stories
+ Unlock all rare stories from the "Moowon Collection"
+ Support our cause in bringing meaningful purpose-driven stories
+ Contribute to those in need (part of your membership fee goes to charities)
Every Day, A Different Day
None of us want to make the same thing everyday.
This condition traces back to Lisa's origin in theater costuming. Creative genes run in her family: Her mother was a commercial artist who was once involved in theater costuming. Her father was a celebrity radio announcer. "I was what one would call hopeless at school, a bit dyslexic, a bit quiet and shy." Back in the late 70s, she took a dressmaking course offered in Adelaide, Australia, to get involved in theater costuming.
Creating costumes for theater for 30 years, where each production's pieces are one-of-a-kind, explains Lisa's way of making things and a clear preference for not repeating the same thing. The necessity to learn many different techniques was a reality in the theater context, and that became an invaluable resource for her Madame Hall collection.
Bhuj or Bust!
After years of work in theater, Lisa transitioned to styling ladies in the eastern suburbs of Sydney. But despite its rewards, she started to feel isolated sewing away day and night in her little flat. This was a contrast to the stimulating reality of being in theater, which brought her dynamic engagement and interactions with eclectic groups of people: performers, directors, and other craftspeople.
This period in her life was also marked by her trips to Gujarat. There, her singular visual identity would attract the attention of foreign lady guests at posh hotels who would approach her with the inquisitive "You're a bit weird. Who are you? Are you someone famous?" look about them. Such auspicious encounters also included one with an important Australian stylist who was designing a shoot with Cate Blanchett.
Yet all this did not alter her sense of wariness at the repetitive cycle of sewing for ladies to make ends meet, and not having time to develop her own line of work. Cate Blanchett and mesdames of Sydney: Sorry, must close shop. India is much more exciting. And Bhuj is even more fabulous.
Dresses Served in This Chiringuito
Tucked away just behind the bazar is an open-front "chiringuito," which seems to have cropped up out of nowhere like a mirage. It has its eyes on the bazar, yet this "island" stands peacefully and confidently shielded from its chaos.
Within its burnt-ochre walls, Dipu, Sandeep the Shy, and Madame, are bustling about with Japanese efficiency. Enter sporadicity: someone darts out to order chai, a white-haired neighboring merchant negotiates with Madame about something-something, a perplexed Indian tourist steps up to "the bar" to know what is served here. At some point, Madame dashes into a rickshaw that whisks her off to her showroom where a cornucopia of delicious wearables awaits.
In Greek, there is a clear distinction between the words "work" and "labor": Work and life is one and the same, not separate as we know it (dread and pleasure). In this sense, Lisa is an Aussie of Greek origin. Her work and life is one and the same, exactly as she likes it.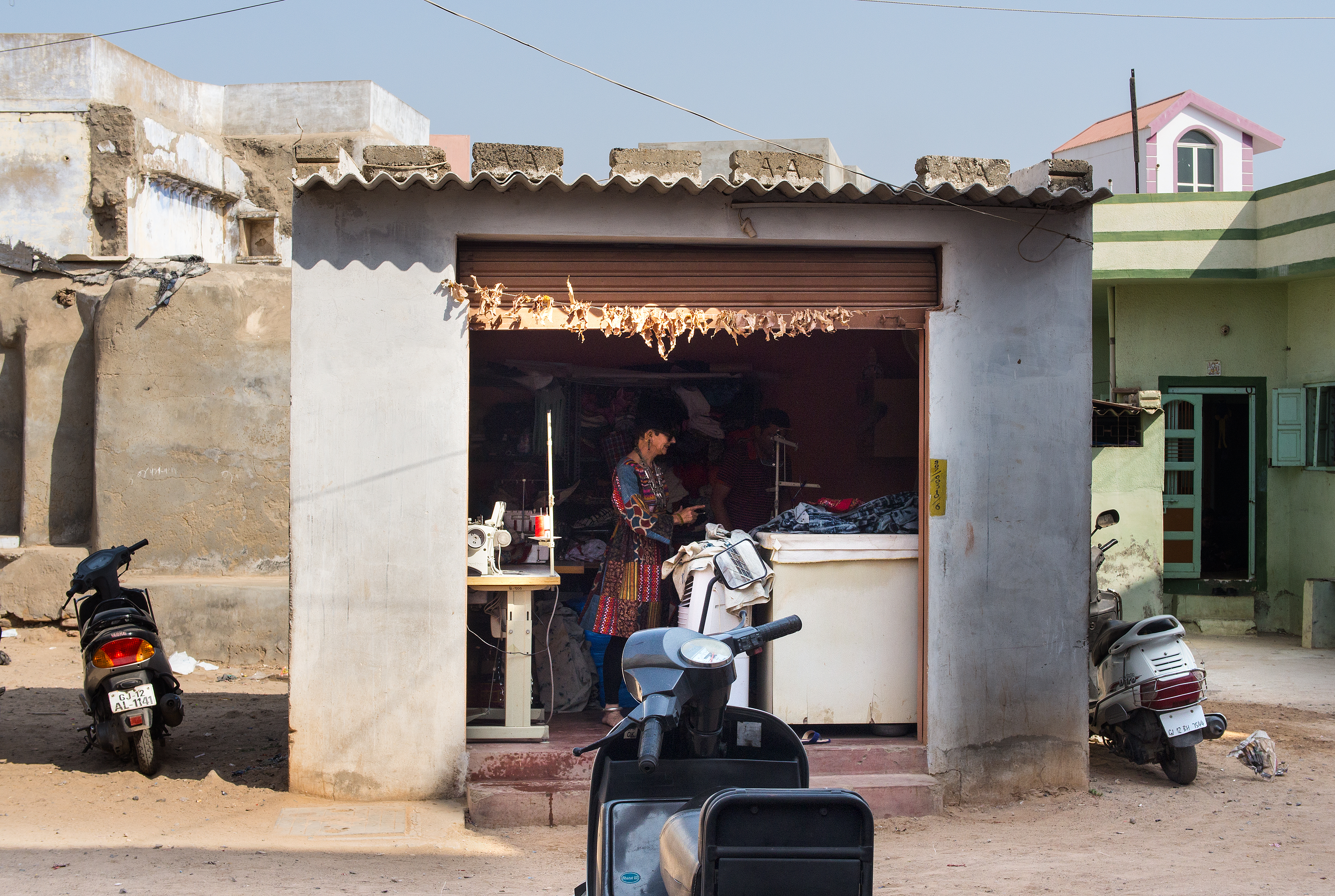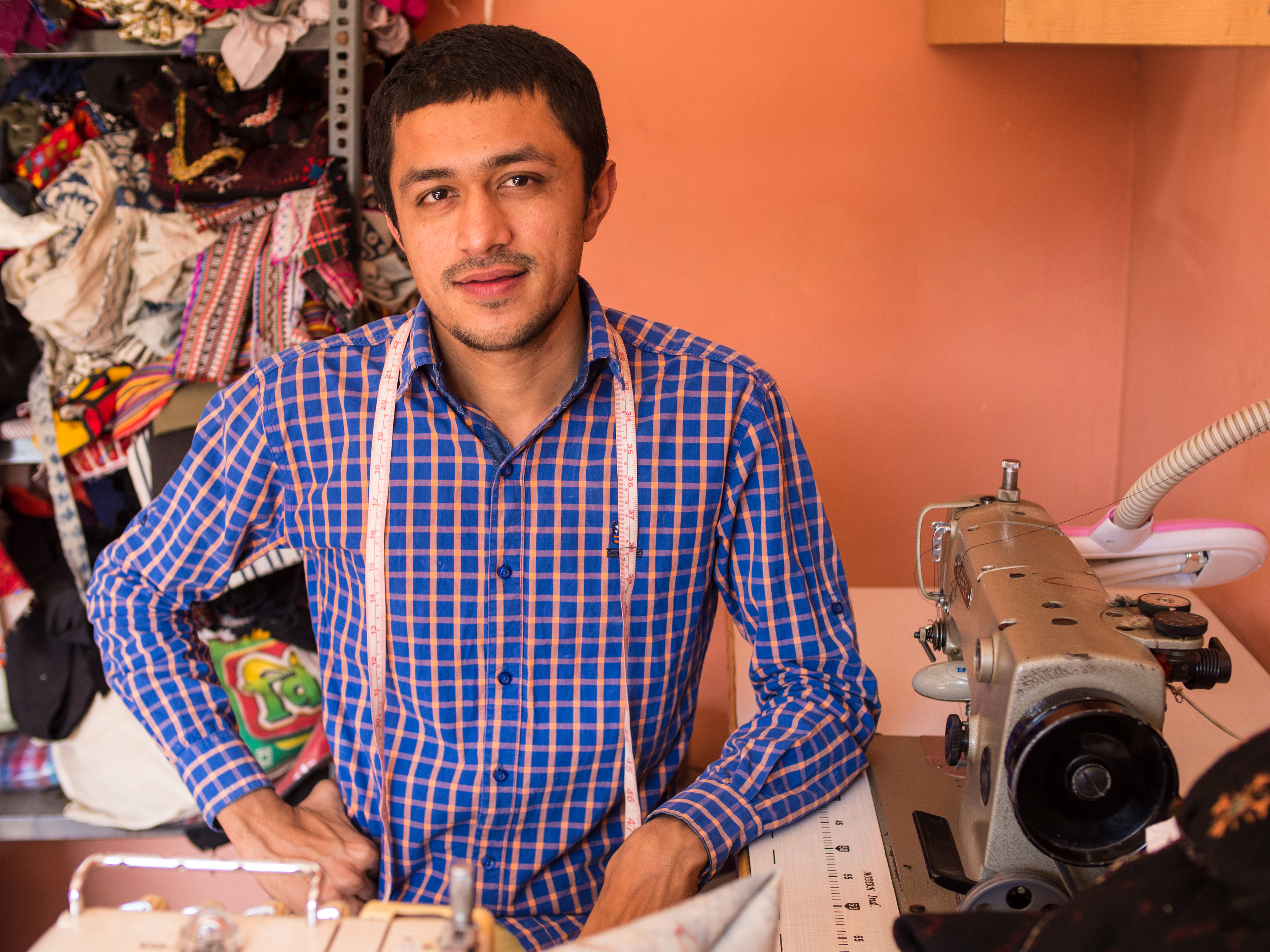 Kutch over Rajasthan
In crafts, living where things are made is a different way of working than coming back and forth to manage production. Lisa' approach is to work with materials available on hand at a given moment, in "a very carefully considered manner," thereby avoiding the replication model. "One day you see a material, then they disappear." So the immediacy of being onsite to respond spontaneously to what became available was the key to creating one-of-a-kind pieces.
Why Bhuj? She could have easily opted for the obvious choice of Jaipur or elsewhere in Rajasthan. But the authenticity of Kutch had stronger pull for her. "They still live their tradition in a modern world. Here, the visual codes and signs of tradition are still very visible in the people."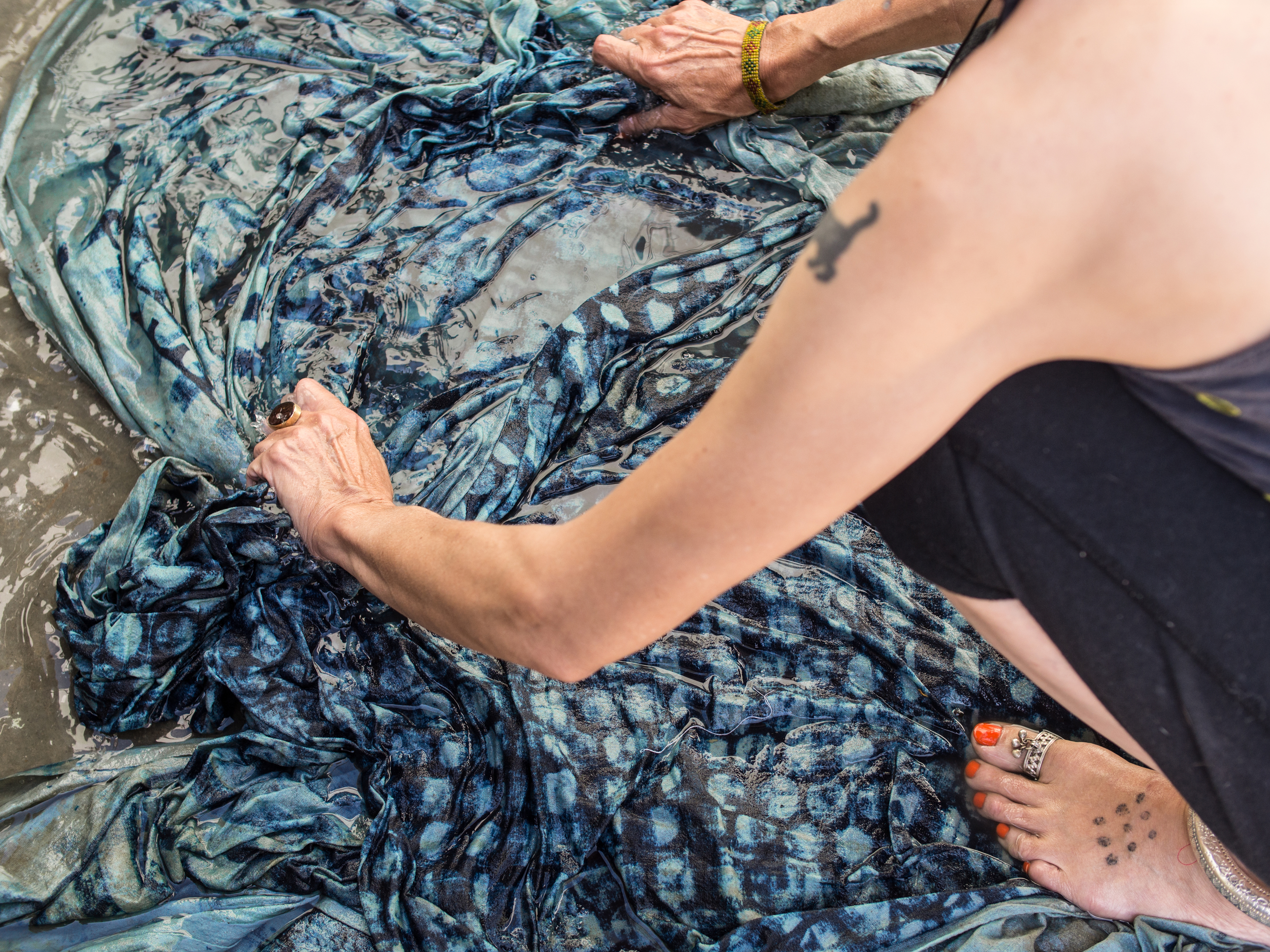 When asked about bouts of loneliness, being one of the only two foreigners living in a foreign town, she says she's too busy to get lonely. The work and local friends she has cultivated during her three years in Bhuj provide enough company. "I'm quite a determined person. When I put my mind to something, I become EXTREMELY focused", she chuckles in that self-bemusing manner. So, it's no surprise that a Madame Hall set up shop in Bhuj and just got on with it. An inspiration for us all?


Lisa Hall is the designer behind Madame Hall. She comes from a long career of costuming leading ladies of Australia's stage and screen, including Miranda Otto, Angie Millikan and Essie Davis, as well as designing bespoke pieces for a Cate Blanchett story in InStyle magazine. Lisa has lived in Bhuj India since 2012.
Mona Kim is the Founder and Editor of Moowon. As the Creative Director of award-winning multidisciplinary design studio, Mona Kim Projects, she has been conceiving public space experiences and large-scale experiential projects for global brands and cultural institutions. Her museum and exhibition design for the Canadian Museum of Human Rights, World Expo, Museum of Tomorrow (Museu do Amanhã), and UNESCO-sponsored projects, gave her the opportunity to document and be exposed to some of the most distinctive examples of social realities and cultural expressions. On these projects, she had co-curated world issues such as endangered languages, cultural diversity and sustainability. The Moowon project is an extension of this background. Her work has been featured in The New York Times, WWD(Women's Wear Daily), The Creative Review, and in publications by Gestalten and The Art Institute of Chicago. 

PHOTOS & TEXT: COPYRIGHT © MOOWON / MONA KIM PROJECTS. ALL RIGHTS RESERVED.