Between the bustle of Bangalore and Mysore lies the small city of Channapatna. known, in Kannada, as Gombegala Ooru, or the "Land of Toys". It has a 200-year-long history in the art of toy making which can be traced to the reign of Tipu Sultan, ruler of the Mysore in the 18th century. It is believed that it was this ruler who invited artisans from Persia to train local artisans in making lacware toys. The term "lacware" refers to wooden articles turned on a lathe and finished with a natural resin called lac. This technique is safe for children as it is done using traditional, non-toxic processes. Once a bustling toy making town "with 15,000 artisans twenty years ago, this handmade craft is in a state of serious decline with less than 3,000 artisans today" says Muralidhar from Maya Organics. The toymaking craft of Channapatna is currently protected under the World Trade Organization's geographical indications (GI).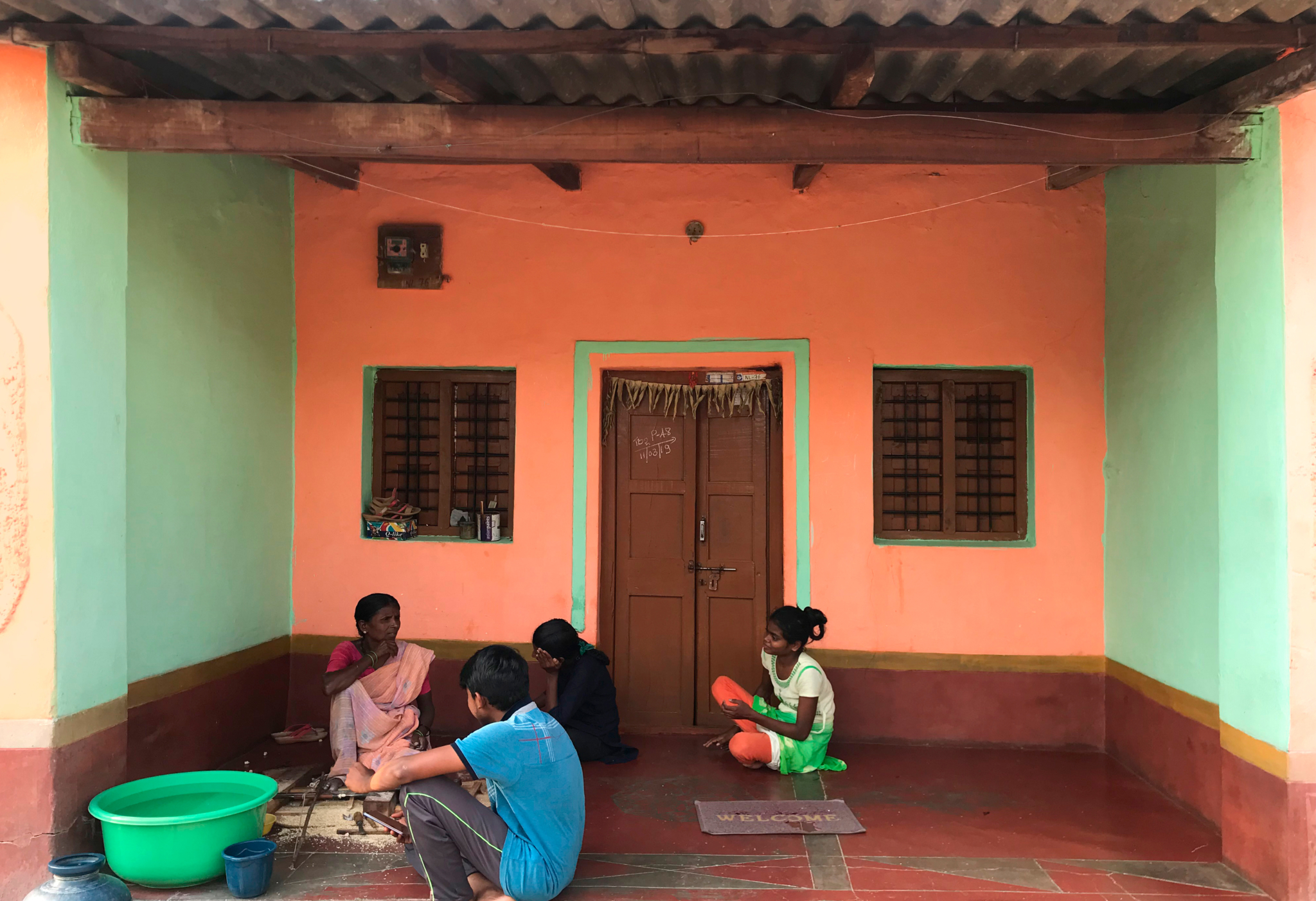 Ratnamma and her grandkids, an artisan family in their veranda in Neelasandra Village.
The Decline:
Cause and Effect
India's toy industry has a "meager share of 0.08 per cent of the global market of which only 30 percent are made by local Indian artisans with the rest being imported from European and far eastern markets, mainly China," says Gangadhar, 40, a third generation skilled craftsman who has been making toys in Channapatna for 20 years. According to Gandadhar, "the influx of inexpensive machine-made Chinese toys left these colorful handmade creations ignored, leaving us makers in troubled situations. The situation did improve in between when people realized that the imported Chinese toys were made with toxic dyes and cheap materials that were unsafe for children. But it is not a beneficial job for us anymore as it earns us nothing."
Shaheeda Bano from the Maya Organics, an initiative developed to revive the craft by supporting existing artisans to develop new skills, train new artisans and promote strategies to help the craft to in the modern competitive market, expresses her concerns for the declining craft: "The craft will vanish in less than 10 years' time."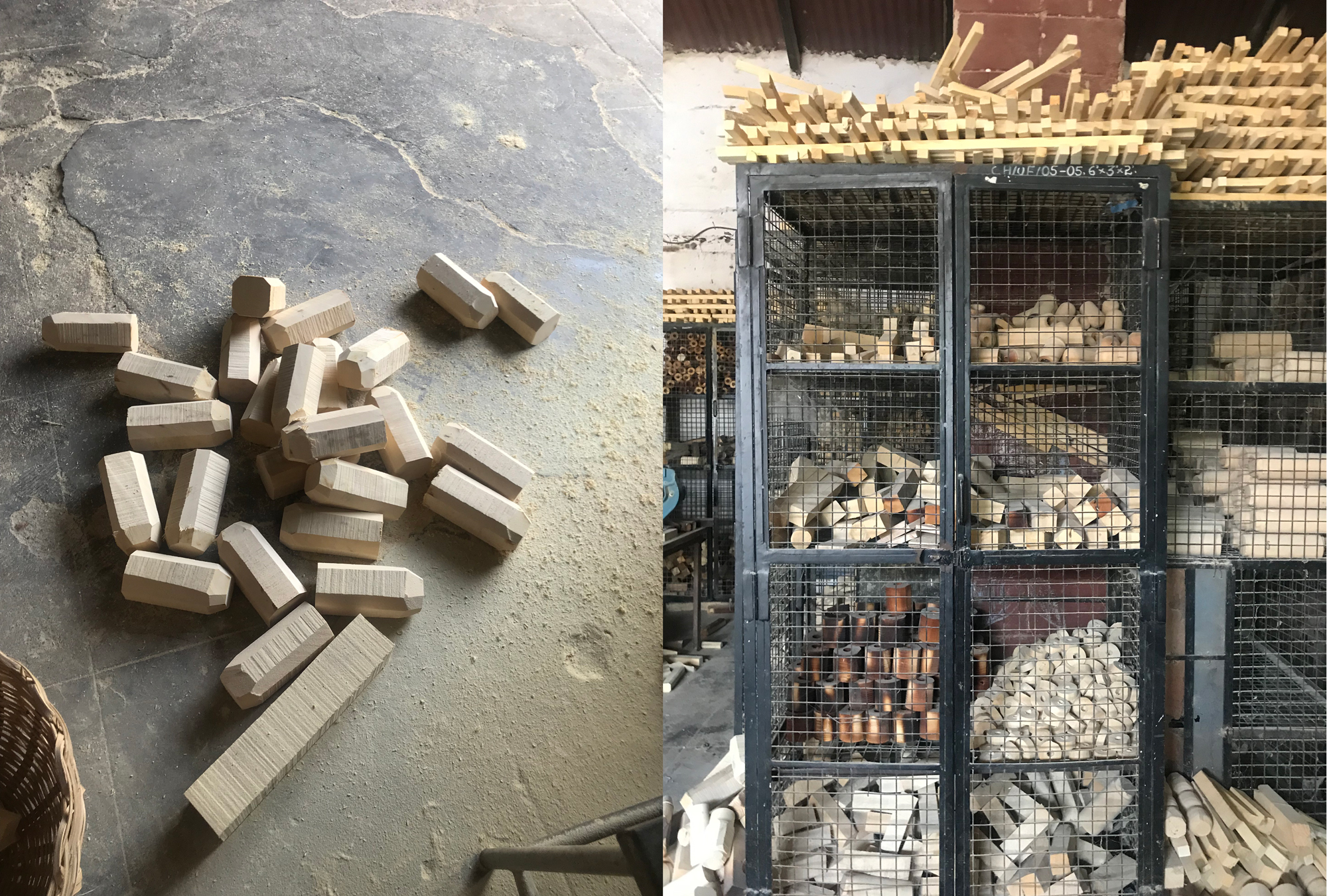 Ivory wood cut, seasoned, and stored at Maya Organics.
Apart from global issues such as influx of Chinese toys that has severely pummeled the craft, Bano explains some of the other issues are more local "with Channapatna being a semi urban area located between two major hubs Bangalore and Mysore, people find opportunities in these cities for higher paid jobs as the artisans don't get regular orders anymore. Few others who live in the town are not motivated to continue the craft as it is not viable and have started to develop other small businesses like local teashops, groceries, cooking stalls, etc. There are no new craftsmen willing to learn this craft and the skills are not being passed on to their children as they want them to do jobs that pay them well." Mallikarjun C, for example, is the son of 60-year-old toymaker Giridhar. He has followed his father and become a craftsman, but moonlights as a barber to support his daughter's dream of becoming an engineer.
Bano goes on to explain that the craft has had so many ups and downs that the artisans find it hard to rely on it for their livelihood. Initially the industry only catered to the local market in the state of Karnataka but productivity remained low even as demand from foreign markets rose. Small and medium enterprises emerged to serve the export market. Due to this, there were drastic changes to production demands on the artisans, their production techniques and the setting they worked in.
Maya Organics: (LEFT) An artisan working on a power lathe machine. (RIGHT) Naturally seasoned wood and wood seasoned in a kiln giving it a dark color stored.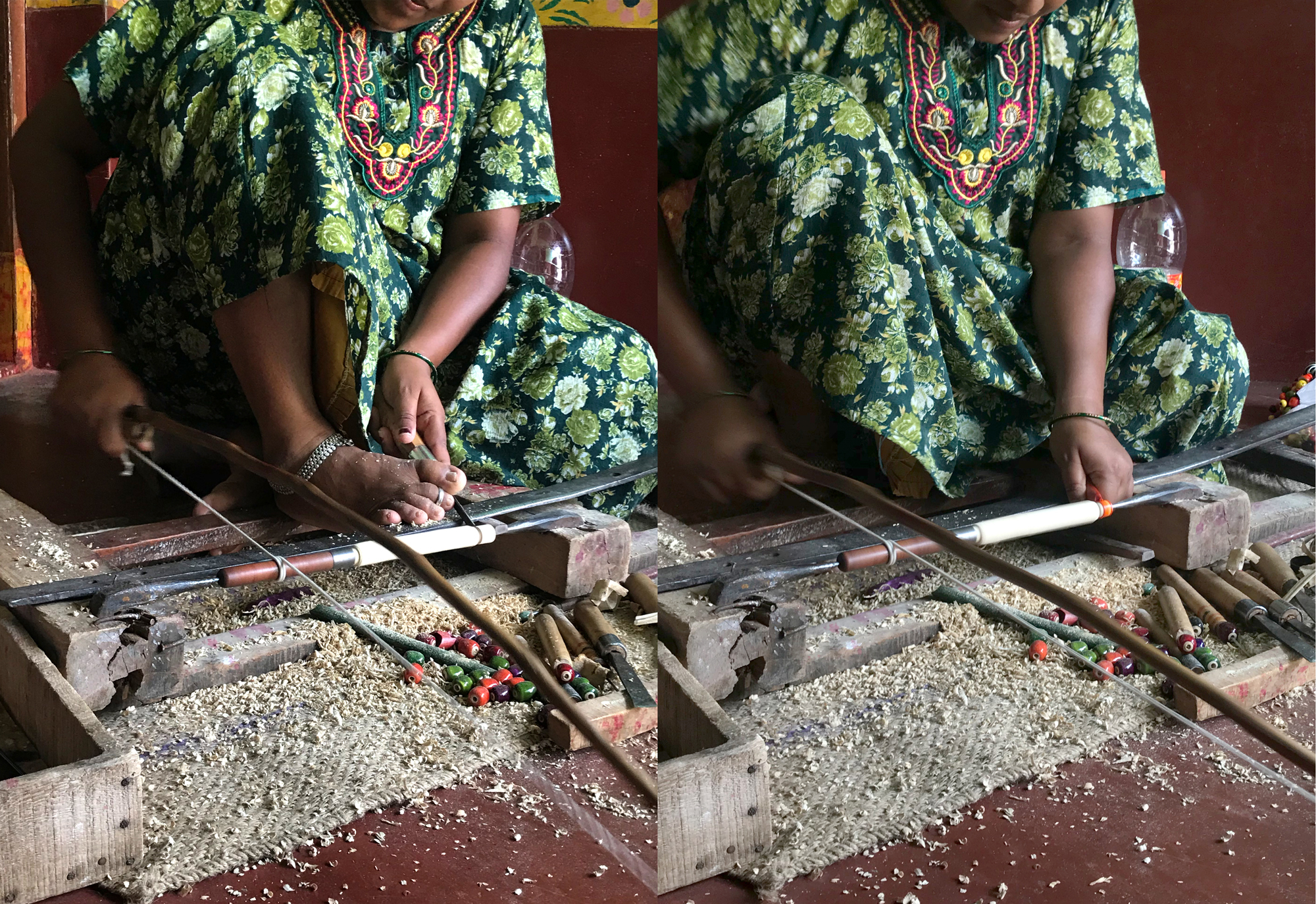 Neelasandra Village: Artisan Roopa using the hand lathe to make beads. She first fits a seasoned piece of wood on the lathe.
(LEFT) The wood is shaped using hand tools like chisel. Naturally colored lac is applied, the lac stick is pressed against the wood while turning the lathe and due to frictional heat it melts and coats the wood.
(RIGHT) A screwpine leaf is used to polish the piece.
To enjoy the full story, become a Member.
Already a Member? Log in.
BE A MEMBER
For $50/year,
+ Enjoy full-length members-only stories
+ Unlock all rare stories from the "Moowon Collection"
+ Support our cause in bringing meaningful purpose-driven stories
+ Contribute to those in need (part of your membership fee goes to charities)
Power Lathes, Hand Lathes:
Opportunity or Preservation?
Traditionally, the craft had been practiced in the verandas of artisans' homes. But some artisans had to move to work in factories to increase efficiency in order to meet rising demands from foreign markets. The Karnataka state government started an initiative in 2000 to set up a factory with power lathes to help increase production of toys. Mohan, an artisan who has been working in government facility since it started, explains that the toys were "originally made by a hand lathe, or patri. Power lathes was introduced to Channapatna a long time ago but this initiative did it on a large scale to make production faster" says the artisan.
"But this was not an effective process," Bano says "as there were frequent power cuts in the area, and as the factory was very male dominated, it affected the women. Initially power lathes were only used by male artisans as women generally wanted to keep away from all things mechanized and stuck to making toys using hand lathe in the vicinity of their homes which was not viable for their families. Since the decline of the industry in the recent years, initiatives like Maya Organics have been training women to use the electric powered lathes. Power lathes give us an opportunity to experiment with contemporary designs and product development to respond to challenging markets. Today, 70 percent of our artisans are women and 99 percent of women who use power lathes in the town are trained by us." All the artisans in Maya Organics said they are happy working there and feel twice as empowered after they have been trained to use a power lathe.
In some parts of Channapatna, however, there are still some families working in their verandas of their houses producing lacware toys using hand lathes. Neelasandra village, a remote part of Channapatna, remained unaffected by the developments in and around the town. Part of the hesitance in such areas to using electric powered machines has to do with severe shortages of electricity. People also prized the skills their ancestors had practiced and were reluctant to abandon them.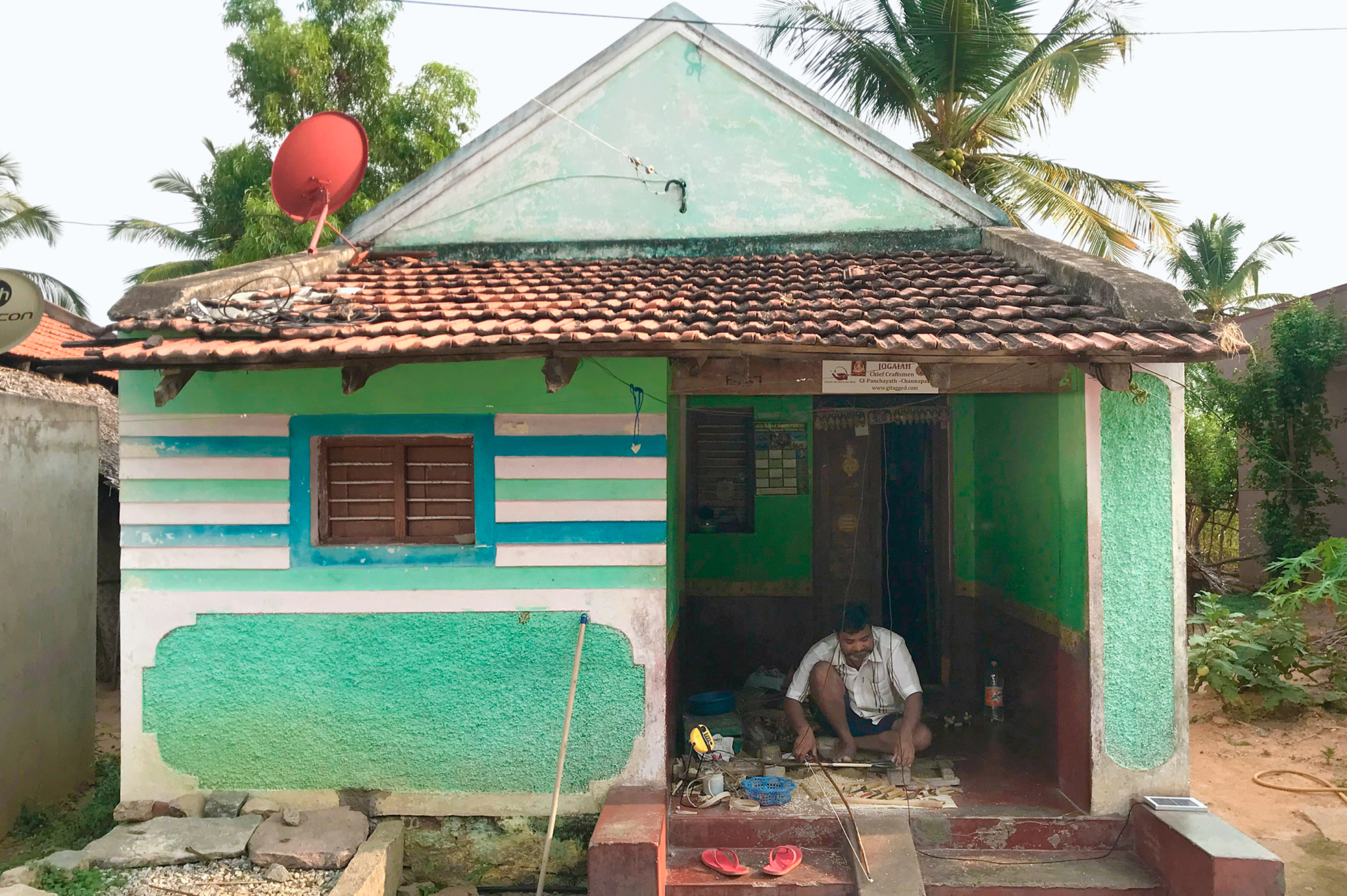 Neelasandra Village: Jogaiah and Roopa's house. An artisan duo who work in their veranda using traditional process.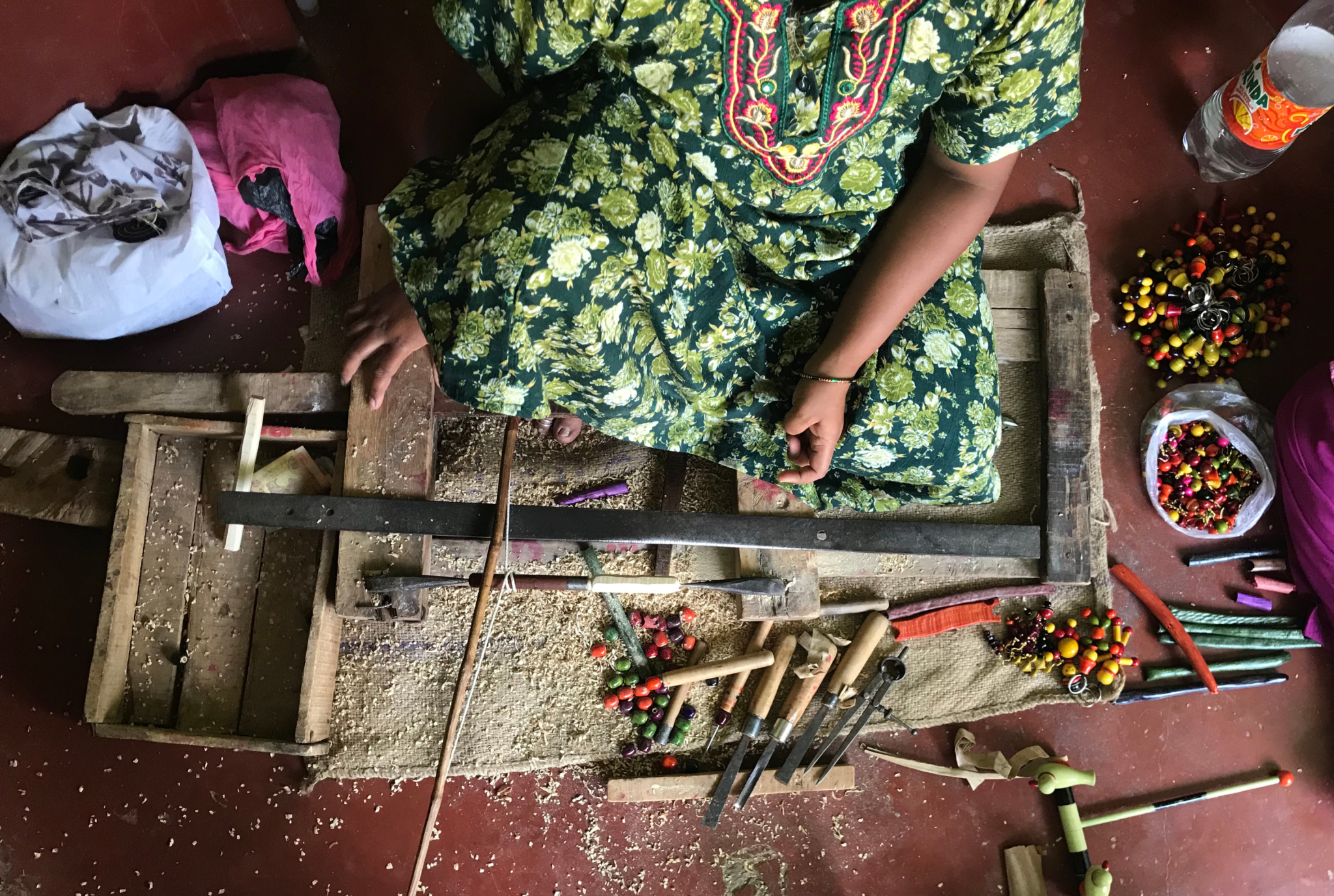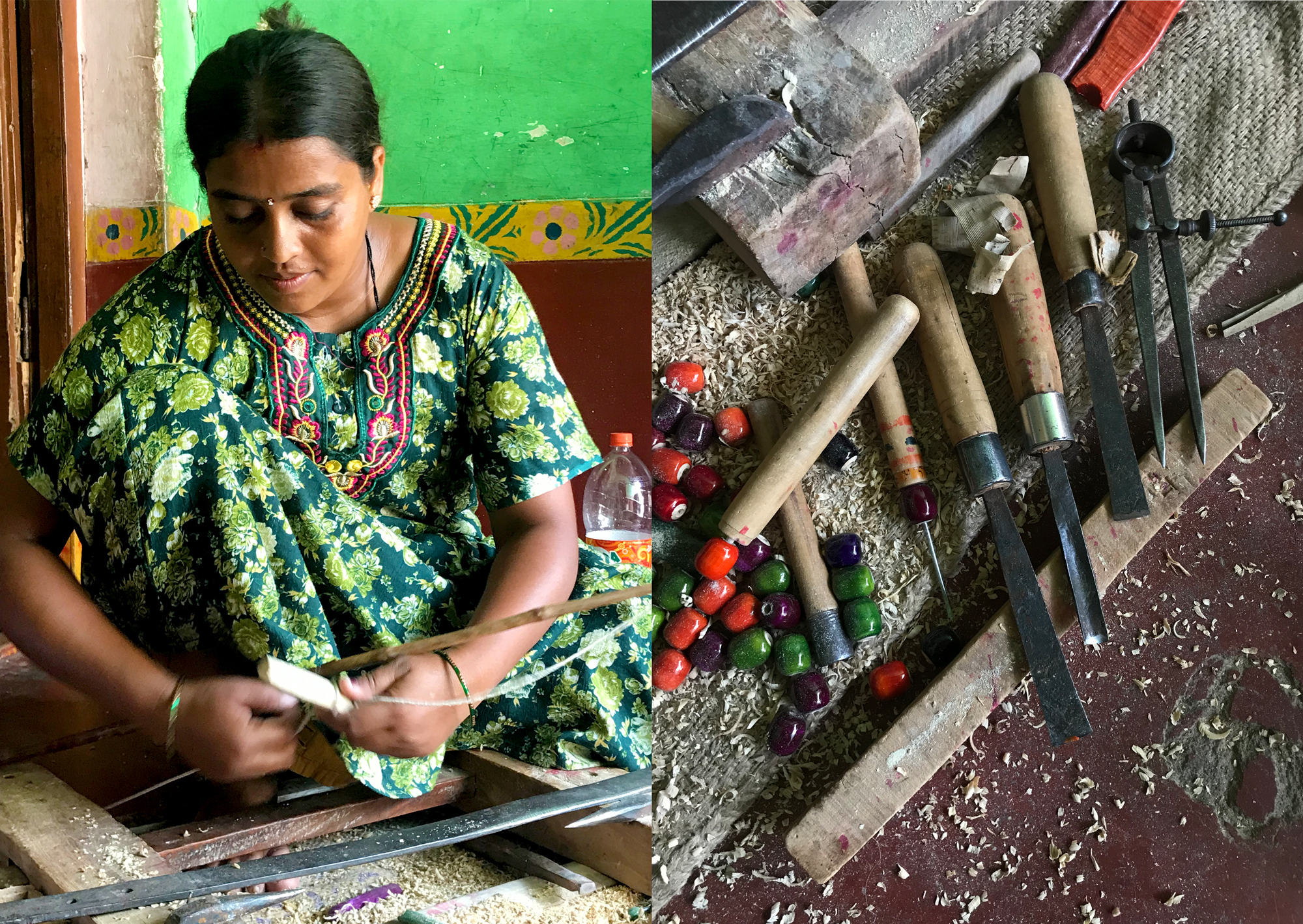 Jogaiah and Roopa's tool set includes a hand lathe which the artisans made themselves and a set of hand tools for cutting and shaping wood.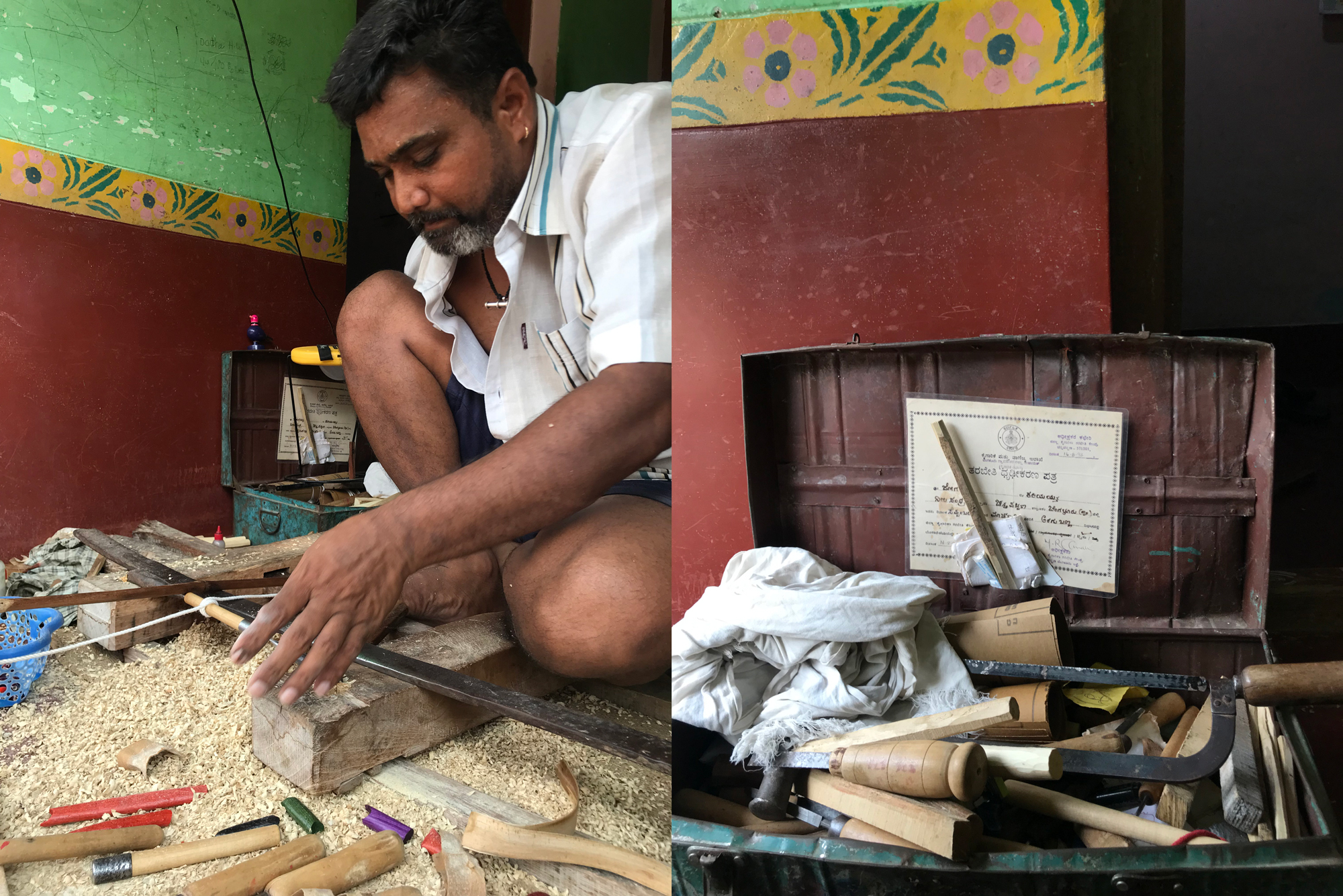 Artisan duo Jogaiah and Roopa are now mostly making beads for jewelry and other items as the toy industry is in decline.
The narrow streets of Neelasndra, like in the centuries passed, are still lined with bright colored one story homes . Here, artisans still craft lacware items using hand lathes as they are easy to operate, and artisans can easily set up these lathes using simple construction methods. Since the decline of the toy industry, the artisans in Neelasandra have resorted to making alternative products such as beaded jewelry and car seats to benefit their livelihood. The beads for the products are made using traditional toy making technique.
Husband and wife duo Roopa and Jogaiah having been making toys for over 20 years. "We make over 300 to 400 beads a day which earns us 150 to 200 Rupees (around 2 to 3 US dollars) a day. It is a very hard and time-consuming labor that does not earn us a decent livelihood. We have stuck to this because our parents and grandparents taught it to us and we don't know any other craft or skill. We do not want our kids to be like us so we are not going to teach them the craft. Our two daughters are studying well in school and we hope they can go to university to get a decent job in the future. Despite the hardship, we are a happy family. We love and support each other," says Roopa who learnt the craft from her husband Jogaiah.
Although initiatives such as Maya Organics and craft communities such as Neelasandra village are not interdependent, their respective roles as a micro enterprise and an artisan community are significant in helping keep the craft alive. While Maya Organics' support of existing artisans through product development, a guarantee of consistent orders, and training new artisans to keep alive the craft has helped the artisans build a viable entrepreneurial opportunities using modern techniques and tools, the community in Neelasandra has helped preserve the craft in its original form.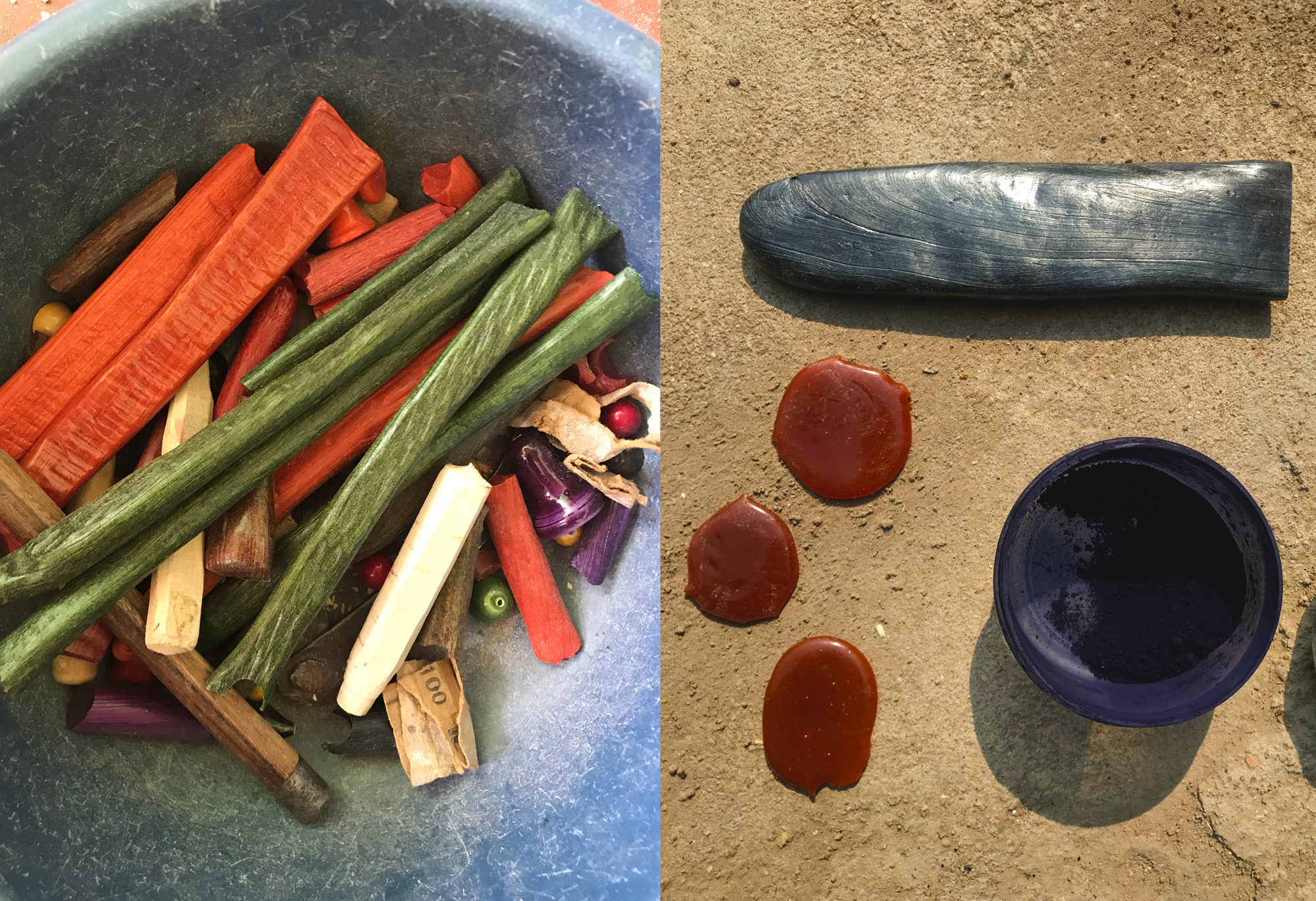 (LEFT) Naturally colored lac sticks. They are pressed against wood while turning a lathe, and due to frictional heat it melts and coats the wood. (RIGHT) Lac that is dyed using natural indigo powder.
Lacware
Toy Making Process
There are similarities between Maya Organics' and Neelasandra's processes in most stages of the toy making process, except for the initial wood cutting as well as the use of different types of lathes.
Channapatna products are usually made with a combination of circular and symmetrical shapes and crafted from a wood from the hale or aale tree (Wrightia tinctoria). "This is one of the fastest growing trees in southern India and the wood is sourced from non-forest and agricultural land in local areas in and around Channapatna. The soft and close-grained characteristics of this wood are best suited for turning and lac application. This wood is not chemically treated but needs to be seasoned before use. Most of the year it is naturally seasoned but during winter a light firing process is done in the kiln for drying the wood" says Bano. Once seasoned it is cut into the desired length for shaping. While the cutting in Maya Organics is mechanized, in Neelasandra village, all the wood cutting process is done by hand with basic hand tools such as an axe while the seasoning process remains the same.
"The next process is to fit the piece of wood on the lathe for turning it into a desired shape. In Maya Organics motor driven lathes are used and hand tools like chisels are used to turn the shape into the required diameter. Each artisan has a drawing, which they refer to while making." These motor driven lathes help the artisans develop new shapes and experiment with new designs much more quickly than by hand. In Neelasandra, the process is more fluid with the shaping and sizing based on the experience of artisans on a hand driven lathe or patri."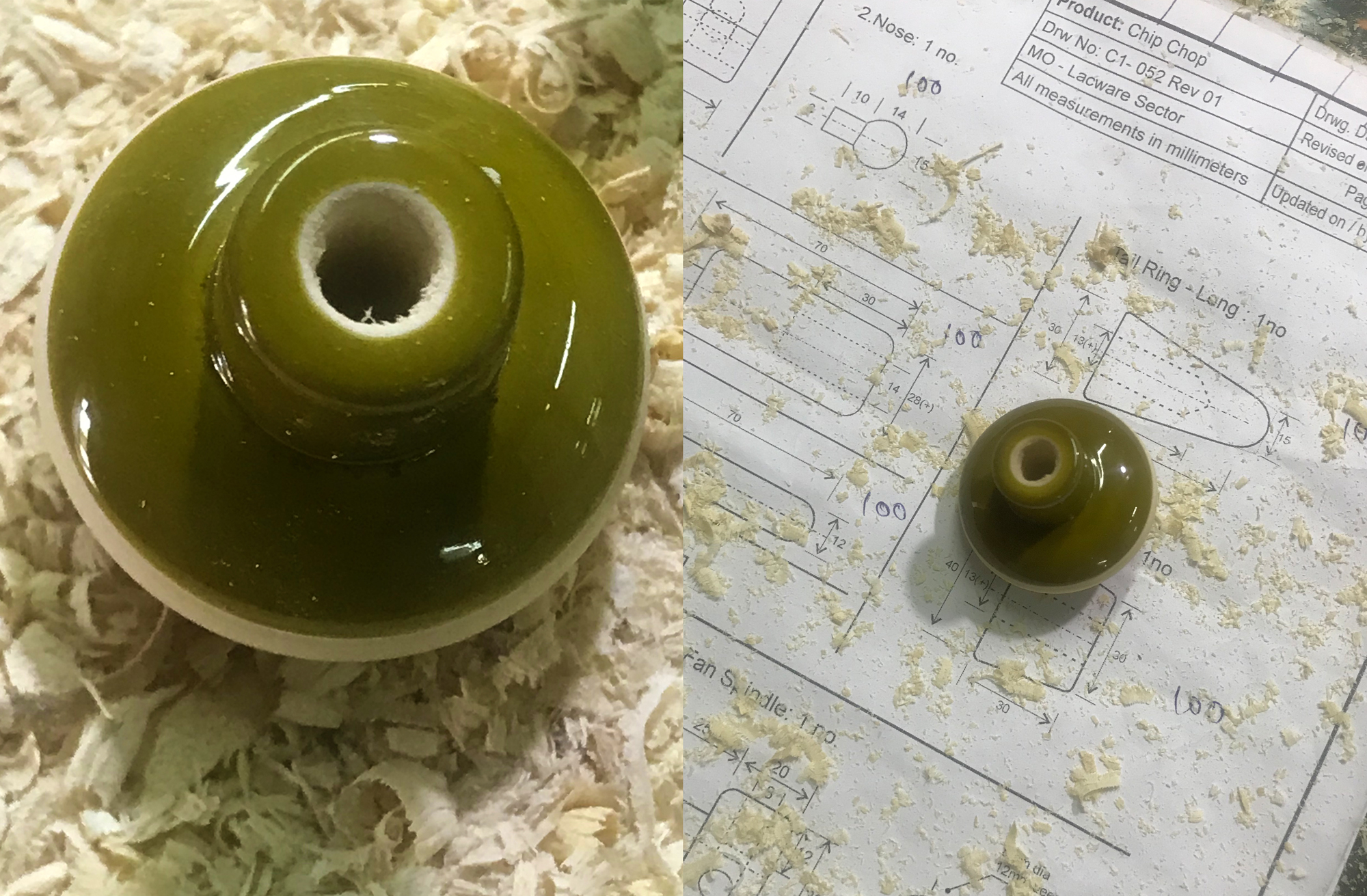 The finished piece with naturally colored lac applied ready for assembly.


(LEFT) Natural gum utilized to stick velcro onto different parts of toys. (RIGHT) The velcro then helps the parts become a whole piece.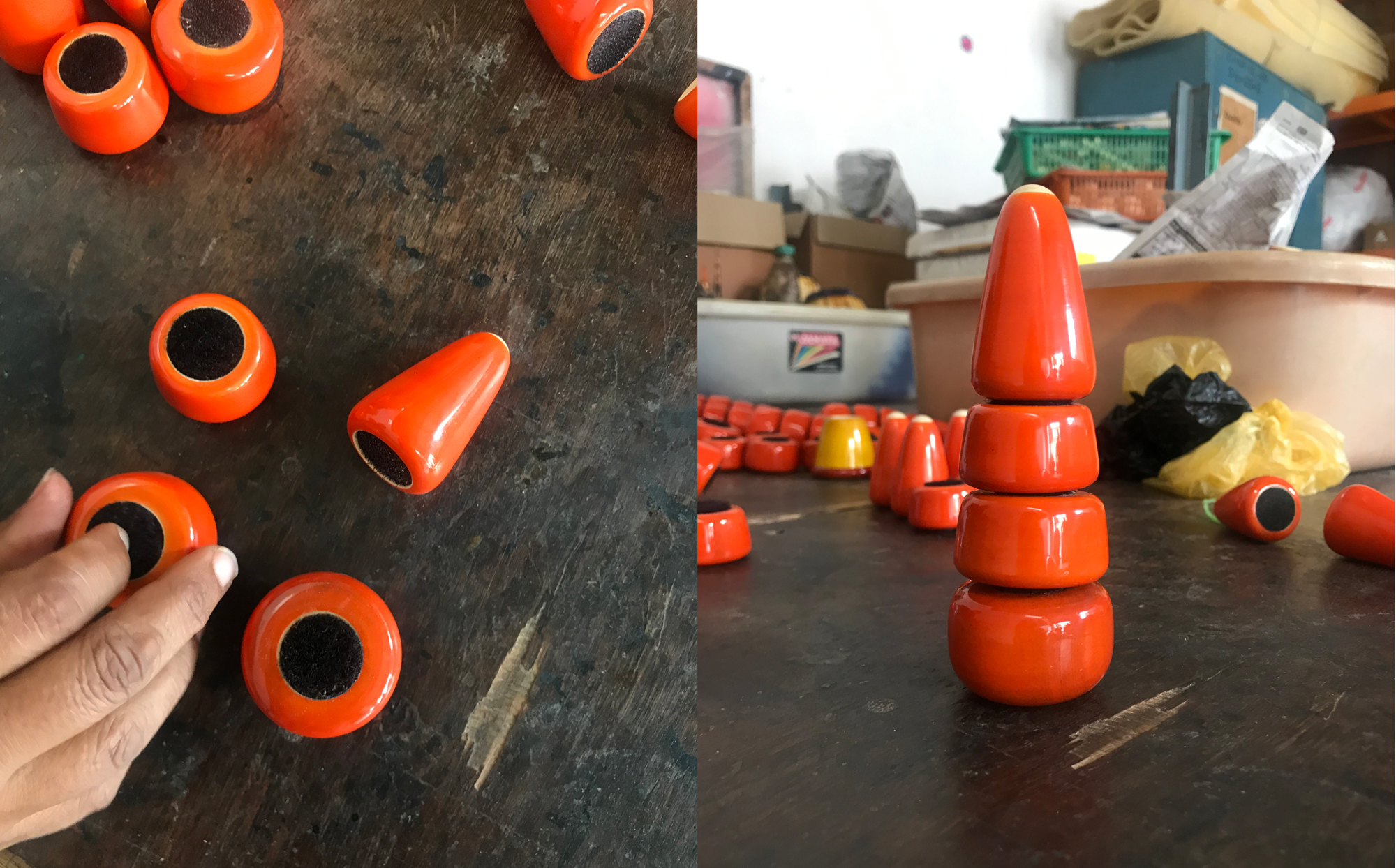 Maya Organics: (LEFT) Artisan Jaya just received the parts from her fellow artisan Kamala who worked on the power lathe machines to make the parts. (RIGHT) Educational toy set assembled by Jaya.
Once cut and shaped the wood is sanded and lac is applied. "Lac is a natural resin that comes from secretion of an insect called Laccifera lacca. This secretion appears first as a shiny layer, which soon gets hardened after coming in contact with air. The coated branches of the host trees are cut and harvested as lac. This lac is mixed with natural dyes to get the required color. Mostly there are a variety of six to seven dyes that are extracted from naturally available resources such as plants, trees or minerals. Yellow comes from turmeric powder where the root of the turmeric plant is dried and made to powder, blue comes from indigo powder which is extracted from the indigo plant, orange comes from kanchi kumkum powder that is traditionally made by mixing turmeric and lime, red comes from mixing natural alizarin from the madder plant and kanchi kumkum powder, light brown comes from catechu), a purified extract of a tree called Accacia catechu, dark brown comes from rajanjot, a dye extracted from the bark of the tree and green comes from mixing indigo and turmeric" explains Bano.
Although the same process for making dyes is also practiced in Neelasandra village, the approach there is more ritualistic:
"First, the artisans sit around in a circle with a charcoal fire in the center and say a prayer before the process begins. The lac is heated on this charcoal fire and as it started melting it is mixed with two wooden sticks to get a good consistency. Once fully melted, the natural dyes are added and then mixed thoroughly again with the sticks. It is then kneaded and made into long rods and cut into small lac sticks to coat the wood. The lac stick is pressed against the wood while turning the lathe and due to frictional heat it melts and coats the wood." explains Roopa. Once lac is applied "a screwpine leaf, locally called tale-gari, is used to polish the coloured wood and get a glossy finish," explain Roopa and Bano. The different parts of the toys are made in this manner and assembled by hand to get the finished product.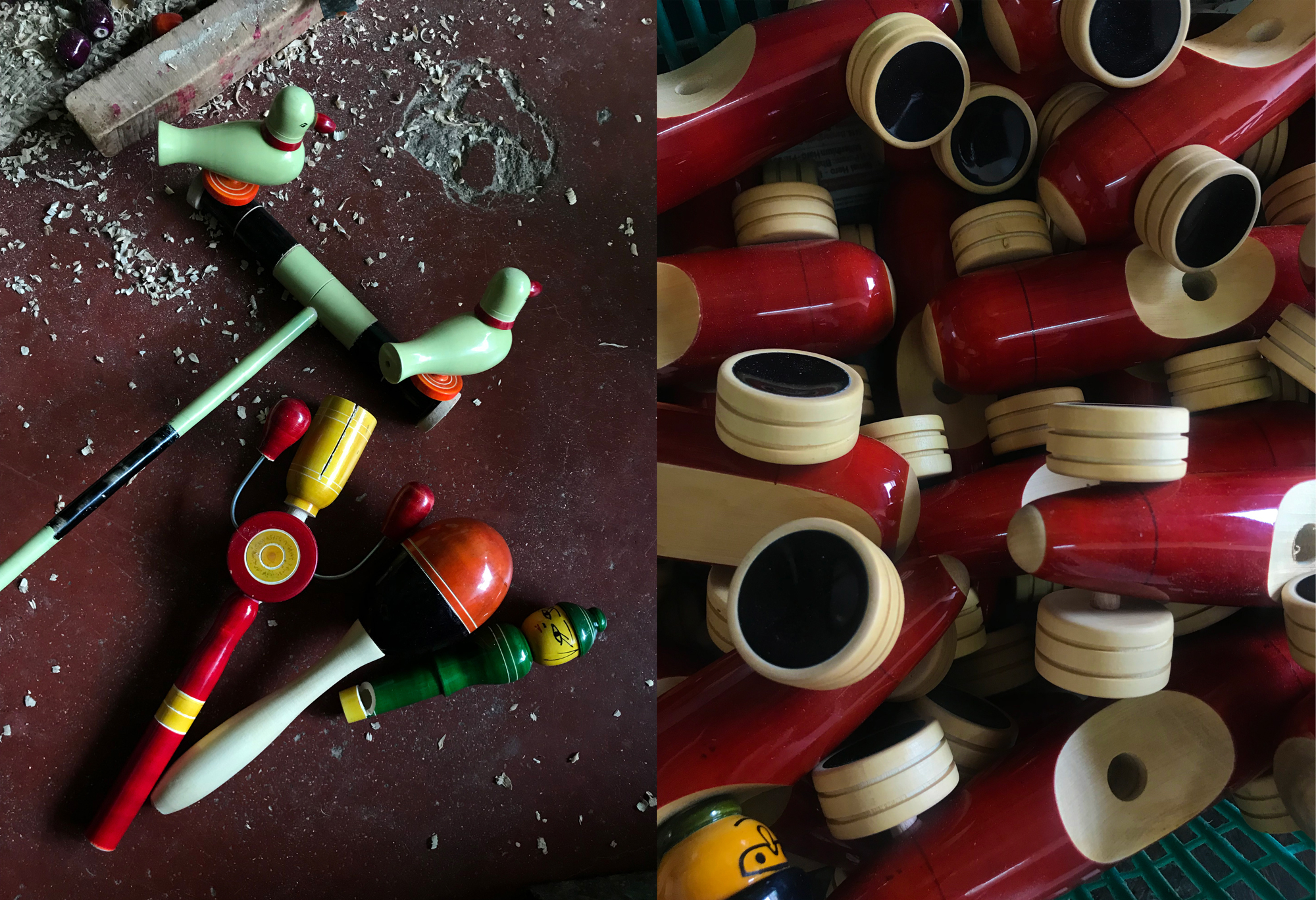 (LEFT) Recreational toys made by artisan duo Roopa and Jogaiah in Neelasandra Village.
(RIGHT) Recreational toys made by artisans at Maya Organics.
Rethinking "Support"
Although initiatives like Maya Organics aim to revive such crafts, they can only support and train a small number of artisans at a time.
"A more solid future can only be built with more support from governmental and non-governmental institutions, designers and citizens of our country and abroad," explains Bano. She further emphasizes the importance and necessity of a thorough understanding of the requirements of artisans and the craft, before institutions provide any help. "Since the income from toy making isn't fixed, the government should focus more on training the artisans about modern designs and coming up with a plan or scheme that can substantially help the toymakers get regular orders to make it viable. They must recognize the potential of the craft, develop marketing schemes that highlight and educate people about the craft and its craftsmen. Attracting younger members of communities to practice and continue the craft in future generations is crucial too. The craft is known in south India but it needs a nationwide awareness of the importance of the artisans, processes and techniques. We hope the awareness increases and action is taken as crafts such as this are so rare and special."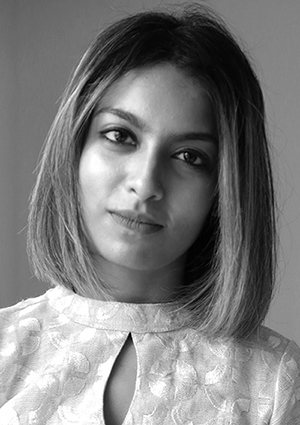 Kshitija Mruthyunjaya is an architect, designer and artist. After completing her bachelor's degree in Architecture in Bangalore, India, she moved to the UK where she pursued an M.A. in Regeneration and Development and an M. Arch. (RIBA Part 2). She worked for a leading firm in Bath, UK for several years before moving to Milan where she currently resides. Apart from architecture and design her passion also include fashion and writing. She collaborates with not for profit organizations and local artisans in India to keep traditional crafts alive and support economically challenged communities. Her main goal is to use her skills and knowledge in design as a regenerative action to create conscious and inclusive communities.

EDITING: COPYRIGHT © MOOWON MAGAZINE /MONA KIM PROJECTS LLC. ALL RIGHTS RESERVED.
PHOTOS & TEXT: COPYRIGHT © KSHITIJA MRUTHYUNJAYA. ALL RIGHTS RESERVED.
TO ACQUIRE USAGE RIGHTS, PLEASE CONTACT US at HELLO@MOOWON.COM