Thirty-five miles north of London in Hertfordshire. An idyllic pond with ducks. A black-brown colored farm situated in the midst of the English countryside in its wildest glory. Clusters of stark Amish-like barns. A hangar-toolshed spacious enough to fit a few private planes houses timber and mini trailers. Sunlight-raised chickens and technicolored roosters. This place is Stonards Farm, where hippy-potted plants, miniature greenhouse, vintage trailers, imposing timber, and hefty machinery appear to co-exist in an untamed manner.
Once in a while, one may spot a man of basketball player stature clad in a dandy hat and an apron appear then vanish behind the doors and in between the barn clusters. Yet at Stonards Farm, nature and man-made artifacts seem to merge to reveal a hidden order that prevails where John Alfredo Harris' work transpires.
John is a self-taught artisan and designer who works with one of the most beautiful materia prima, Wood. His voluptuous vessels and furnitures embody something extraordinarily primal, where often, the identity and the origin of the wood are left transparent, raw, pure, and intact. Though most of his impeccable creations eventually dwell in the contrasted settings of art exhibitions, private homes of sensitive patrons, and luxury stores and boutiques, the natural setting of his work and living quarters is where John draws his unobstructed inspiration.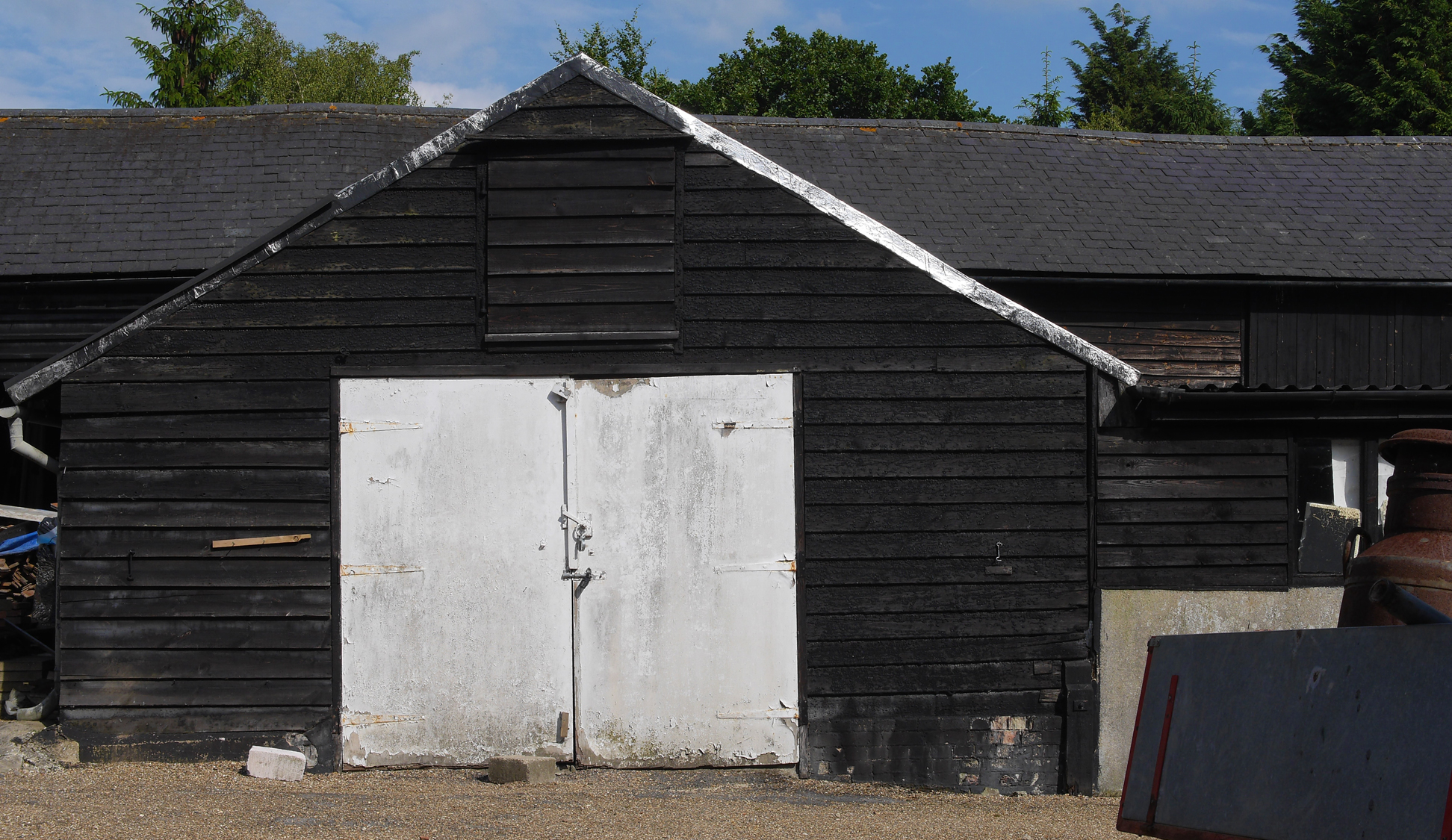 MOOWON: When did you and Wood become mates?
JOHN ALFREDO HARRIS: I got into woodwork when my son was born. We used to live in London and decided to move out to the countryside, to a place that was much more remote than this. Some of the barns there were stacked with timber and I decided to make a coffee table. And it kind of started from there. Though that first table was not what one would call beautiful, it was the genesis of my affinity to woodworking.

I originally studied horticulture and worked as a landscaper/gardener. But a happenchance response to a friend who needed help with fashion styling got me into that line of work. So it was really an "accidental" profession, and I ended up doing it for bloody years! You get used to the money, the clothes, and that whole world of course, but there's really no fulfillment in it¾at least in the artistic sense.
MOOWON: Your objects are very organic in nature. Do you consider this to be your signature?

JOHN: Ideas and inspiration stem from what you observe around you, and I like to evolve constantly. I know that in about five to ten years, nothing that I'm making will look the same as it does today. But that doesn't mean just going with the flow because you still have to plan, draw, and observe. You can't stand still, because, if you do, you will remain a youngling as far as makers or artists go, kind of like the Rolling Stones of "furniture land" who have been creating the same tunes for 30 years. That's not my intention. The process of your development has to be natural. One cannot force a direction. In other words, one should be allowed to evolve.
( VIDEO BELOW )

See 
John at work
in his beautiful
environment



To enjoy the full story, become a Member.
Already a Member? Log in.
BE A MEMBER
For $50/year,
+ Enjoy full-length members-only stories
+ Unlock all rare stories from the "Moowon Collection"
+ Support our cause in bringing meaningful purpose-driven stories
+ Contribute to those in need (part of your membership fee goes to charities)
MOOWON: How do you let the wood "speak" to you? Now this is not something that happens to everyone on a Monday morning.
JOHN: Wood is an organic material, so you can't bend it to your will as you would with metal or plastic. Sometimes I'll hit a knot or a fault, which forces me to go around it not through it. I'd love to go left, but the wood is telling me physically that I would have to go right. That's what I mean by that expression "the wood talks". To some extent, it will dictate what it wants to do and you have to go with it.
MOOWON: What transpires in woodturning?
JOHN: No one really taught me woodturning. It was a self-taught skill. I mainly started off with a little lathe, got as many books and crappy old tools as I could find, and just started turning. It actually took about 10 years for me to figure it out and to get my head around it, especially when it came to making hollow forms. Eventually you develop a sort of sixth-sense where you "see" inside the timber and perceive the inner form of the wood beforehand. In other words, you look at a block of timber, cut it up into sections, examine the sections, and constantly try to figure out or look for clues as to what it will become.
You have to take multiple variables into account before you actually start to work with the wood: its patina, the way the grain runs, if the grain changes directions (if it changes directions a lot, it would be more difficult to make a bowl for example), the quality of the patina versus the complexity of the grain, etc. And even in the midst of working with it, the unpredictable is always there and it can happen anytime: the wood might split, it may be rotten, etc. But you try to eliminate as many of these unknowns as possible before you start the work. So for every ten bowls I start, only six may be workable and useable.
MOOWON: How does being out in the countryside fuel your creativity?
JOHN: Without distractions, you end up relying on your own devices because you have to find the solution yourself no matter what it takes. That's why I like working here. It is similar in the tradition of great Danish or American furniture makers. They were able to develop because they were isolated to some degree. That forced them to develop their own solutions, techniques, craftsmanship, problem-solving skills. And now that's almost gone.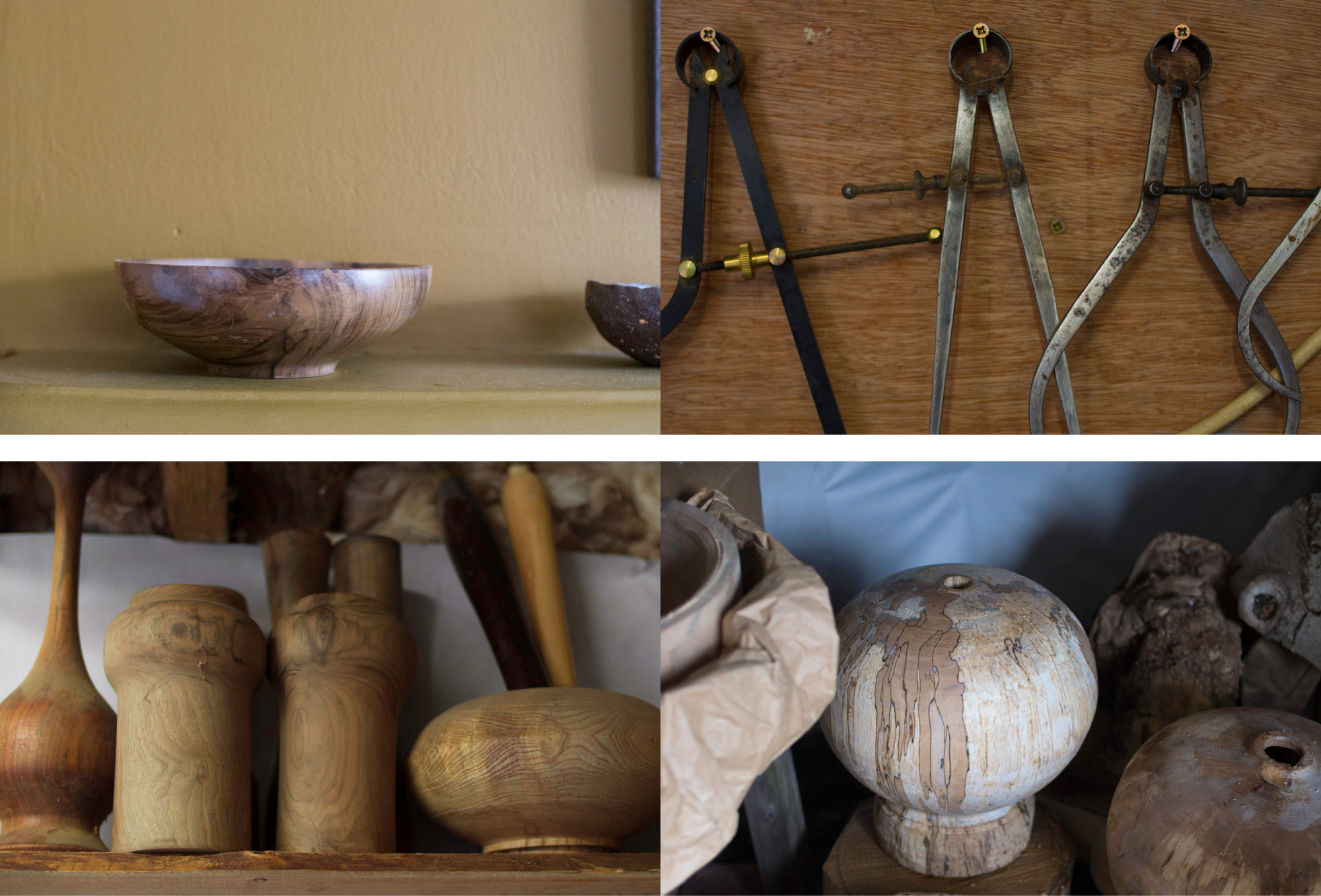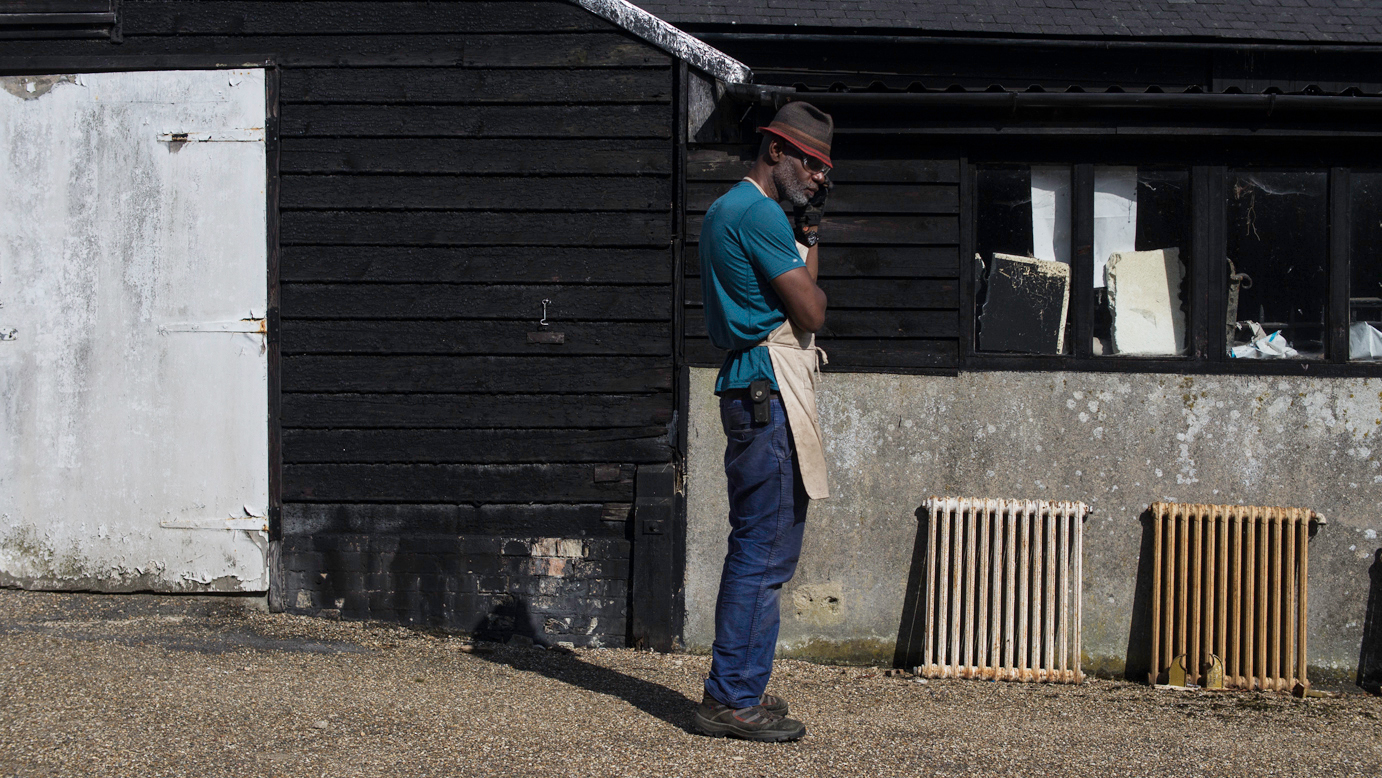 John Alfredo Harris was born in Nottingham, UK in 1964. Harris works predominantly in wood. As a self-taught furniture maker, his designs merge the classic traditions of the cabinet making craft with a freedom of visual expression. Using reclaimed and eco-friendly sourced timber, he creates designs that are at once functional and visually stimulating. Designing furniture, tableware, interior accessories, and interior spaces, he works on one-off commission projects as well as limited editions. His work has been shown internationally in galleries and fairs (including Milan Design Fair, 100% Design London, Passagen Cologne, Origin London, Ozwald Boateng London, Patricia Dorfmann Gallery Paris and The Oxo Gallery, London) and is retailed in upscale boutiques and department stores.
EDITING: COPYRIGHT © MOOWON MAGAZINE /MONA KIM PROJECTS LLC. ALL RIGHTS RESERVED.
PHOTOS, VIDEOS, TEXT: COPYRIGHT © MONA KIM / MOOWON MAGAZINE. ALL RIGHTS RESERVED.
TO ACQUIRE USAGE RIGHTS, PLEASE CONTACT US at HELLO@MOOWON.COM