Crystal prisms, bronze, and light merge and interact in spectacular sculptures of light better known as chandeliers. Called lustre in French, the word qualitatively signifies radiance, brilliance, excellence, and glory. Aside from its function as a source of light, chandeliers were historically conceived for churches, palaces, and residences of the wealthy to symbolize—and communicate—power and social standing. Chandeliers were objects of passion and works of art in the past and continue to be today.
In France, the savoir faire behind chandelier making had almost been abandoned and forgotten, partially due to its complexity and a decline in demand. However, in Hameau des Sauvans, situated near Gargas in Provence, a man has revived this unique trade, breathing life and innovation back into the art of creating these magnificent objects of light. He imagines, restores, and recreates the grandest and most complex jewels of all. In one sense, he works alongside the grand masters of centuries past, serving many kings and queens such as Louis XIV and Marie Antoinette.
Atelier of Hameau des Sauvans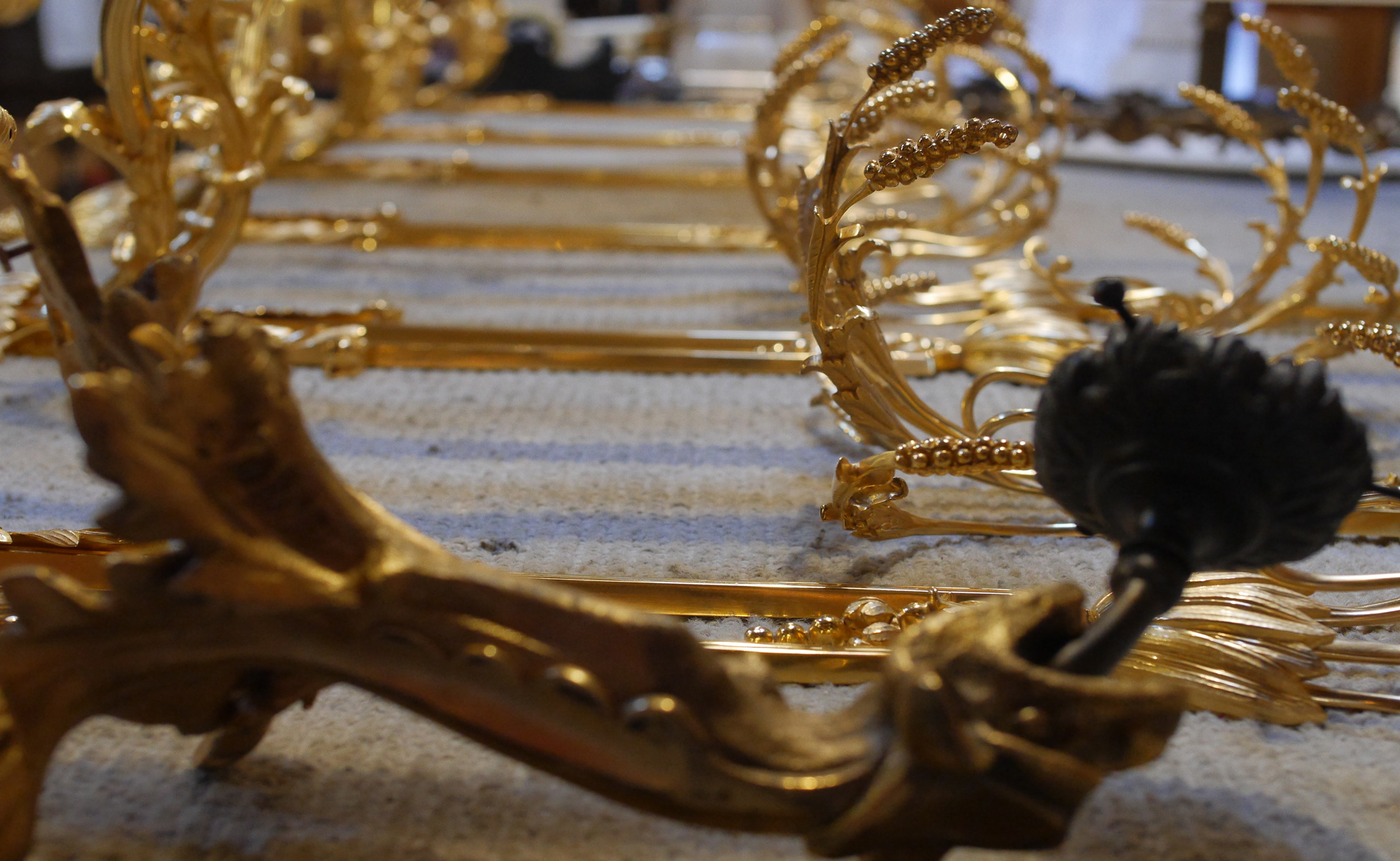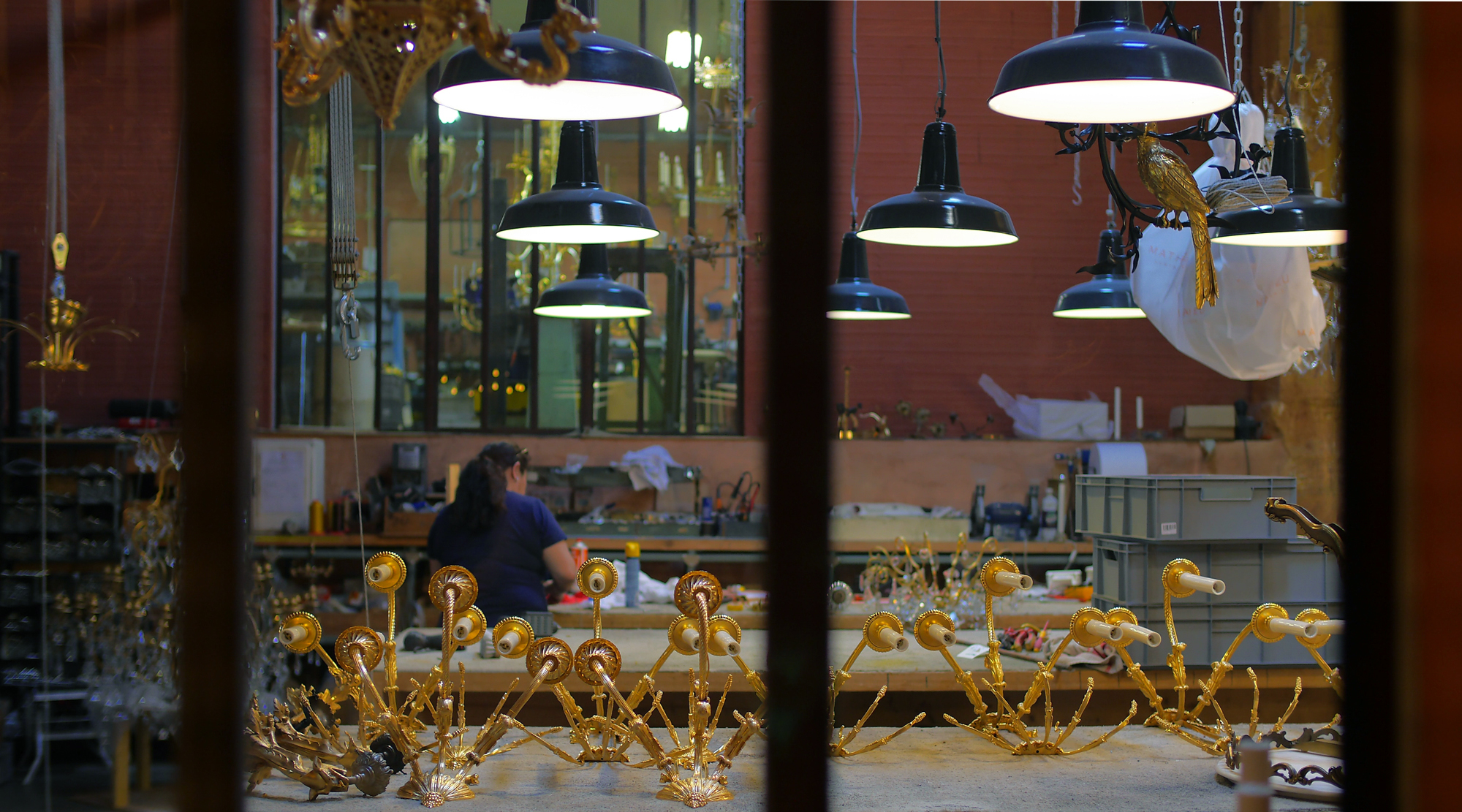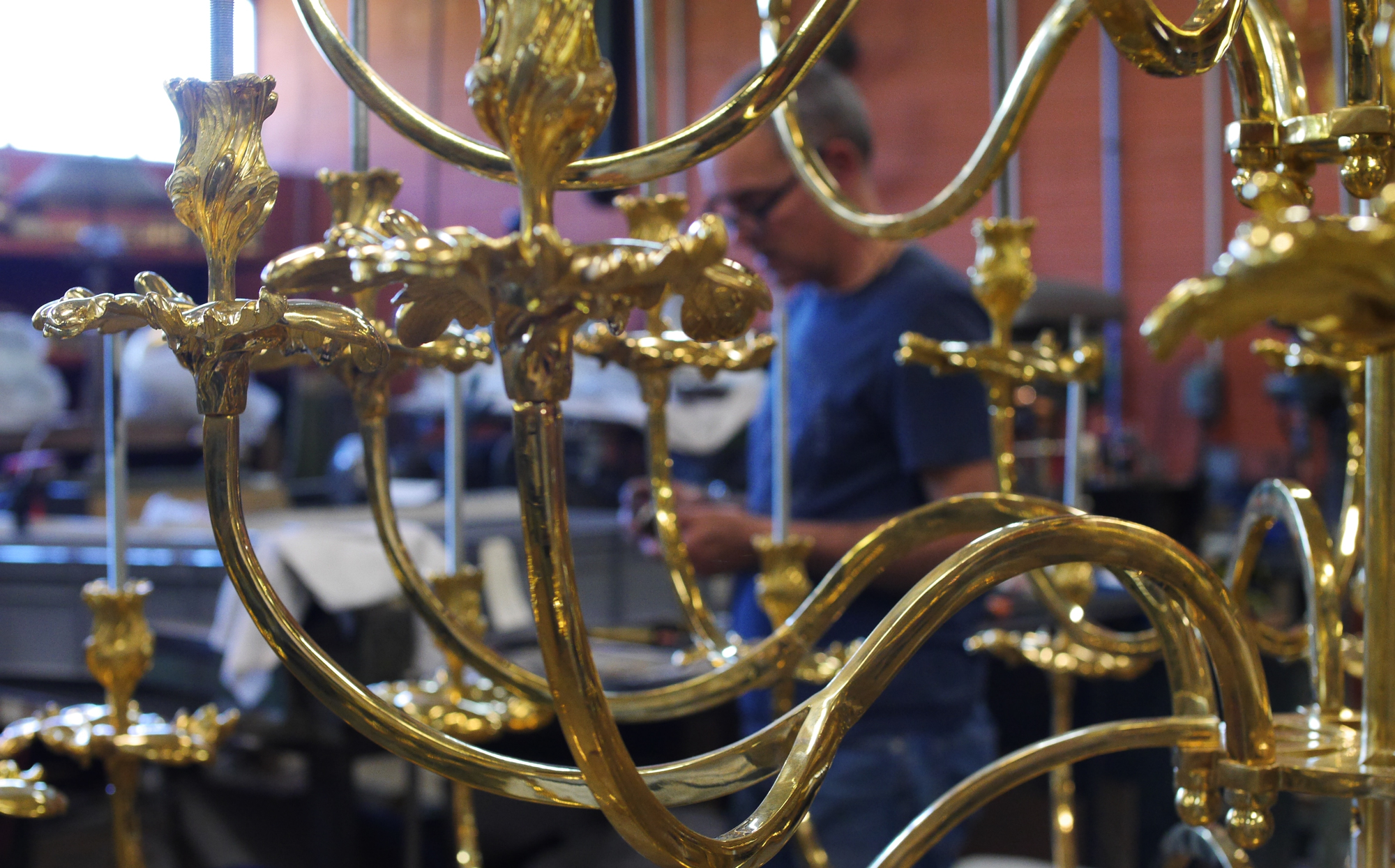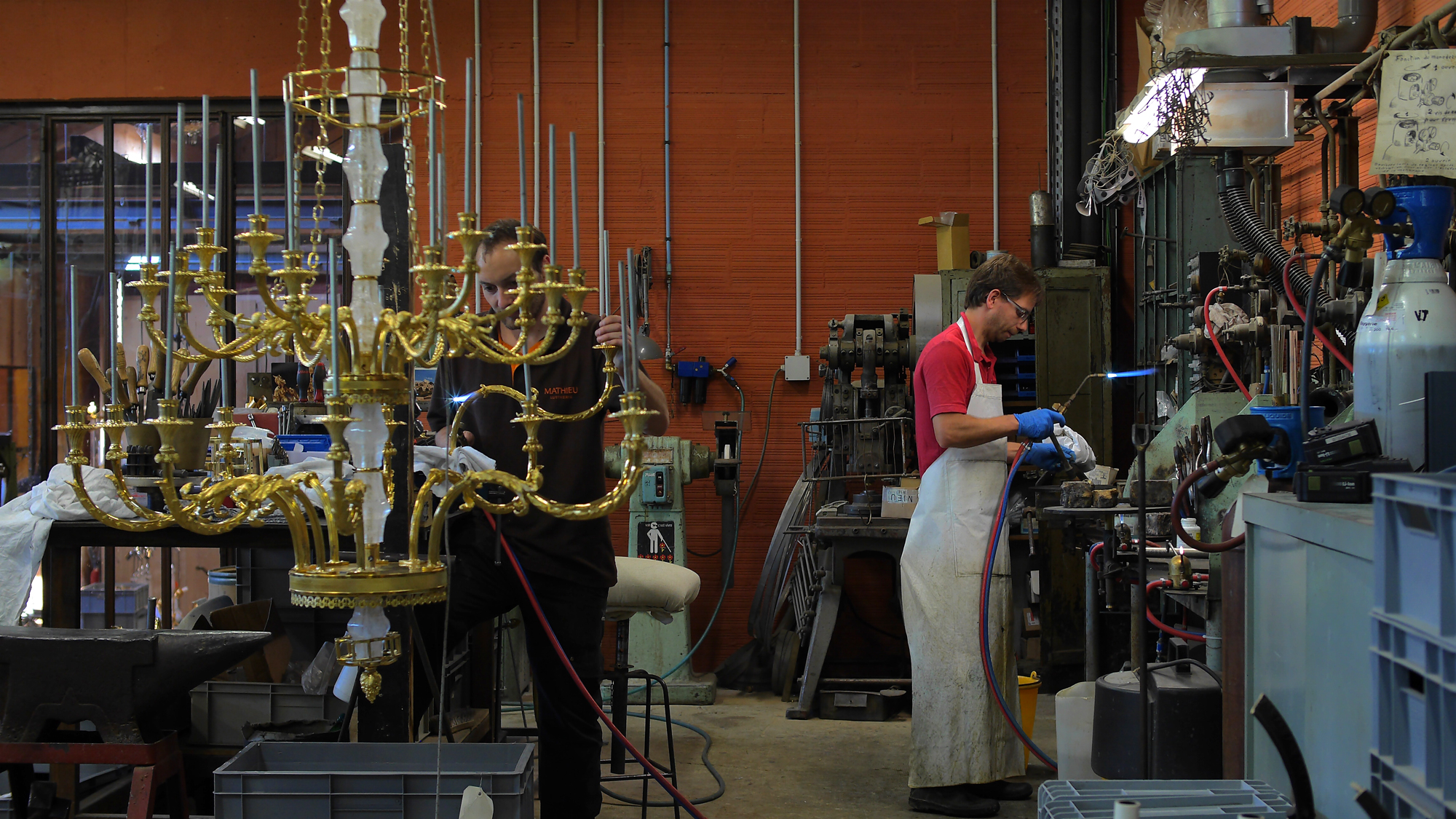 Régis Mathieu, the name and the brilliant creative force behind Mathieu Lustrerie, considers himself a lustrier-cum-bronzier d'art (chandelier maker- cum- bronze artist). A native of Marseille, Régis possesses an uncommon versatility and virtuosity as an artist, entrepreneur, collector, and restorer. He is also an impassioned traveler with one foot in India, one foot in Moscow, another in Paris, and yet another in New York. Yet all the inspiration, commissioned projects, raw materials, and discoveries from these distant lands ultimately culminate in what he calls his "playground"—aka his atelier in Hameau des Sauvans. This is where everything merges. This is where he and his team of 25 artisans par excellence research, restore, invent, re-invent, reproduce, test, draw, mold, cast, cut, heat, melt, patinate, polish, assemble, catalog, and archive these grand-scale splendors. And they are commissioned by none other than the highest of cultural institutions such as the Louvre, Opera Garnier, and the Trianon, as well as clients who seek works of art. Meticulous attention to details, impeccable quality, and making the impossible possible are the central tenets of Mathieu Lustrerie. In this sense, Régis is the Steve Jobs of his trade.

To enjoy the full story, become a Member.
Already a Member? Log in.
BE A MEMBER
For $50/year,
+ Enjoy full-length members-only stories
+ Unlock all rare stories from the "Moowon Collection"
+ Support our cause in bringing meaningful purpose-driven stories
+ Contribute to those in need (part of your membership fee goes to charities)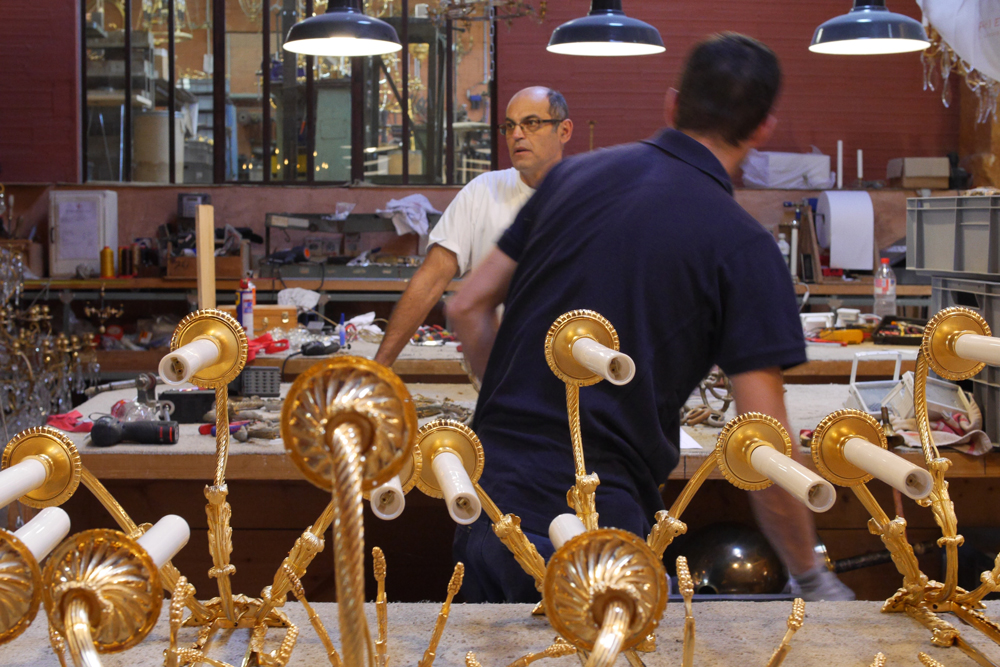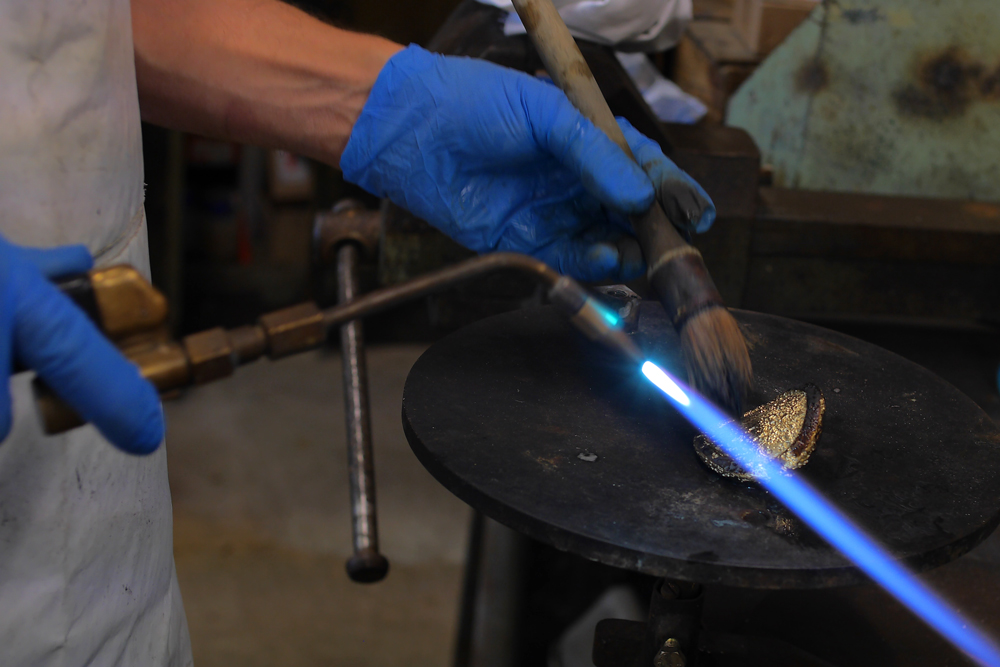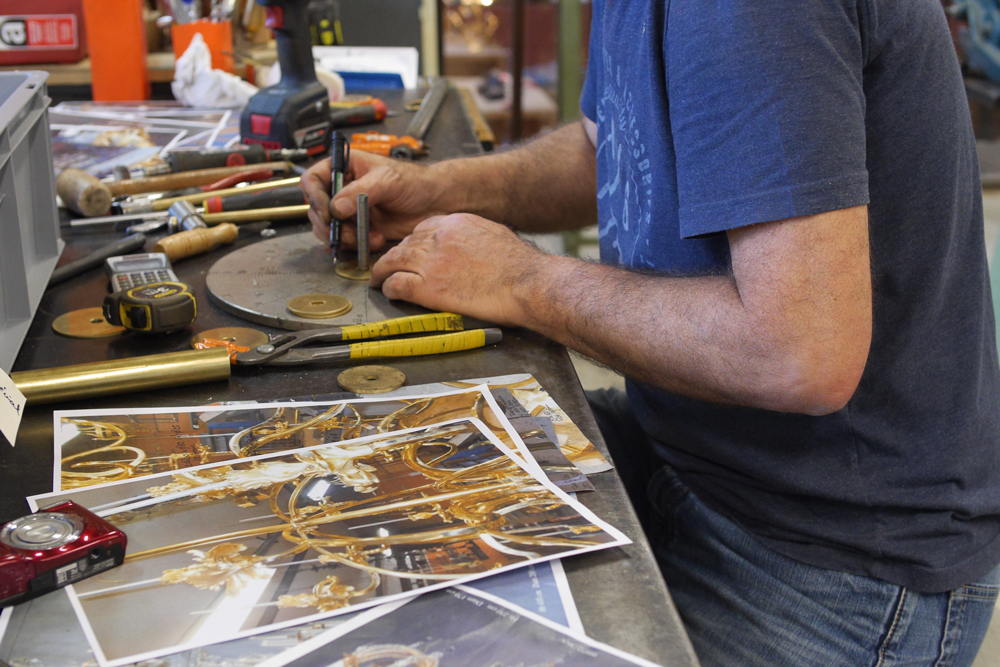 The history of the lustrerie dates back to 1948 when Régis' father started to fabricate chandeliers during the post-war period. Since raw materials were difficult to access at that time, they were fabricated with recuperated pieces such as inkwells. In 1992, after his father had passed away, he took over the family business and oriented its activities and creations toward works of art with an international outlook. During this moment in France, when chandelier making had significantly declined, he did exactly the opposite of what one learns at school: He immediately set out to conquer the international market and reinvest his gains in creating a fully integrated atelier of excellence in France. This included building an on-site foundry.
In the space of freedom that he has created as an artist, and in the spirit of conceiving a beautiful jewel or a rare work of art, he takes the materials he has on hand—and plays. "In this day and age, we have confused the difference between lighting and works of art."
Illumination as a Symbol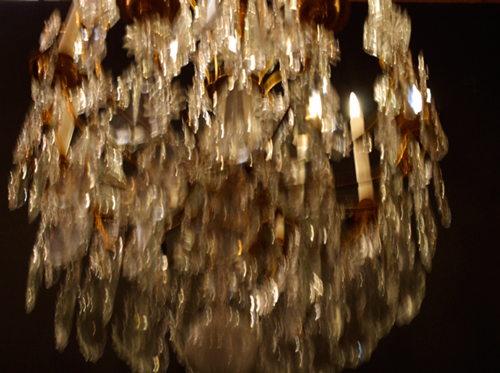 During the 17th century, mirrors were considered highly desirable objects because glass symbolized luxury. The Venetians were considered the masters of mirror making for their unequaled savoir faire and had the monopoly on their fabrication at that time. Every wealthy person had a cabinet aux miroirs, which were small rooms bathed in beautiful light. In fact, it was Louis XIV who integrated the largest of them, the Hall of Mirrors, into the architecture of the Palace of Versailles.
"Likewise, throughout history, the chandelier was highly regarded as the receiver and transmitter of light and was, therefore, one of the most expensive objects on a site. Today, we have forgotten this notion."
It was the symbol of richness par excellence, in that it was an object made with materials such as silver, gold, gilded bronze and precious stones. All the elements of the noblest crafts were in there: stone cutting, carving, silversmithing, gilding, soldering and welding of precious metals, stone setting, etc. The light embellished the object, and the object magnified the light. In these ways, the chandelier was comparable to a jewel.

It was also a symbol of power and social standing. A place where 100 candles were lit signified the power of light and the notion of no longer being slaves to the sun. Because candles were costly, grand-scale usage was often limited to palaces, places of worship, or the residences of the wealthy.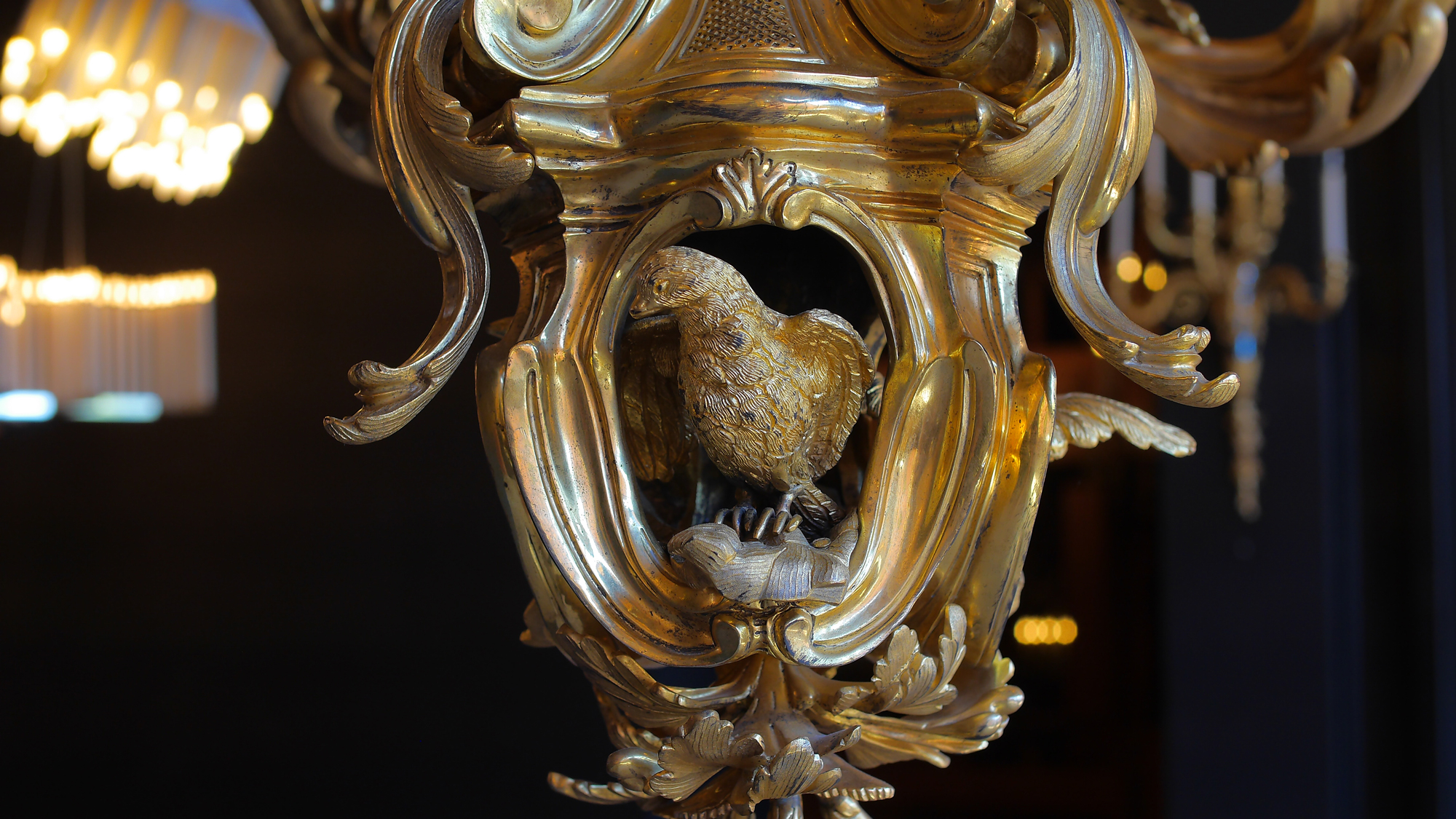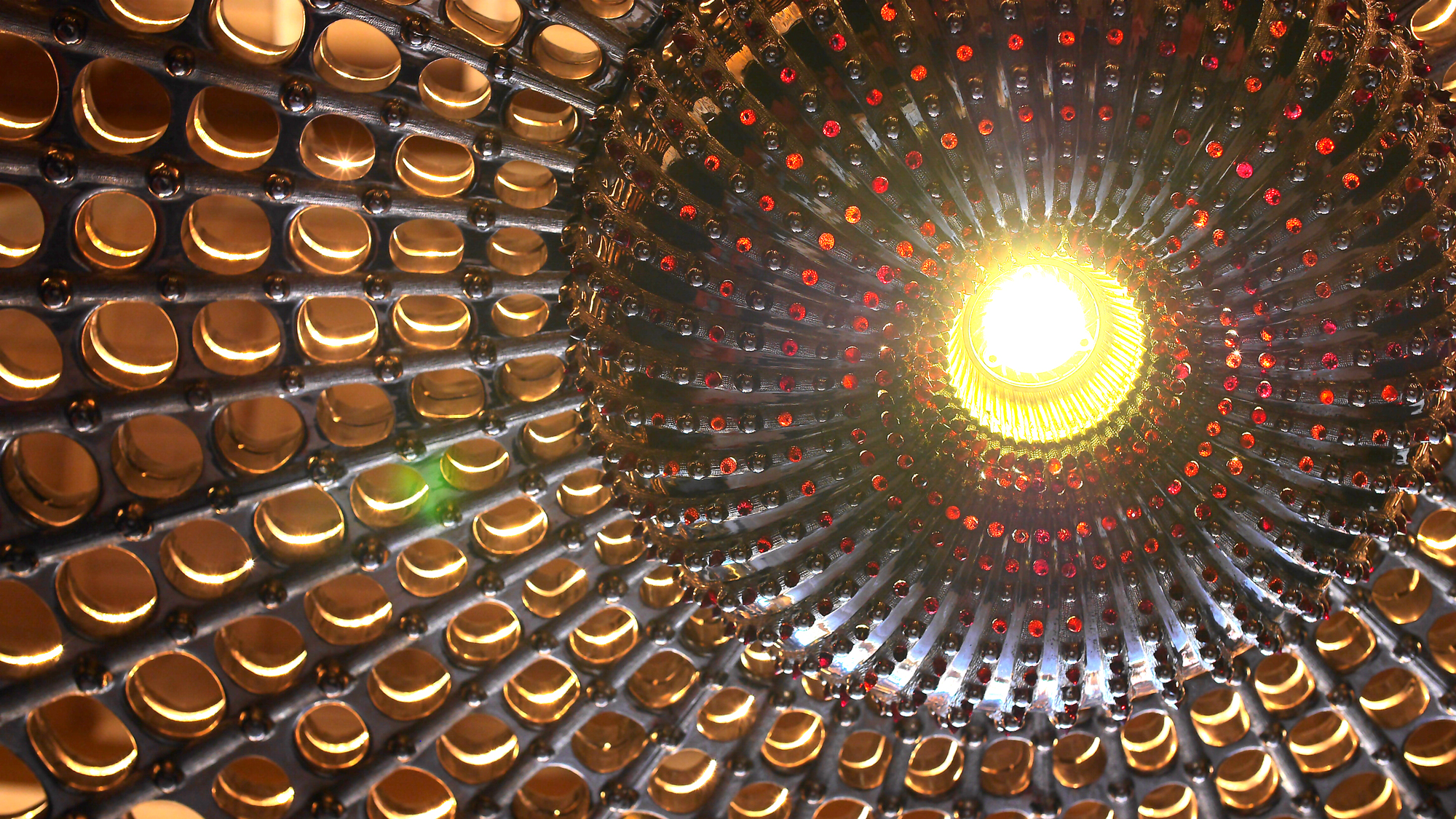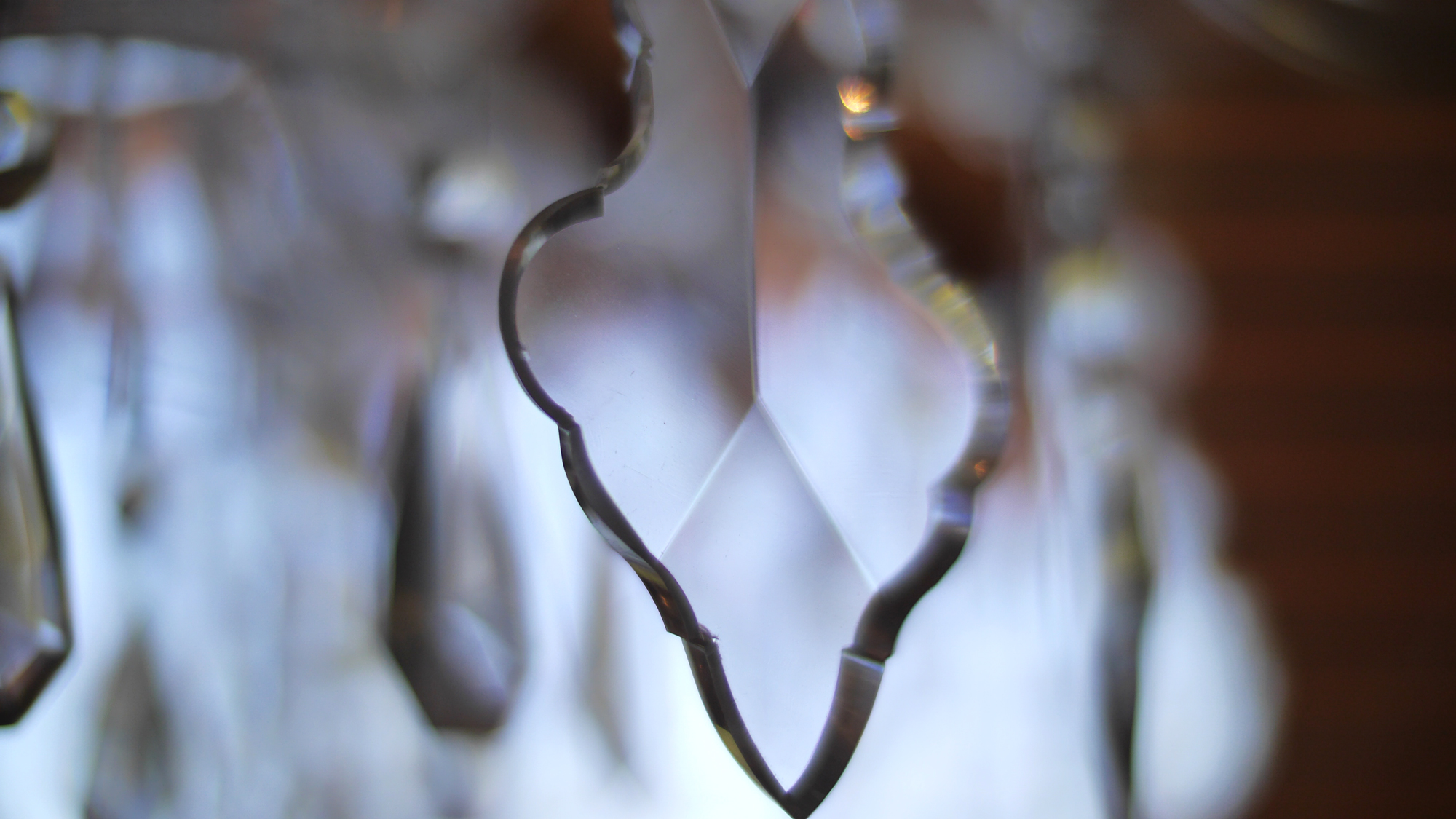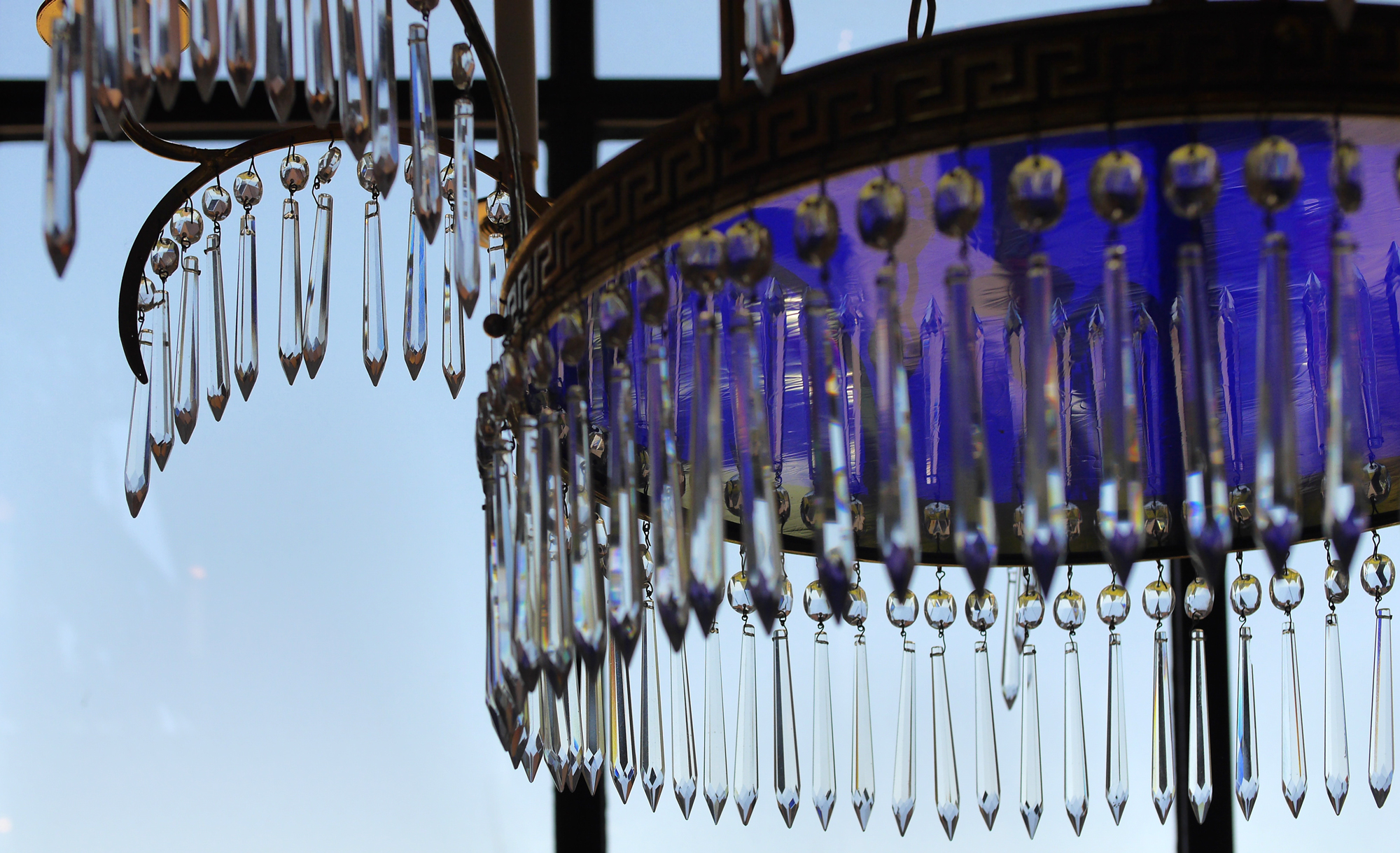 Mastery Behind the Art
I feel more like an artist when it is a 'commission',
which translates to being at the service
of someone's needs.
"It is a dream métier because I create large jewels. Yet there aren't many of us who do this, nor are there many who want to do this "
The fundamental difference between a jewel and a large-scale illuminated jewel is that the latter is a heavy object that hangs above people's heads. Therefore, there is always a question of balancing multiple considerations: materials such as precious stones that are very fragile yet weigh at least 25 to 30 kilograms, the delicacy and complexity of electricity which requires a great deal of logistics and integration, plus an additional eighty-something kilograms for the rest of the parts such as the stands. "To do this work, one needs a lot of awareness."
In our century, being an artist is often associated with the limited notion of carte blanche or no constraints. But Régis sees it quite differently. "Amongst the works of art that we now see in museums are works that were commissioned to the multi-faceted da Vincis of the epoch who were also engineers, scientists, mathematicians, etc. In the same way, I feel more like an artist when it is a 'commission,' which translates to being at the service of someone's needs. It is important to have the humility to search for and integrate the architects' requirements, constraints of the architecture, and all factors concerning the 'user.'"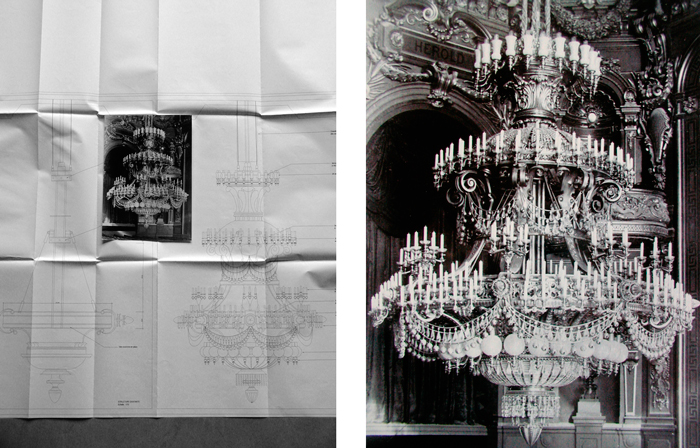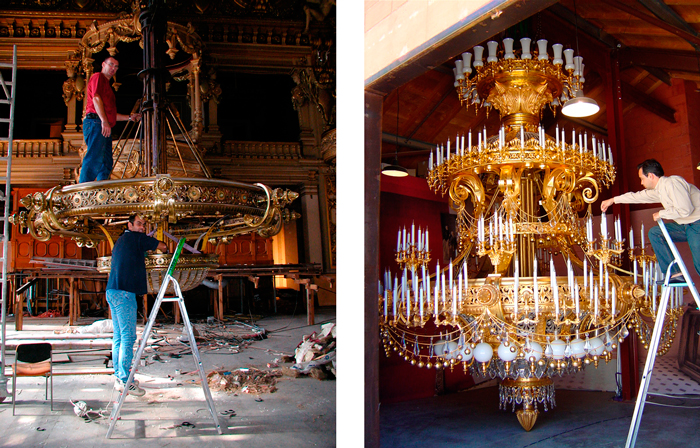 The chandelier for the Opéra de Monte-Carlo was one of the largest commissions undertaken by Mathieu Lustrerie.
With only one black and white reference photo at their disposal, Mathieu Lustrerie recreated
a work of art measuring 5 meters high, weighing 5 tons, and embellished with 500 lights.
The two-year project engaged 25 people of the atelier as opposed to the 200 that would have been the norm for this scale of work.
(Photos courtesy of Mathieu Lustrerie)
Each trade has its behind-the-scenes research, and the clever ones are aware that the key to seeking the right solution lies in the art of questioning to obtain essential insights. Régis takes his investigations quite seriously when it comes to his clients. Some questions are of practical nature: What is the height of the ceiling? Are there mirrors on the ceiling? There are some chandeliers whose top should not be visible? Will they be used to illuminate or to decorate? Is the chandelier for the evening or for the dining room? Does the table always move or does it seldomly do so? That changes the logic of its placement in the space and determines whether it should be a low hovering object similar to a bouquet of flowers or part of the higher-tier decorations.
And, there are questions of a more delicate and personal nature: Is it to impress? Do they receive guests and what are their ages? Is an ideal evening soft music and candles or rock and roll?

"The chandelier cannot tell the same story for every person. There are unique considerations and logistics for each client that one would not have imagined behind the object. On the one hand, we must take on the psychologist's role to fully understand our clients; on the other hand, we are their communication facilitators and accomplices. The clients wants to communicate something about themselves to others who enter their space, and we take part in shaping that communication. That can span from social standing to other non-verbal communication. Whether or not a chandelier is lit is a form of communication in itself."
Régis Mathieu is an entrepreneur and collector who is passionate about the art of chandelier making. With over 20 highly-skilled artisans and specialists based in the heart of the Provence region in France, his company Mathieu Lustrerie is dedicated to the mastery in the art of chandeliers. Their work includes renovation for private clients and historical monuments, creation of contemporary pieces, and historic research and reproduction of antique pieces. Aside from its atelier par excellence and its extensive archives illustrating centuries of lighting, the adjoining Mathieu Museum houses more than 250 antique pieces and an 800-volume library devoted to the world of chandeliers, decoration, and architecture.


PHOTOS & TEXT: COPYRIGHT © MOOWON/MONA KIM PROJECTS. ALL RIGHTS RESERVED.
PHOTOS OF OPÉRA DE MONTE-CARLO & RÉGIS MATHIEU COURTESY OF MATHIEU LUSTRERIE. ALL RIGHTS RESERVED.