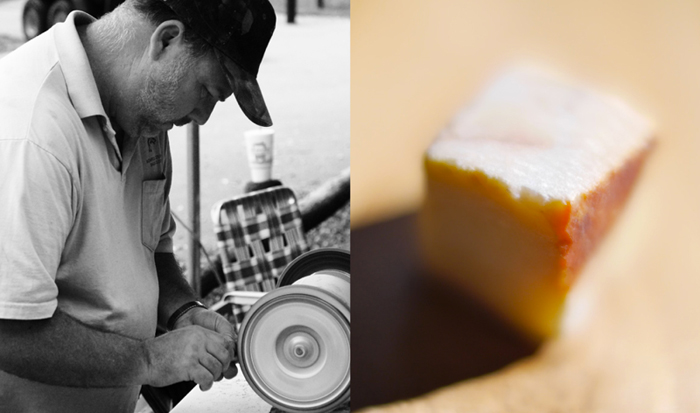 Paul Davis. (Photo courtesy of Standing Stone State Park) / Flint rock. (Photo: Mona Kim)
Master marble maker Paul Davis 
spends a lot of time on the waters that surround his southern Kentucky home—scanning creek ripples, listening to brooks, watching the subtle movements of lakes, and noting the cycles and flows of rivers. He casts his fishing line for small-mouth bass when the waters are high, and when they're low, he combs the shoals for marble-worthy flint rock. We catch him while the river is low and the days are long enough to harvest and grind a marble shooter and play a few matches of the century-old game, Rolley Hole.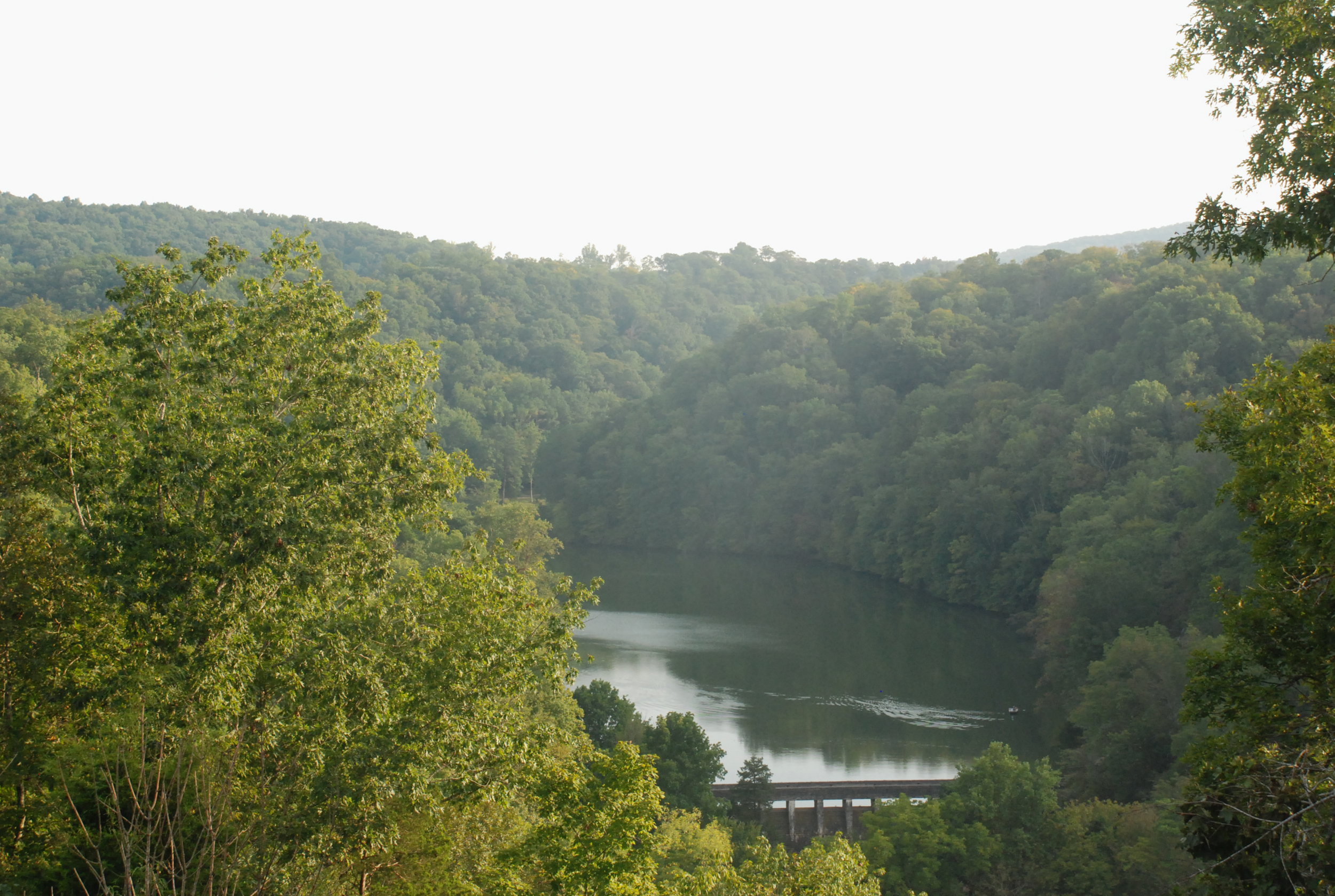 Standing Stone Lake. For over a century, the flint lined waters along the Tennessee and Kentucky borders have provided the ideal material for this distinctive game of marbles.
(Photos courtesy of Standing Stone State Park)
The Materials. Harvested from a Green Maze of Hills and Hollows.*
Rolley Hole, like many traditional games, is rooted in its place. Every nuance of texture and sound— down to the rules of the game and cadence of the players—echoes familiar landscapes. Rolley Hole players are known for exclusively using marbles gleaned from the area's waters: the Dale Hollow Lake on the Tennessee-Kentucky border, and the Cumberland and Wolf Rivers, as well as the dozens of creeks in between.
On a typical flint harvesting outing, Tompkinsville native and legendary Kentucky knuckler, Paul Davis, picks up 100 or so peach-sized rocks, takes home 50 to 75 and, following closer inspection at his carport marble table, selects just five or six to fashion into marbles. As he explains, "our streams and rivers have high sand content which can pummel through flint, creating tiny pinholes throughout a rock." Since Rolley Hole shooters are known for their speed and accuracy, only the densest smoothest flint can withstand the force of impact on the marble yard. Everything else shatters.
Future marbles. (Photos courtesy of Standing Stone State Park)

The Craft.
Globes of Red, White, Blue, and Yellow.
…Another utilized
gentle water flow in a stream
to turn the flint for days within a
rounded hole in a rock.
A third method used
an upside-down bicycle...
To enjoy the full story, become a Member.
Already a Member? Log in.
BE A MEMBER
For $50/year,
+ Enjoy full-length members-only stories
+ Unlock all rare stories from the "Moowon Collection"
+ Support our cause in bringing meaningful purpose-driven stories
+ Contribute to those in need (part of your membership fee goes to charities)
Around 1988, when Paul was 25, he and his bride moved into their new home. Paul noticed his neighbor had a marble yard. "I'd walk over and watch him play and eventually I learned how to play. I always had to borrow a marble, though. One day my neighbor said, 'Paul, you're going to have to make yourself a marble.' I said, 'Nah, I'll just buy one.' He looked at me and said, 'You don't buy them! Nobody will sell one to you! You have to make your own. You just have to make your own."
At the time, Paul recalls, making a marble was a good two or three day process at best—grinding rock creates an enormous amount of heat and must be regularly set aside to cool. Various folk engineering improvisations have come about to make the process easier and more precise.
Former Tennessee state folklorist, Robert Cogswell, and longtime Tennessee Parks Naturalist and prolific Rolley Hole documentarian, Robert J. Fulcher, recall strategies for creating a perfect flint stone sphere:

"One involved a manual 'whirligig' apparatus…Another utilized gentle water flow in a stream to turn the flint for days within a rounded hole in a rock. A third method used an upside-down bicycle, with one boy peddling manually while the other held the flint to turn within a grindstone cavity against the moving tire. Washing machine motors afforded means for the first of the fully powered marble-making devices that are generally used today." (Tradition: Tennessee Lives and Legacies)
Regardless of the method, obtaining spherical perfection is critical since a minuscule bulge can distort a marble's trajectory and throw a game.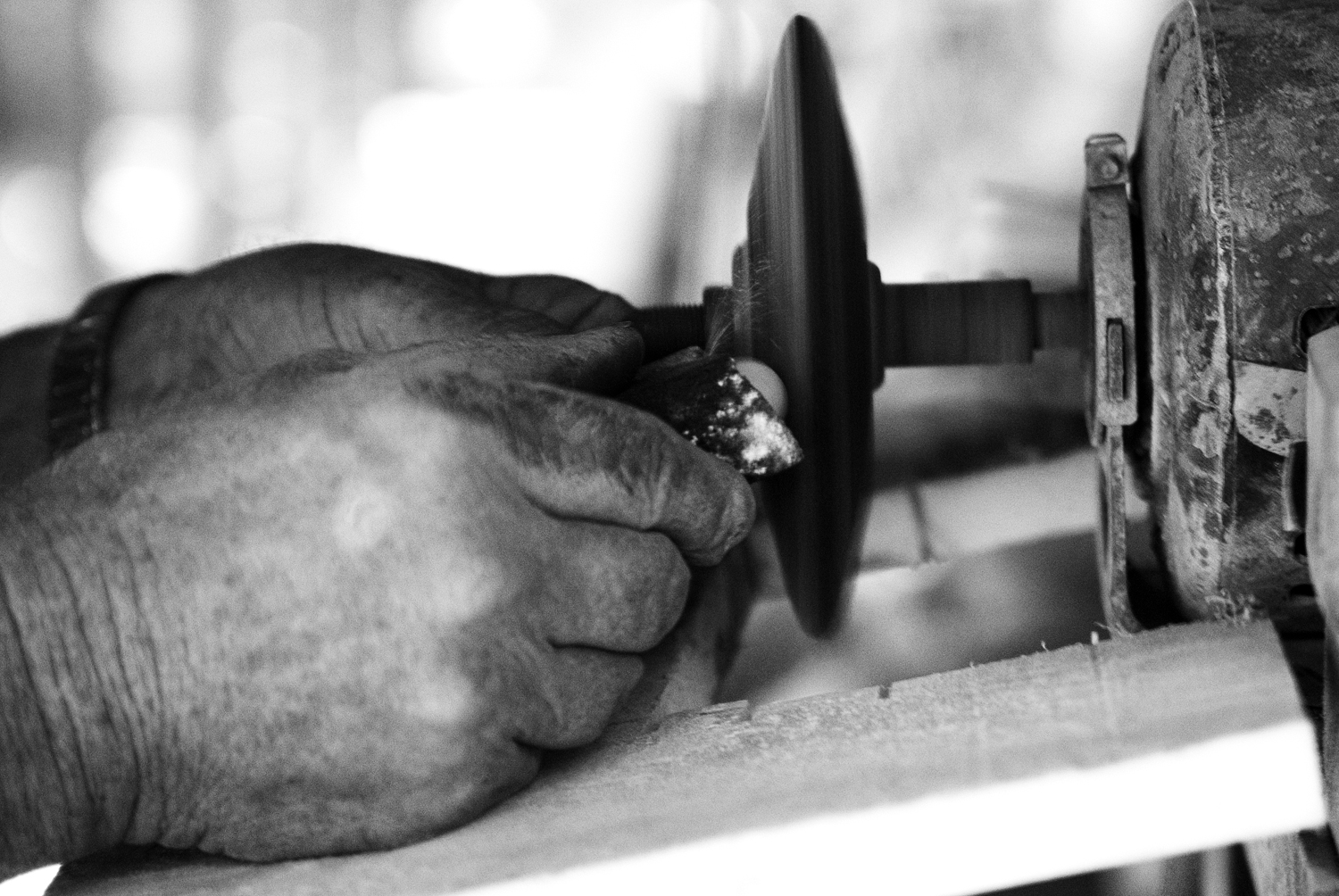 Flint collected for Rolley Hole marbles are polished within 1/10,000 of an inch to perfect spheres, a process that can take anywhere from two hours to three weeks depending on the tools at hand.
(Photo courtesy of Standing Stone State Park)

Over the decades, Paul has contributed his own innovations, repurposing a discarded diamond saw and grinder to create a new, more efficient machine. He also invested in a digital caliber to ensure the regulation marbles he crafts are within two to three thousandths of an inch to a perfect sphere. Even though Paul uses gem industry technology to cut his bench time to roughly an hour and a half, the process of crafting a marble, from riverbed to yard-ready game piece, still takes several days, if not months. "It's more a hobby than anything else," reflects Paul. Monetizing his knowledge of the region's waters, the hours he spends combing the shoals for material, and the cost of the equipment would set the price beyond the budget of players. And play, is what it's all in service to.
Most players still make their own marbles. There's a delight only a player-maker can experience, having transformed a jagged, angular rock into a cool, slick marble—heavy and smooth in the hand, sculpted until it rests perfectly between your thumb and index finger. Made by and for players, these are the marbles that become heirlooms, passed down when a player retires. Paul is unconventional in that he sells marbles, most for 15 dollars. On the rare occasion he finds a prized clear or crimson piece of flint, he'll charge ten or twenty times that, or more likely, won't sell at all.
"Mainly," he says, "I want the game to continue. Sometimes having a marble in hand encourages a person to learn the game." Paul has worked with area schools to return marble yards to playgrounds. Recently, Tompkinsville's renowned burger joint, Dovie's Cafe, installed one on their premises. These small triumphs are a faint echo of the decades when marble yards "were once found beside every schoolhouse, as well as inside barns, on old roadbeds, woodlots and fields, adjacent to country stores and even on the courthouse square…" (Fulcher). Yet, despite his hopefulness and enthusiasm, Paul sounds resigned: "It's hard to compete with so much going on in society today. There's too much for children to do. There's too much for all of us to do. There's really no need for a pastime like this anymore."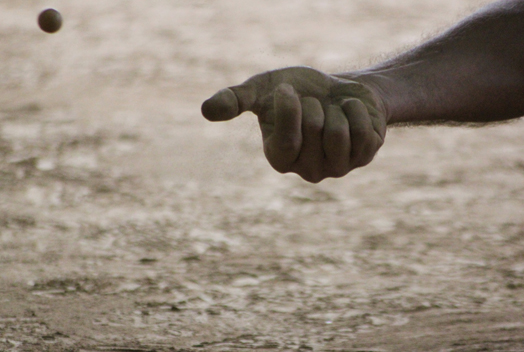 Master Rolley Hole players propelling very accurate arcs with their air shots.
(Photos: Sonny Parsons)

Makalé Cullen captains lore / The Wilderness of Wish, an ethnographic research and creative consultancy. Trained in Cultural Anthropology and Art, she has documented material culture and tradition bearers far and wide—from Orthodox bra fitters to Louisiana sugar mill operators. Prior to establishing her agency in 2010, Makalé spent a decade documenting and presenting cultures for legacy institutions, including Slow Food, City Lore, and the Smithsonian's Center for Folklife and Cultural Heritage. Her work has been featured in the New York Times, NPR, Zester, Re:form, and LIMN. She has also contributed chapters to Urban Farms (Abrams), Renewing America's Food Traditions (Chelsea Green), and Hidden New York: A Guide to Places That Matter (Rutgers).
Paul Davis is a Kentucky Knuckler through and through. A six-time state champion of Rolley Hole, Paul was born and raised in Tompkinsville, where he has been playing marbles and making marbles for players and collectors for over 25 years. When he's not knuckling down, he travels the state for Community Action of Southern Kentucky as their Regional Director of Weatherization.
Where to Play – United States: National Rolley Hole Marble Tournament. Standing Stone State Park / Marble Club Super Dome. Daily. At the end of Armory Road off 163 North out of Tompkinsville, Kentucky / Watermelon Festival Tournament / Wildwood National Marbles Tournament. Wildwood, NJ

Where to Play – England: Grey Hound Marbles. The Grey Hound, Tinsley Green
Special thanks to Shawn Hughes, Park Ranger, Standing Stone State Park, and Robert Cogswell, retired folklorist, Tennessee State Arts Council.

( * ) ( 1 ) Fulcher, Robert J. "Rolley Hole Marbles." Festival of American Folklife Program Book, ed. Thomas Vennum, Jr. Smithsonian Institution, 1986.
( 2 ) Cogswell, Robert. Tradition: Tennessee Lives and Legacies. Nashville: Tennessee Arts Commission, 2010. 146
MARBLE STILLLIFE PHOTOS: COPYRIGHT © 2015 MOOWON/MONA KIM PROJECTS. ALL RIGHTS RESERVED.
PHOTO OF ROLLEY HOLE PLAYER: COPYRIGHT © 2015 SONNY PARSONS. ALL RIGHTS RESERVED.
ALL OTHER PHOTOS COURTESY OF STANDING STONE STATE PARK and PAUL DAVIS.