Bruno Legeron was an artisan and an artist who never made the same flower twice. Each creation was an original handmade piece.
The Paris-based flower manufacture was founded in 1727 and bought by Louis Sebillon in 1880. His great-grandson Bruno Legeron is the 4th generation owner of the family operated business. The workshop that was located a few steps away from the Palais Royal Garden had been his second home for as long as he can remember.
In 1977, soon after he obtained an Economics degree, the young graduate joined the company to work with his parents who were running the family business. At the helm since 1993, he fondly remembers the days when he used to come and help out as a young boy. A silk flower pinned to his rugged workshop apron, a pen tucked behind his right ear, Bruno Legeron whose second passion is football, was a perfectionist who knew the flower-making industry inside out. He oversaw every step of the production: he personally die-cut the fabrics and dyed the shapes. Yet, he still made time to greet his clients whether they are famous designers, private milliners, or individuals.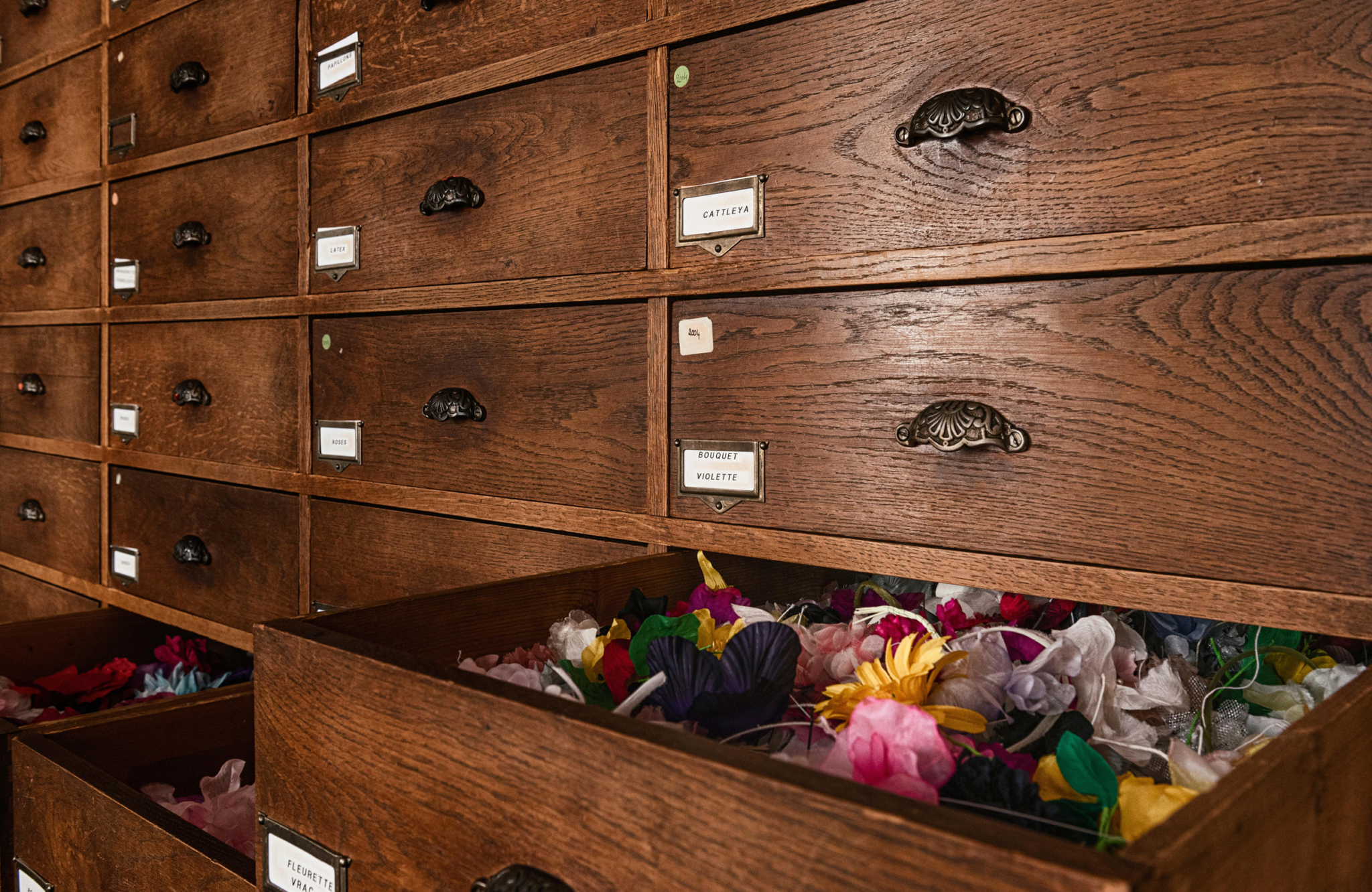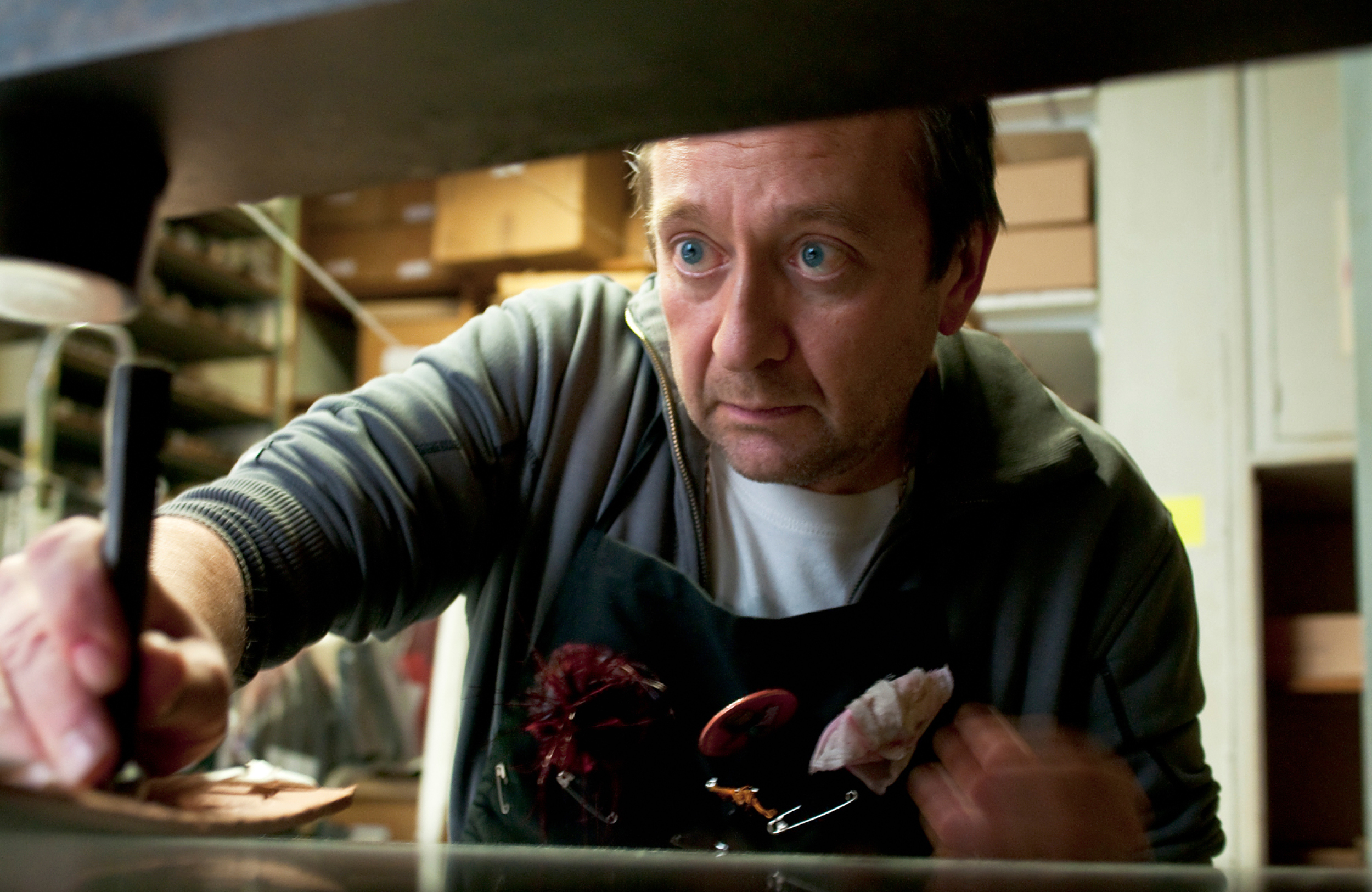 Bruno Légeron at work on his cutting machine.
The fabric, primed and stapled in a book, is machine cut.
The silk and the cookie cutter are placed on a cardboard to be cut-out. then placed under a press.
The pressure exerted on the cookie-cutter allows the precise cutting of the floral motifs.
The exclusive flower models are stored in the showroom's antique furniture.
Each flower was "hand-grown-to-order" mainly for haute couture and luxury ready-to-wear. Dior, Givenchy, Stéphane Rolland, Vuitton, Céline, Anne Valérie Hash were Maison Legeron's most loyal customers. However, he pointed out that today artisans depend on the artistic directors and their creative teams. Emphasizing the importance of developing trusting relationships with them, he said, "When an artistic director leaves a couture house, sometimes we are forgotten for a whole season if we did not build a new relationship with the successor's team. Years ago, when a stylist joined a fashion house, he or she would spend their career there until retirement. We, the artisans, used to talk directly to the designers such as Oscar de la Renta or André Courrèges. But things have changed. Today, we mainly talk to the stylists. Rarely do we talk with the designer."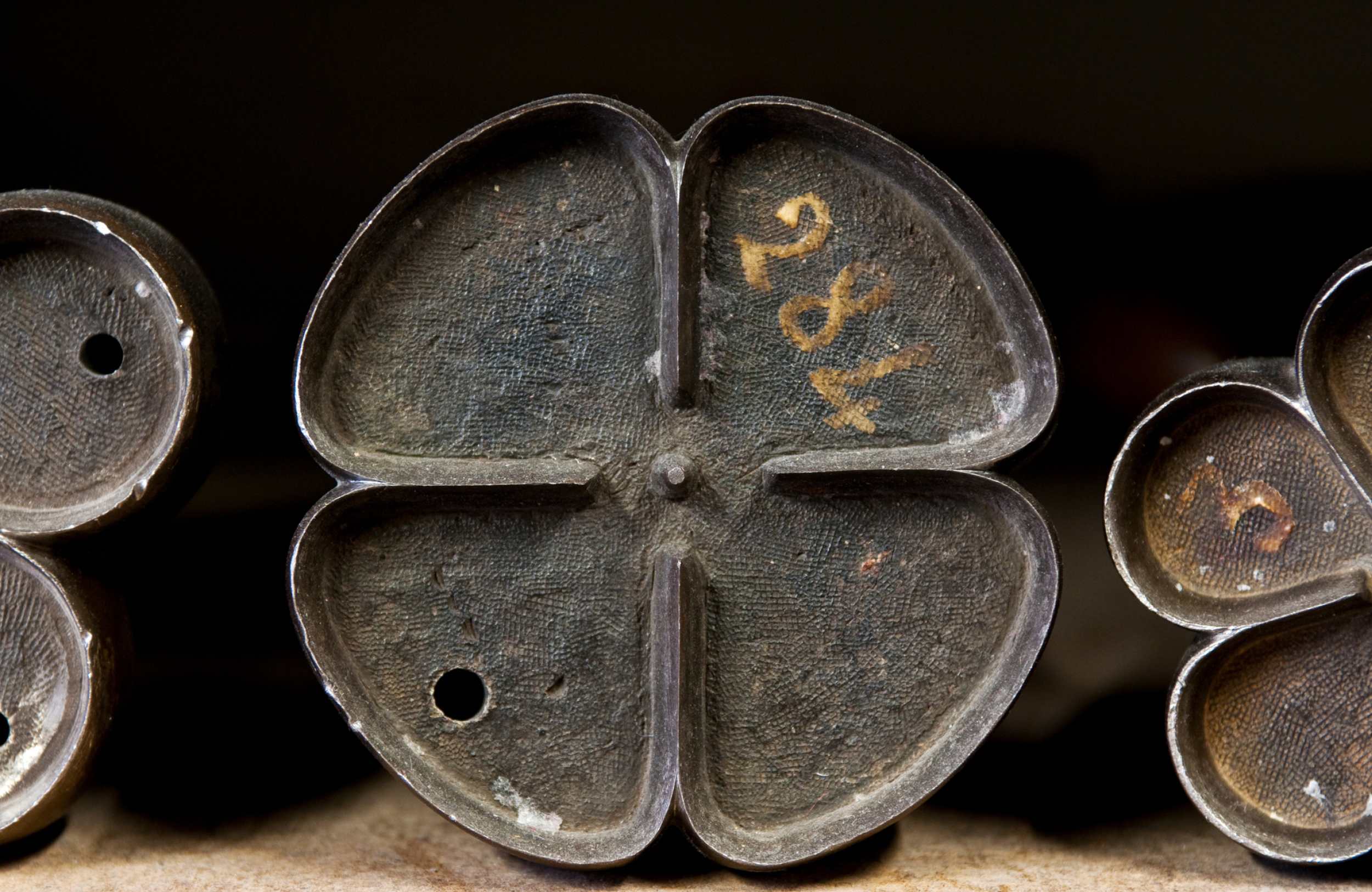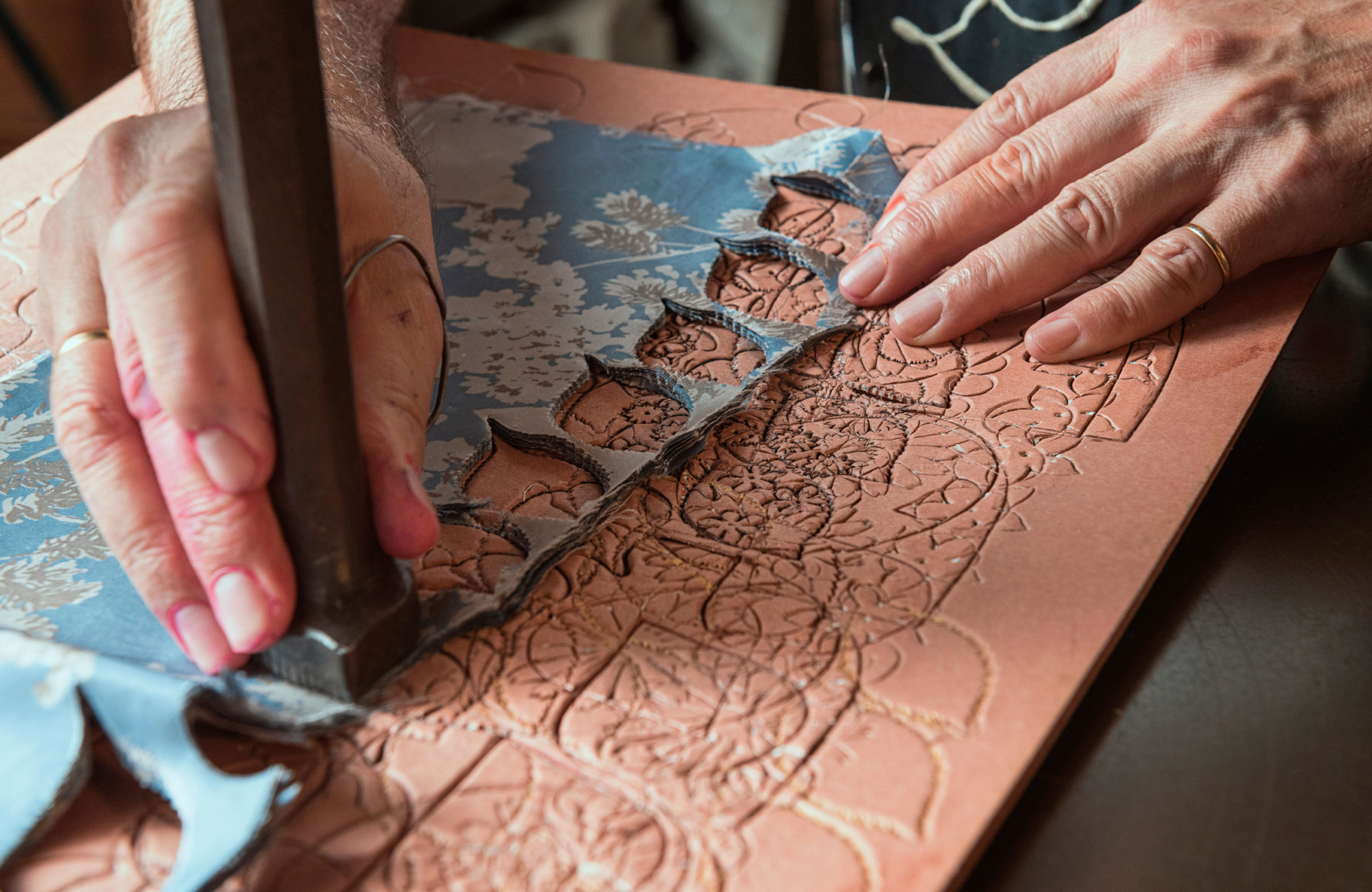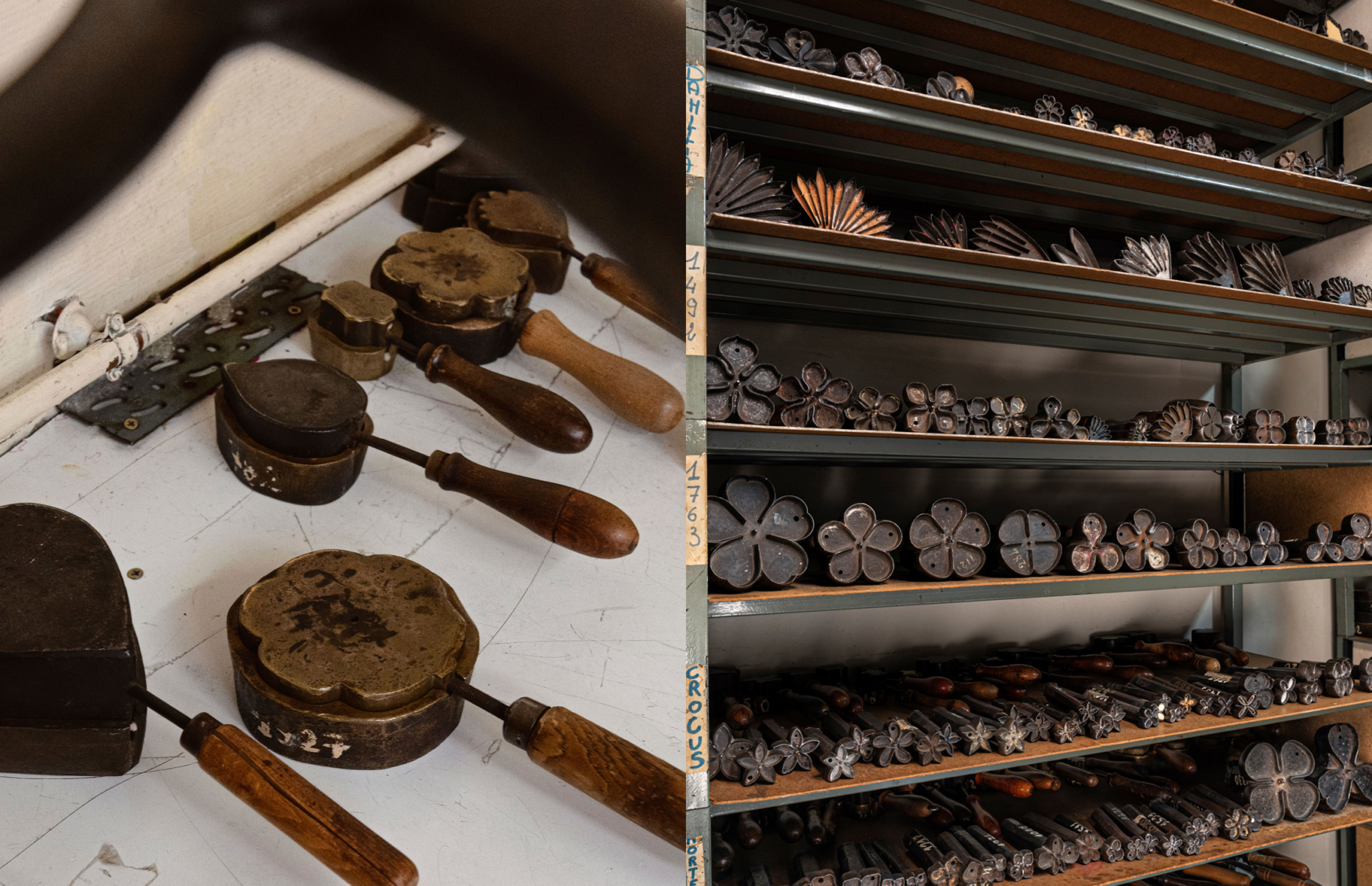 Maison Legeron had an exclusive collection of several thousand cookie cutters accumulated over two centuries of its existence.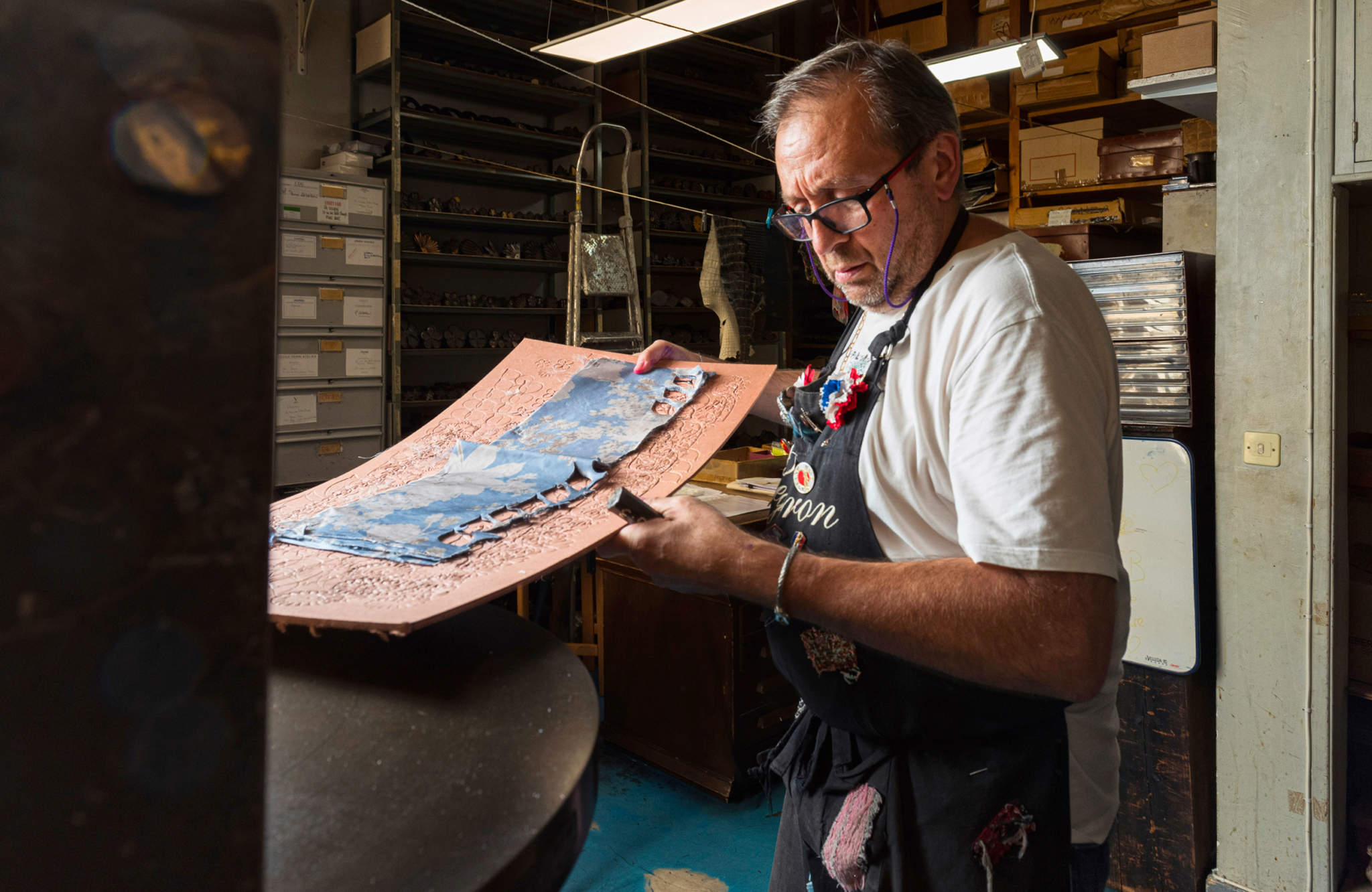 Bruno Legeron hand-cuts silk textiles. Each model requires a dedicated cookie cutter.
The fashion industry has significantly evolved over the last thirty years but the process and tools utilized to make fabric flowers have barely changed. According to Mr. Legeron, "The designs were just not so classic anymore and we often mixed fabrics, such as silk with organza or lace, or we used printed fabrics provided by the designers to match a specific garment. Some popular fabrics of today, such as rhodoïd and latex didn't exist when my grandparents were in the business."

(LEFT) Color samples.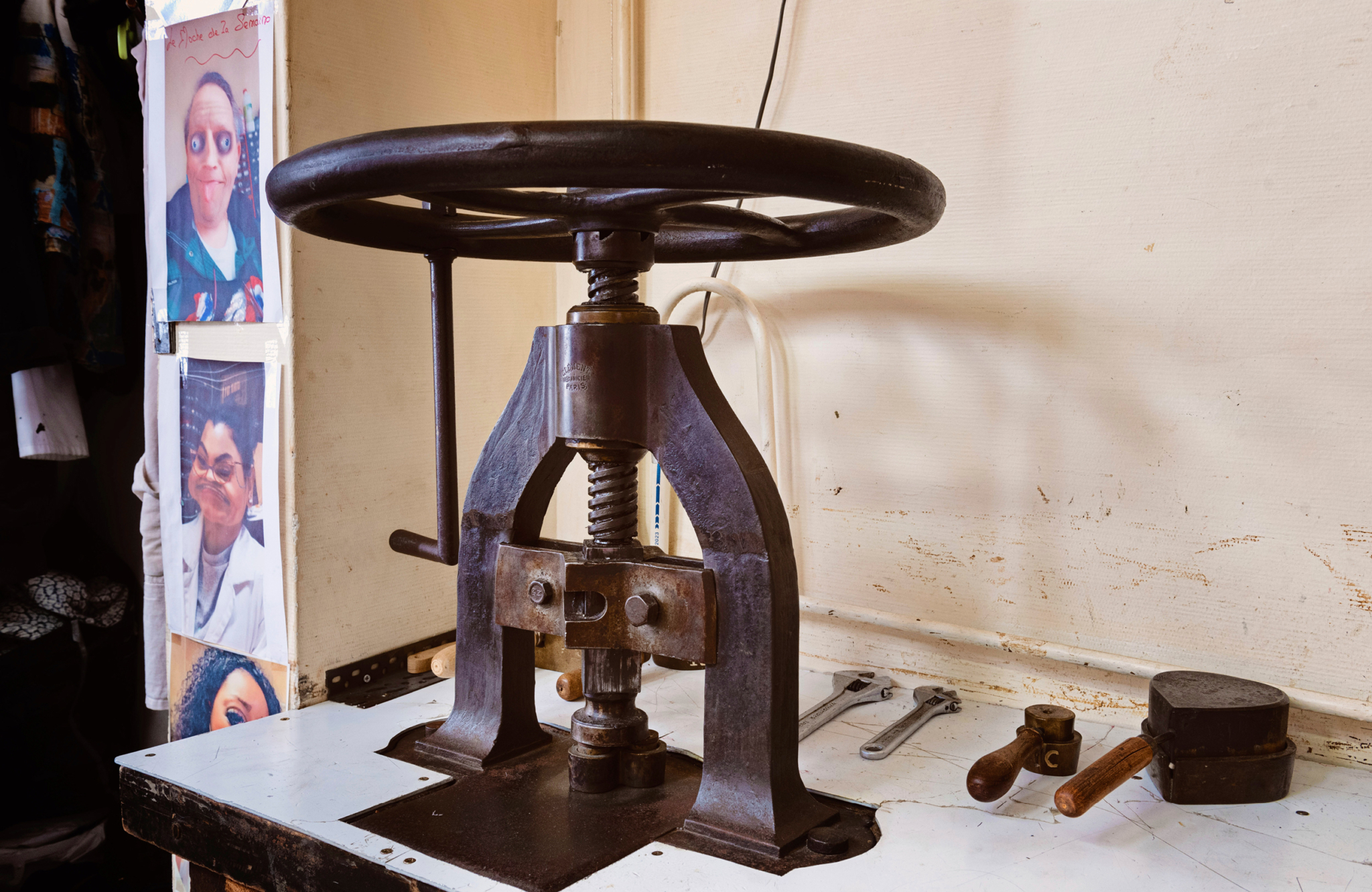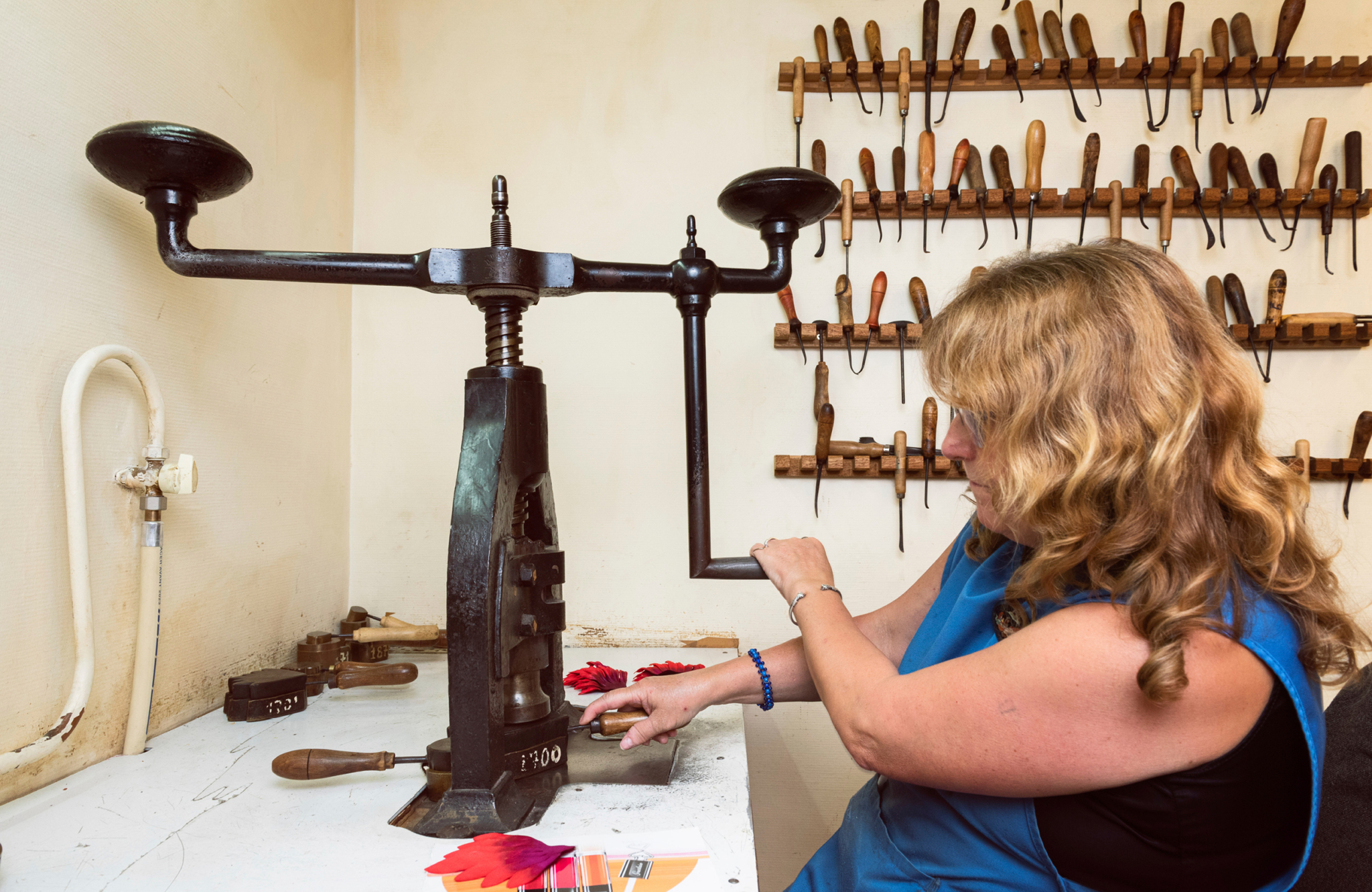 Pascale Duval, feather florist with over 40 years of experience.

The press. Some flower designs are embossed with the press where cookie cutters are heated. The final touch-up or shaping is done by hand using pliers heated with an alcohol lamp.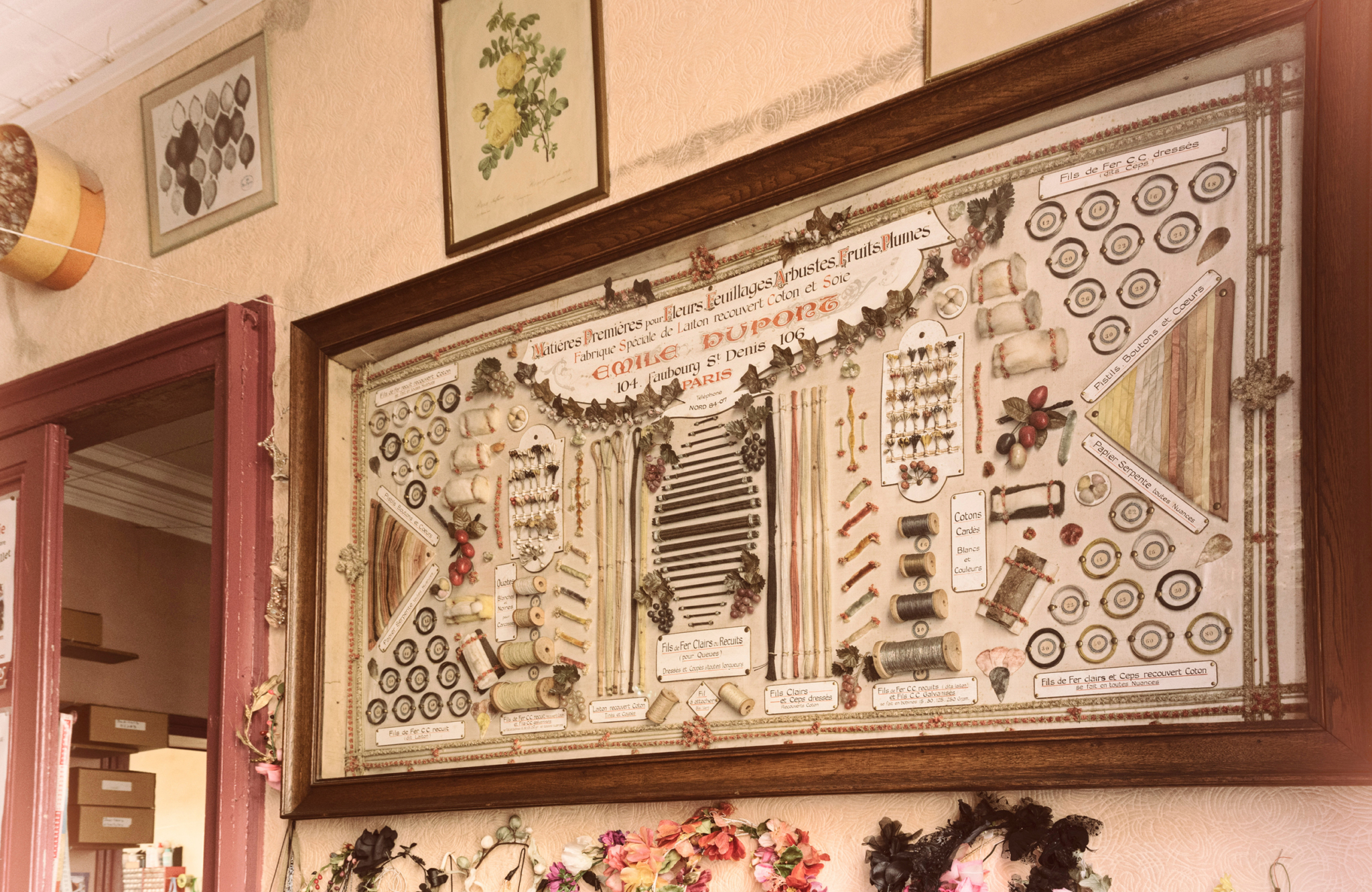 "Until the 1970s and prior to the imports from Taiwan, we had a few market niches strongly connected to the French industrial activities. We made millinery flowers for the doll brands Bella or Corolle when the dolls were actually made in France. We also created decorative fruit arrangements on chocolate boxes for the Holiday season. These traditional niches are long gone," he said. The small company over time had adapted to the requirements of the markets. It landed commissions for commercials, window displays, weddings, cultural venues such as the Opera de Paris, luxury fragrance brands or the film industry. "We even made millinery flowers for Sofia Coppola's movie 'Marie Antoinette', and we have also been working with Guerlain perfume house and with shoemakers such as Christian Louboutin and Jimmy Choo," he said.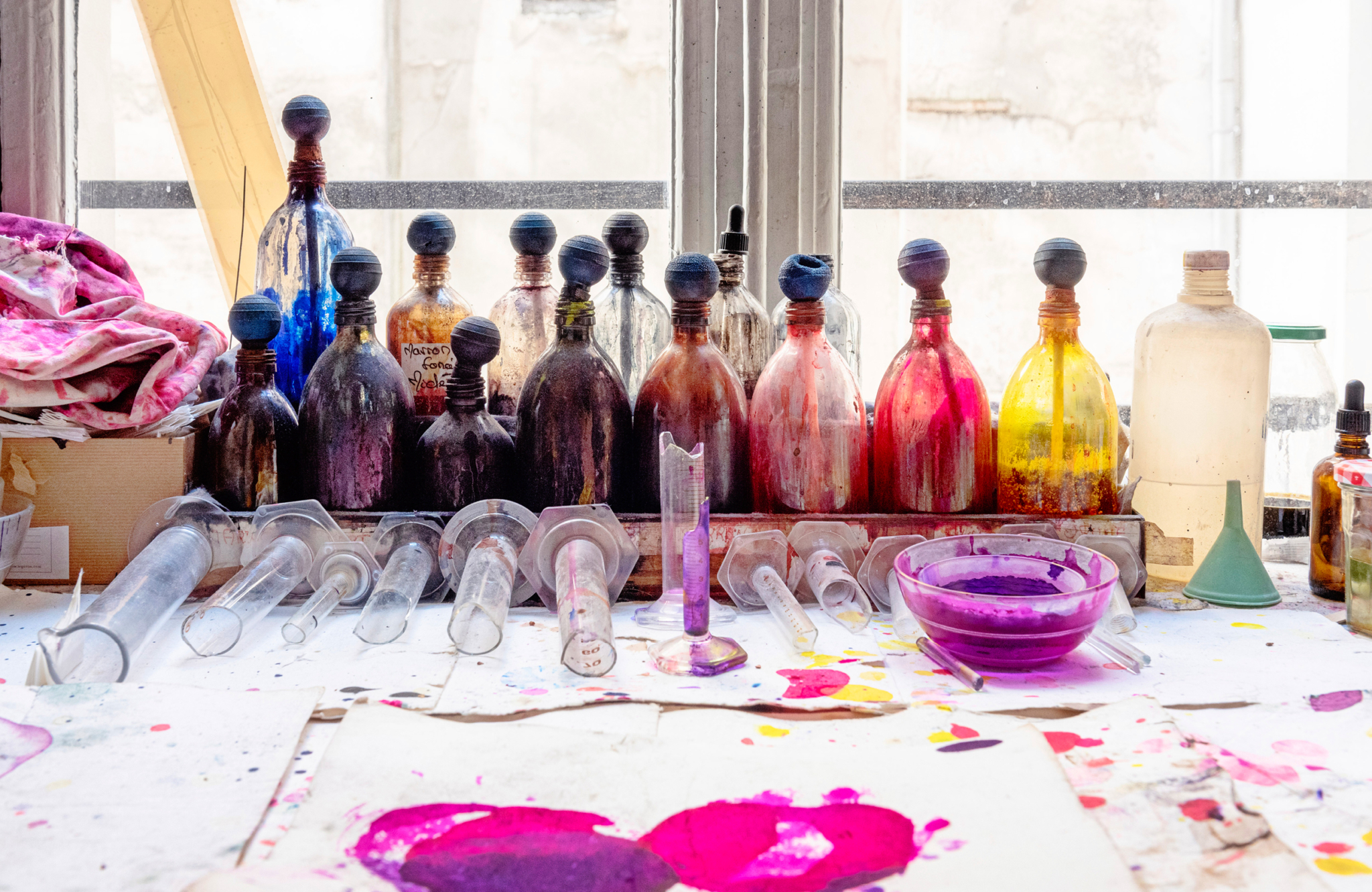 After the die-cutting, Bruno Legeron dyes the petals and leaves.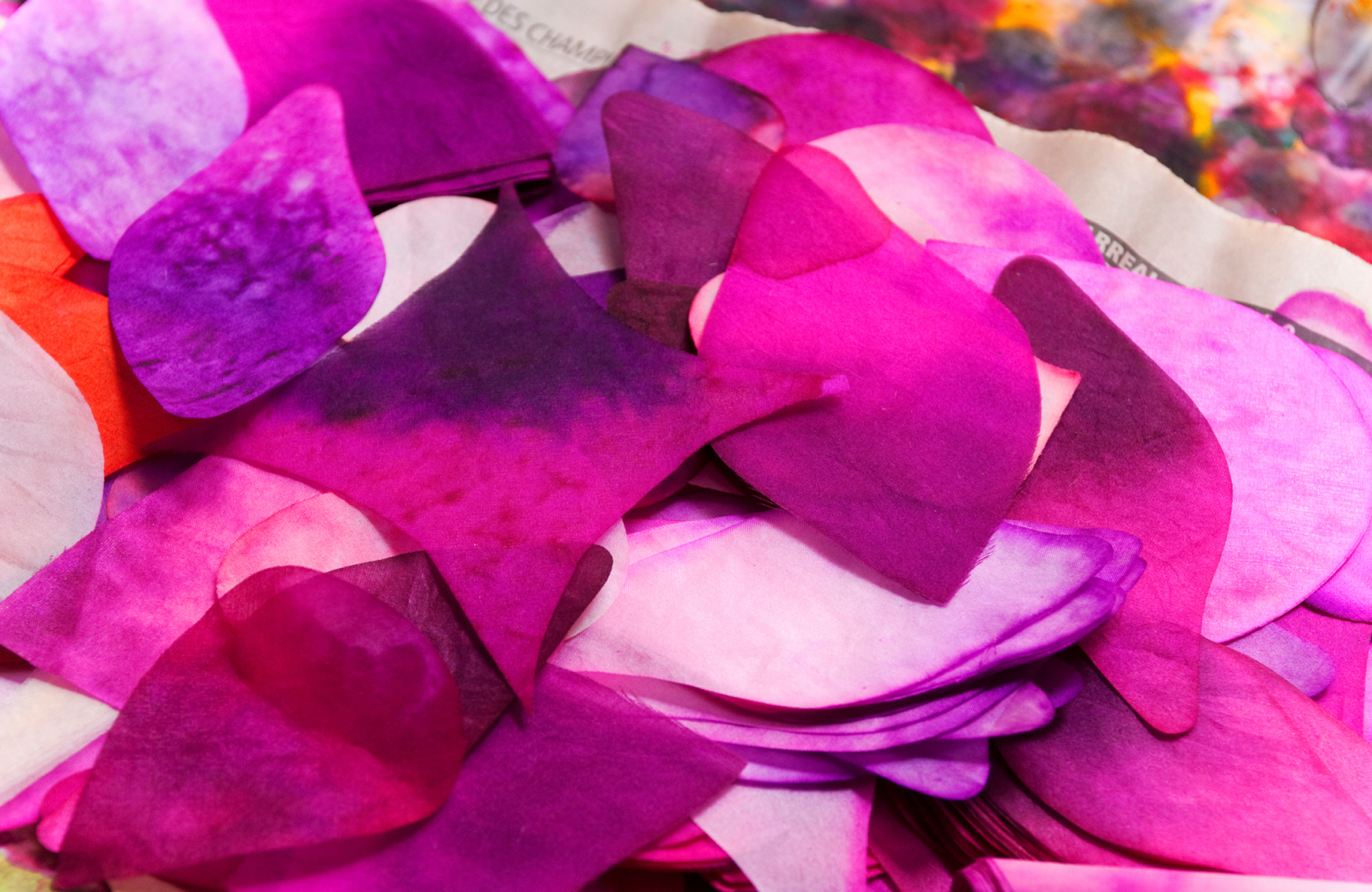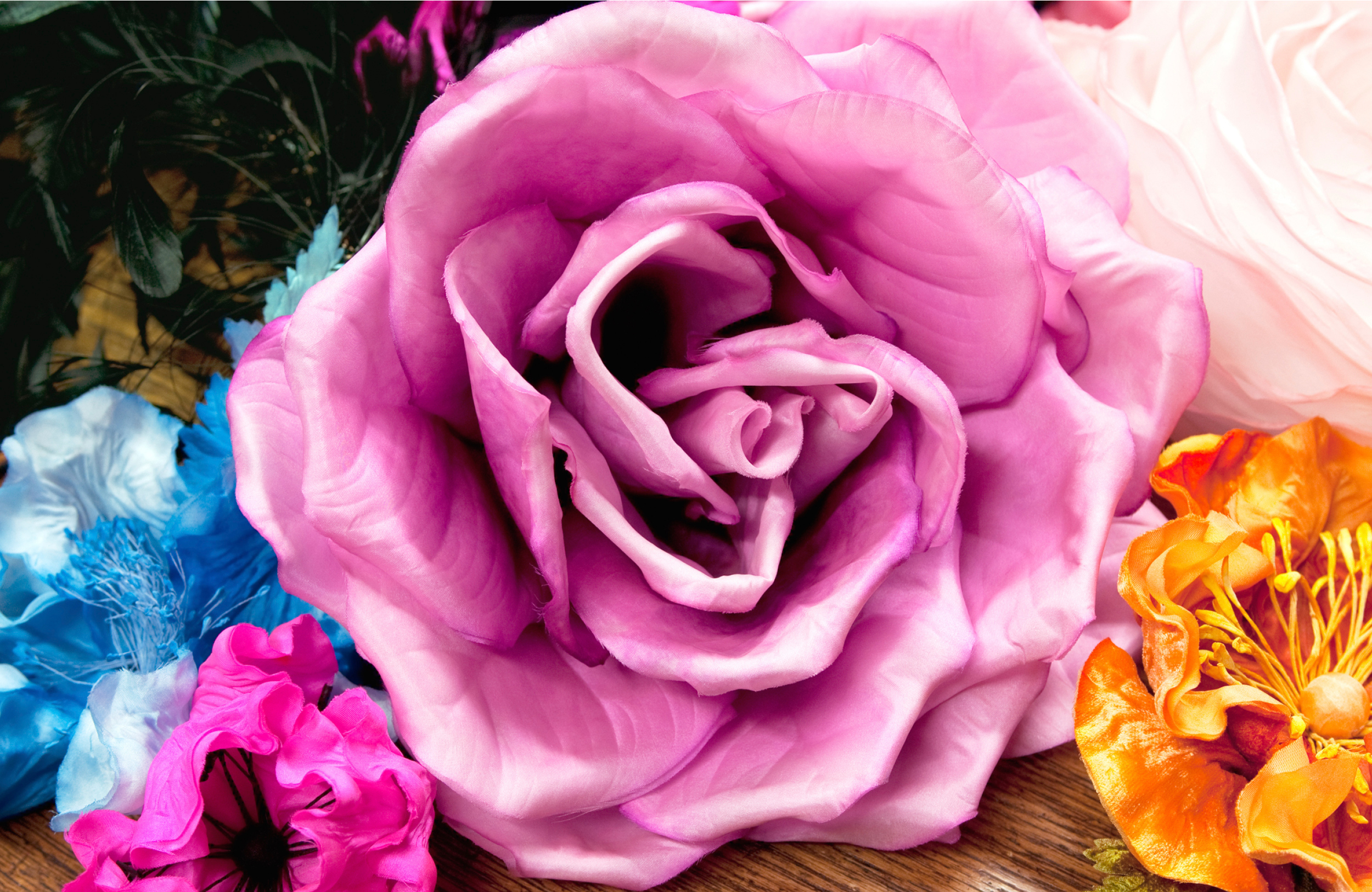 A Flower Coming Into Being:
Process and Tools
First, the lightweight fabric is stabilized with starch and stretched over a wooden frame to dry. A die is selected and multiple layers of fabrics are struck with a manually-operated press that cuts out the shapes. With cotton fabrics, six to eight layers can be processed at once. However, with silk, 24 layers are die-cut at a time. Bruno Legeron himself used to dye the shapes, diluting the colored powders with alcohol. He used his perennial eleven basic colors, and quantities or combinations were carefully written down on separate cards, with some cards dating back to his father's days. "We kept everything!" said Mr. Legeron.
(RIGHT) Embossing and shaping workshop. Beforehand, the petals are moistened between two damp blotters.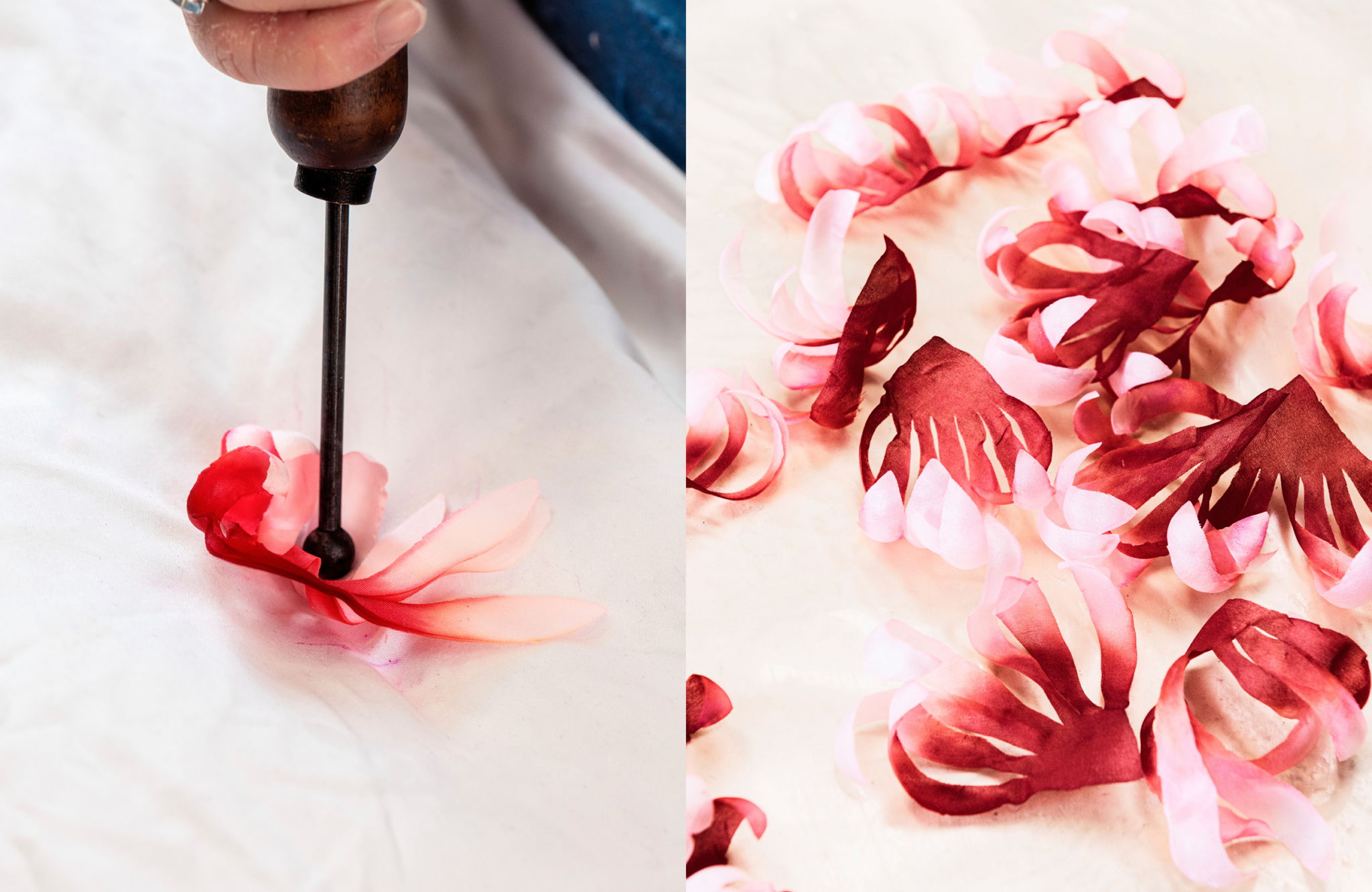 The embossing that gives the petal its shape is done by hand with steel balls heated on a small gas stove. The ball is then cooled in a bowl of wax before being applied to the silk textile petal.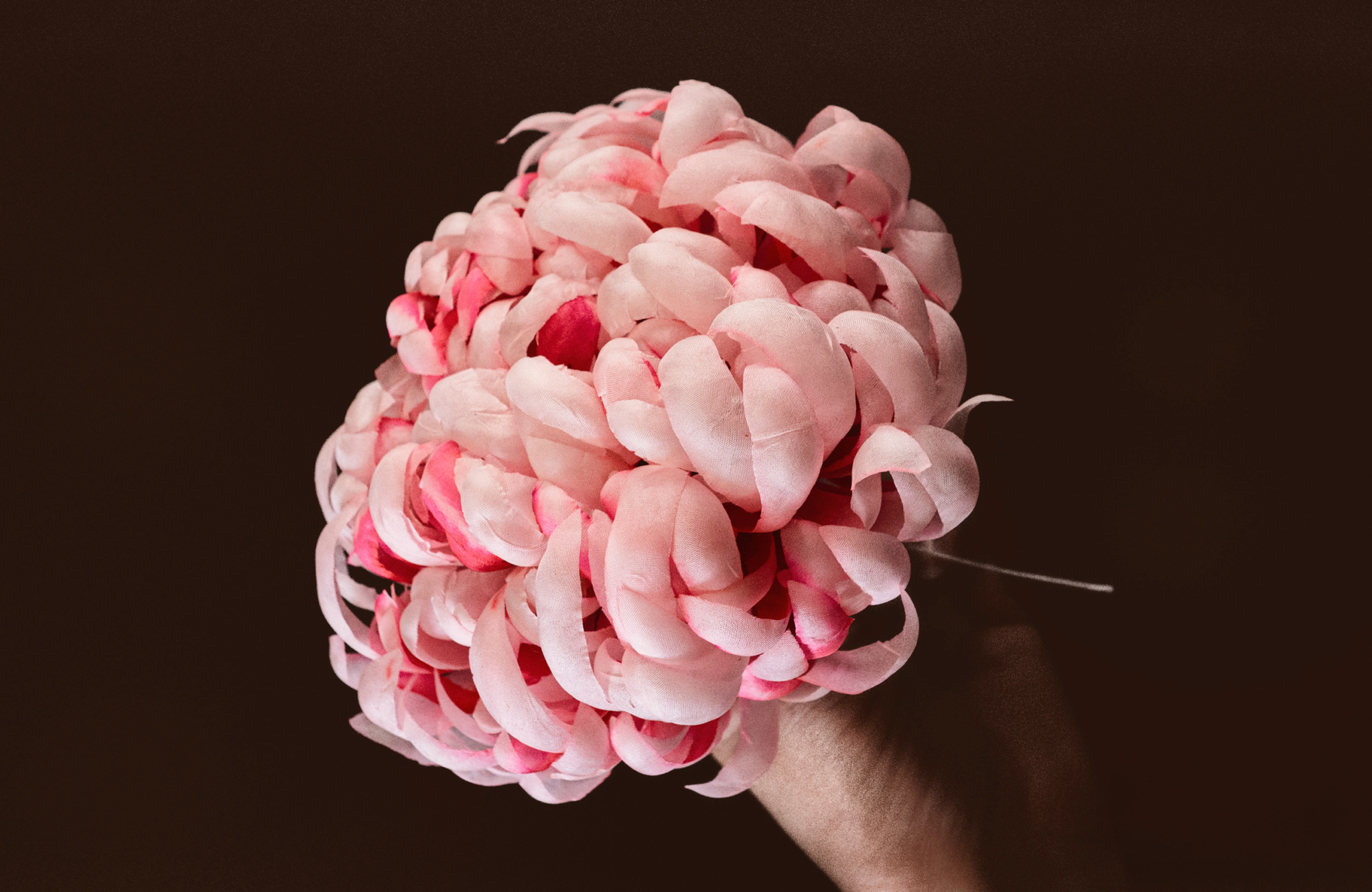 Maison Legeron, before the acquisition, used to employ nine dedicated workers, all women. "They all joined the company when they were 16 or 20 years old, owning a C.A.P. (Vocational Training Certificate) as fleuriste-plumassier. These ladies had been working there for 25 to 35 years, and they were very familiar with every sector of the production. The most important thing is motivation and persistence. It takes approximately eight to ten years to be fully independent and to be able to create a flower. We may spend 250 hours on a single dress, so during the Fashion Weeks we would need to hire extra help, mostly motivated students. Prior to WWII, my grandparents had fifty employees but at the time there were over one hundred flower houses in Paris. Only three remain today," he said.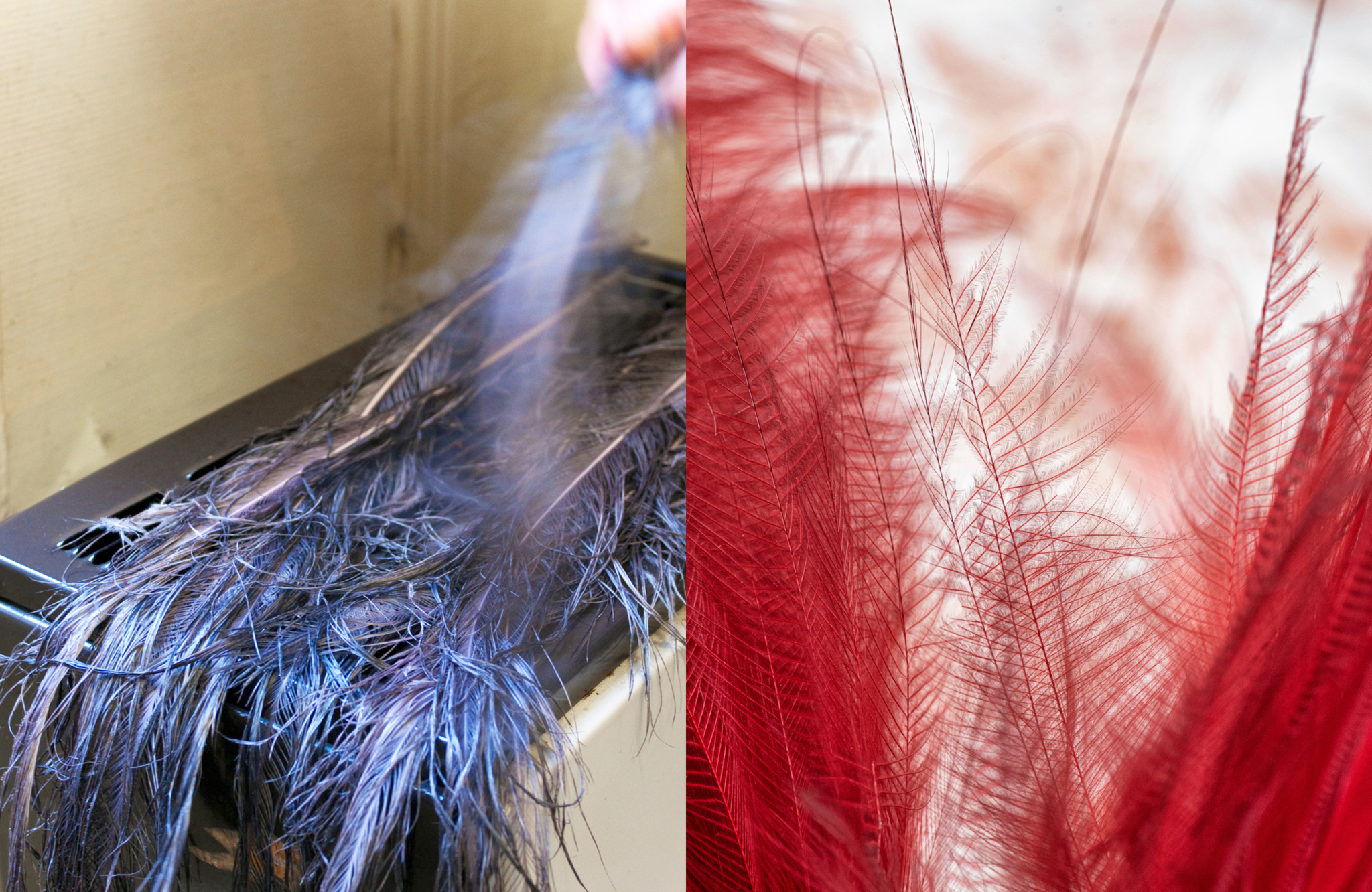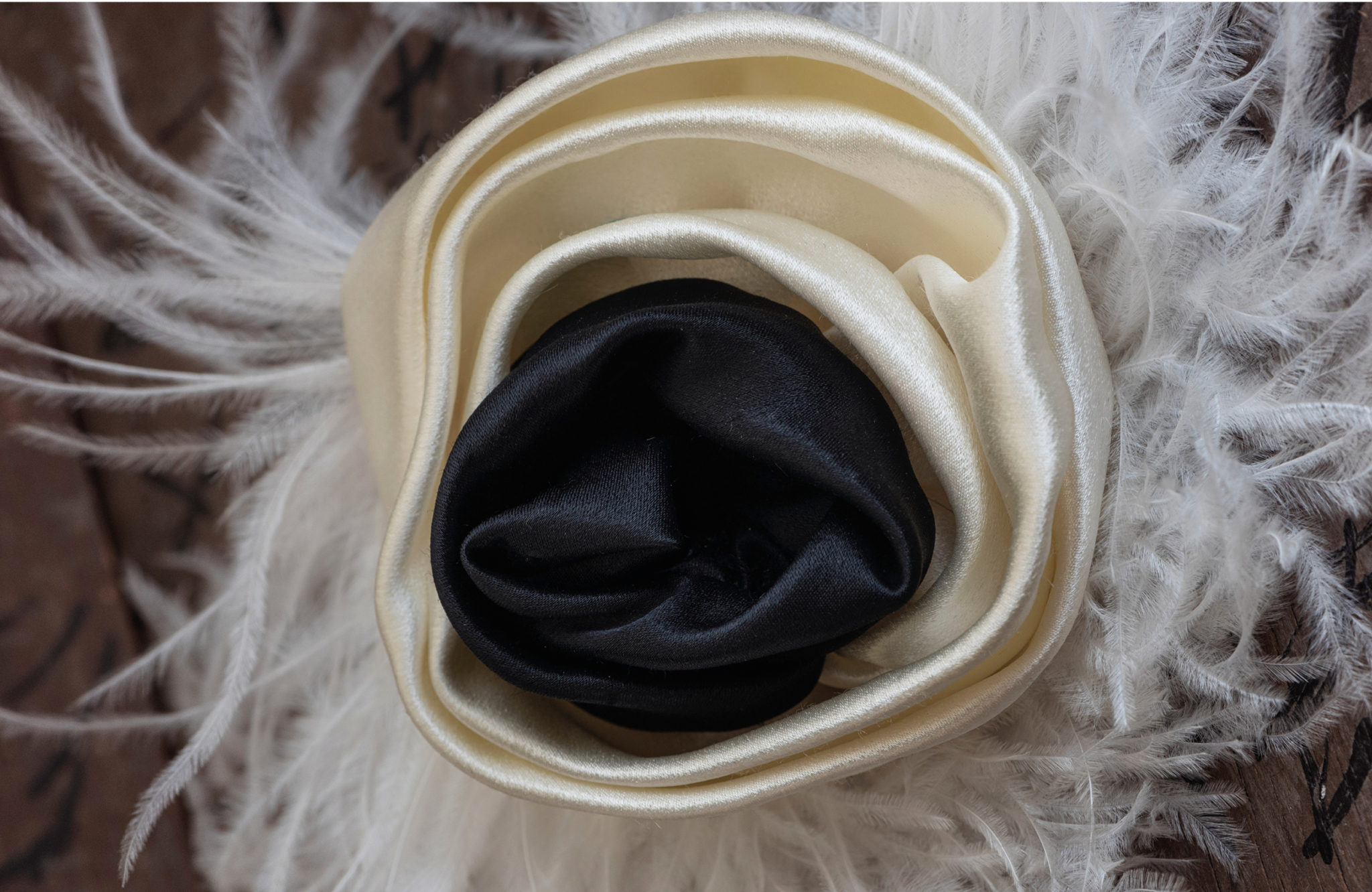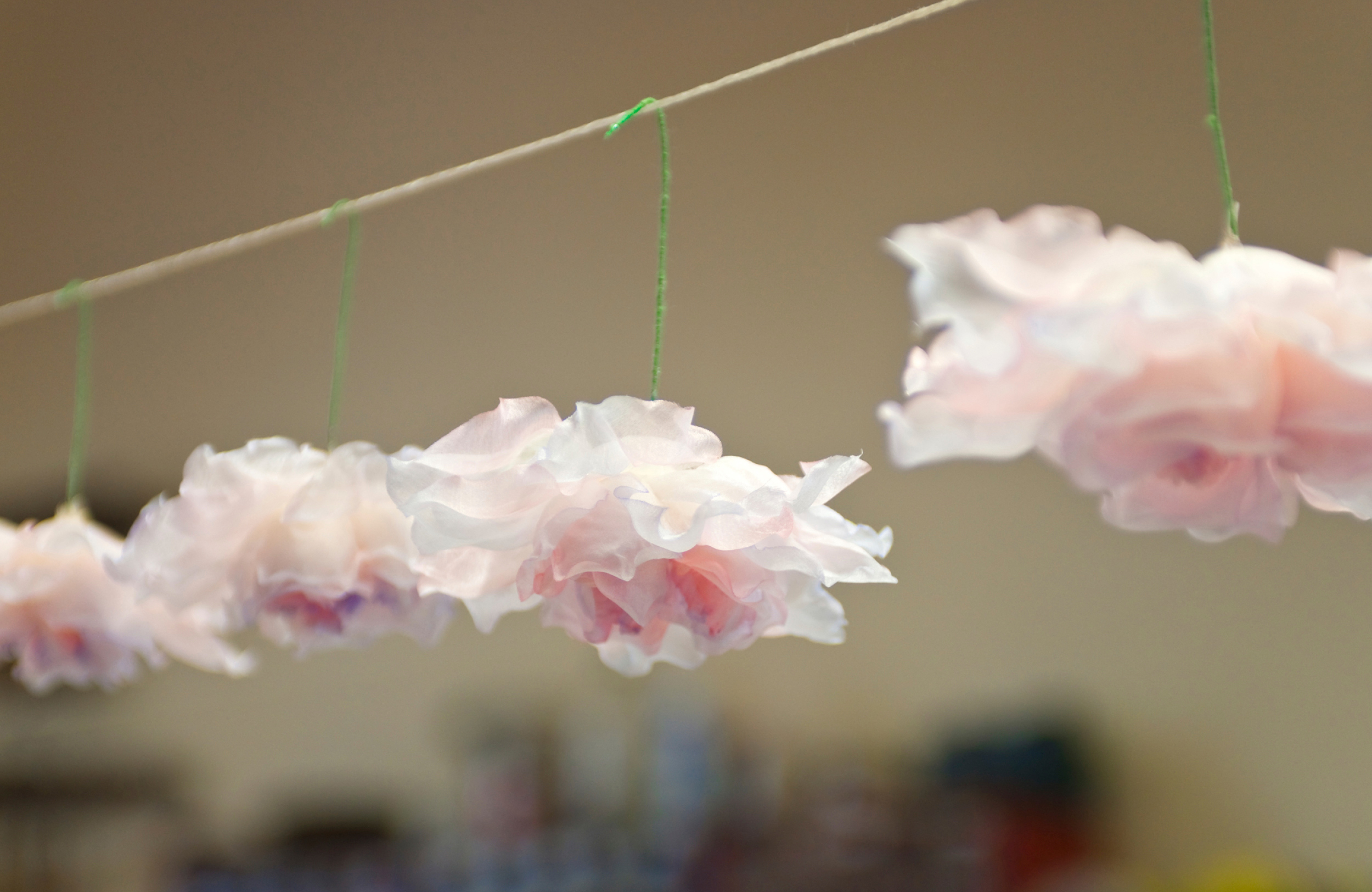 A gradient effect was often applied manually on each petal. The dyed petals dried overnight, resting on Mr. Legeron's favorite sports newspaper "L'Equipe". The shapes, with their three to four layers, were then embossed under heat to create volume, curves and texture on the leaves and petals. The workers used beautiful vintage irons, many dating back to the early 20th century. The shapes were assembled by hand. The petals were glued together and strung over the stem with brass thread. Each flower was registered in a notebook, with details including size, color, number of petals.
Bruno Legeron owned a remarkable collection of dies, moulds and irons. They were precious family heirloom since these tools and small machinery are no longer manufactured. Whenever he had the opportunity, he bought tools and equipment from old manufactures to complete his large collection and to maintain his production process. The knowledge and skills which he and his team perpetuated have become a rare craft today.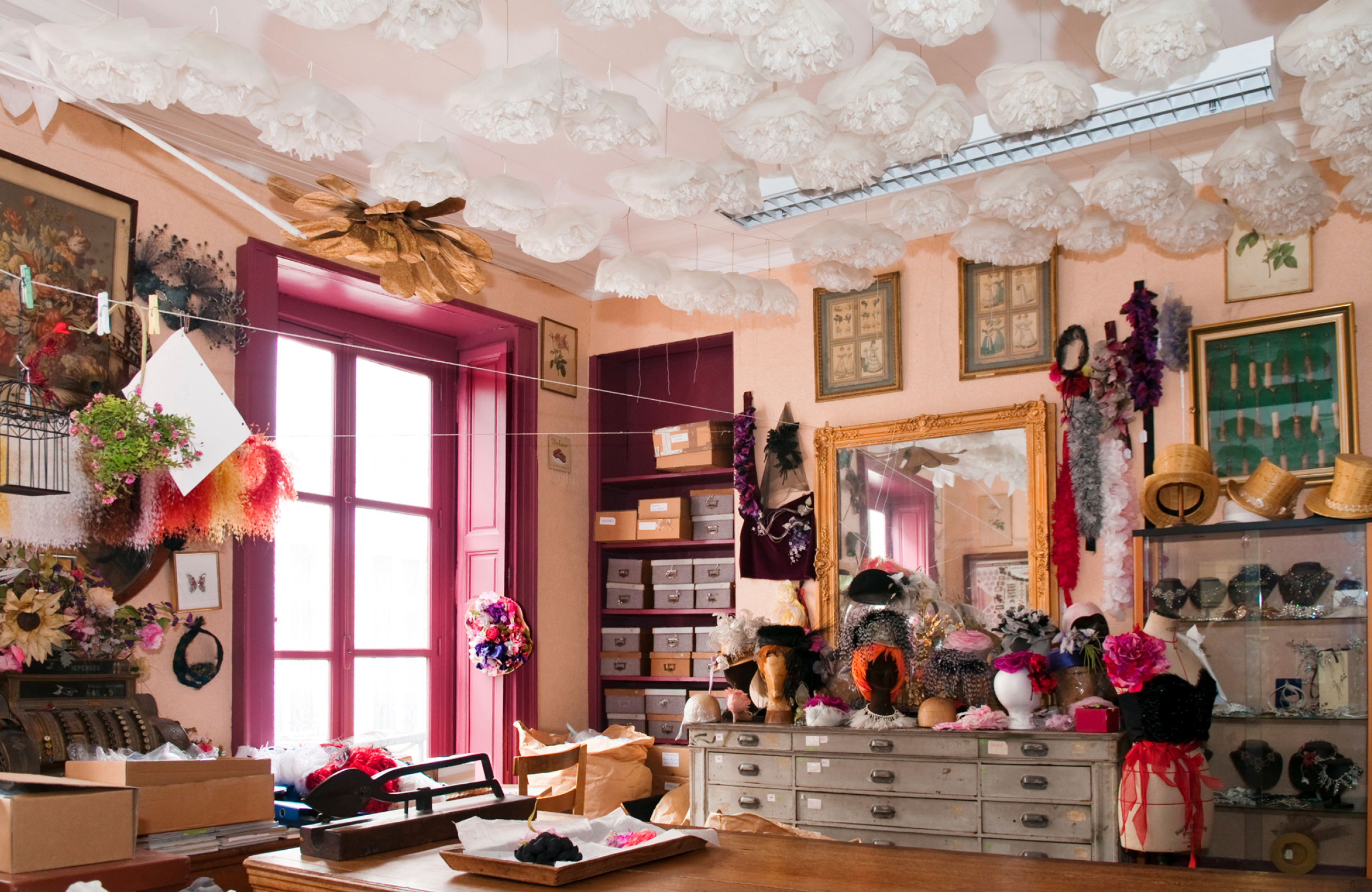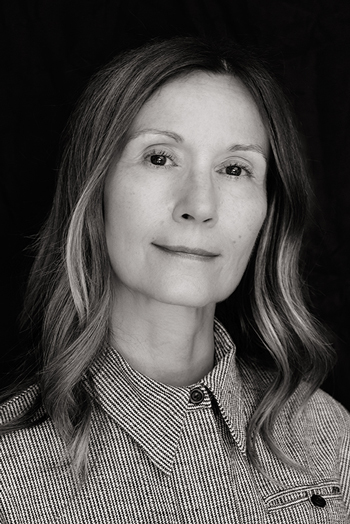 Anne Laure Camilleri is a freelance photographer based in Paris. She studied Film Making at the Conservatoire Libre du Cinéma Français and worked as a post-production supervisor before shifting to photography. Combining her passion for arts, journalism and cultural preservation into her features, she explores the spiritual values that permeate traditional craftsmanship and maintain cultural resilience. Her features have appeared in various media outlets including Selvedge, Embroidery, Inspirations, Handwoven and Pèlerin.
EDITING: COPYRIGHT © MOOWON MAGAZINE /MONA KIM PROJECTS LLC. ALL RIGHTS RESERVED.
PHOTOS & TEXT: COPYRIGHT © ANNE LAURE CAMILLERI. ALL RIGHTS RESERVED.
TO ACQUIRE USAGE RIGHTS, PLEASE CONTACT US at HELLO@MOOWON.COM